Special session, Boeing-NLRB, a matter of truss…
The Stand posts links to Washington state and national news of interest every weekday morning by 9 a.m. Make this electronic "clip service" your first stop of the morning to get O.P.P. news and opinion. (Other People's Press.) These links are functional on the date of posting, but sometimes expire.
---
State Legislature news:
►  From AP — Budget-focused special session begins today — Lawmakers are returning to Olympia today to begin a special session with the aim of finishing work on the budget. In special sessions, all bills lawmakers had advanced to the opposite chamber go back to their House of origin. The Senate is expected to be in Olympia for at least two weeks, pushing bills necessary to implement the budget.
EDITOR'S NOTE: The Senate inexplicably declared ESB 5566, compromise-and-release lump-sum buyouts in workers' compensation, "necessary to implement the budget." So another vote may occur on this labor-opposed bill the Senate previously passed 34-15. For more information about why this bill is harmful and unnecessary, see this report: The TRUTH About Compromise-and-Release or this video explaining business lobbyists' case for ESB 5566.
WHAT'S AT STAKE IN THE BUDGET TALKS THAT RECONVENE TODAY:
►  In today's Peninsula Daily News — Up to 18 teachers, 22 others could lose jobs in Port Angeles — Because the Legislature has yet to pass a state budget to determine the amount of aid to school districts, some of those employees' jobs could be saved in the coming school year.
►  In today's News Tribune — Clover Park School District approves cuts — The Lakewood district will use a combination of staffing reductions — including cutting the equivalent of 10 full-time teaching positions — cost cuts, and spending from savings to close an anticipated $5.6 million budget gap this fall.
►  In today's Tri-City Herald — Area districts hope to avoid teacher layoffs — The range of possible cuts in the state budget is so great that local school districts find it almost impossible to put together operating budgets and to decide whether they will have to lay off staff.
Boeing news:
►  In today's NY Times — Boeing and the NLRB (editorial) — It may be a difficult case to prove, but the complaint filed by the NLRB against Boeing is a welcome effort to defend workers' right to collective bargaining. The action lands squarely on an ambiguity in the nation's labor protections — which enshrine the right to collective bargaining yet allow companies ways to avoid it by going to another state. If the NLRB's position is upheld, this case could draw some clearer lines on what businesses can and cannot do to avoid dealing with unions. At the very least, this case will shed light on the business strategies employed by a powerful company to resist unionization.
►  From AP — NTSB: Rivet holes too big on 737 that ripped open — Investigators found rivet holes that were too big and appear to be misshapen from wear in a Southwest Airlines jet that peeled open in flight. The board didn't offer any conclusions as its investigation continues, but officials say that the stricken jet and five other planes that had cracks in their metal skins were all built at about the same time in the same Boeing plant.
►  In today's Seattle Times — Boeing still struggling with 787 — As the program creeps toward first delivery this year, managers are intensifying efforts to smooth production. But people working on the jets and others familiar with the program say progress is painfully slow. While Boeing may meet its deadline to deliver the first 787 before Sept. 30, the production pace projected for 2011 appears out of reach.
►  In today's Kitsap Sun — Port of Bremerton wants to contend for Boeing 737 replacement line — The prospect of the jobs and revenues created by a regional manufacturing site is enticing, but Boeing hasn't yet even decided whether to build a version of the plane to be used in future decades.
Local news:
►  In today's Columbian — Governors: Build a truss bridge to replace I-5 span — Govs. Chris Gregoire and John Kitzhaber announce they have chosen the flat, less-expensive deck truss-style option to replace the aging bridge over the Columbia River. They say the simpler design will help the project stay on time and on budget. Monday marked the final step in the official debate over the outlines of the design, after more than a decade of planning and $130 million in costs. Both governors said their goal is to break ground in 2013 on a project that includes five miles of interchange improvements and a bridge with both light rail and tolling.
►  In today's Columbian — Sapa will employ up to 100 at Port of Vancouver — Sapa Extrusions plans to bring up to 100 existing and new jobs to Vancouver (from Portland and B.C.) by expanding operations into a 142,800-square-foot building it will lease from the port. (Hey, maybe we don't suck!)
►  At SeattlePI.com — Seattle City Council toughens penalties for wage theft — The Seattle City Council unanimously approves tougher penalties on employers who hire workers and don't pay them, a crime known as wage theft. The ordinance makes it a gross misdemeanor to intentionally commit wage theft and adds new definitions of conduct that is considered illegal. It also clarifies city law to apply either at the "place where the agreement for service was made or at the location where the services are performed," so workers hired in Seattle for work outside the city limits are protected.
►  At Publicola — Seattle City Council will consider citywide mandatory paid sick leave — City council member Nick Licata will introduce the bill. If it passes, Seattle will join three other cities — Milwaukee, Washington, D.C., and San Francisco — in requiring private employers to provide paid sick days.
►  In today's Spokesman-Review — Spokane City Council resolution supports unions (brief) — There will be no Wisconsin-style effort to repeal bargaining rights in Spokane. The city council voted 6-1 on a nonbinding resolution stating its support for collective bargaining. Councilman Jon Snyder said he felt it was important to send a signal to its workers that the city respects the bargaining rights because of efforts under way in other communities to change bargaining rules. Councilwoman Nancy McLaughlin (pictured at left) cast the lone vote in opposition.
►  In today's Seattle Times — UW regents praise unanimous pick for president, Michael Young — The UW and Young (the University of Utah's president since 2004) still need to negotiate an employment contract, but that's viewed as a formality. (EDITOR'S NOTE: University presidents and CEOs would never work without a contract. Why should you?)
►  In today's (Everett) Herald — Petitions aimed at stopping new Walmart store — People want one more chance to try to get the City Council to change its mind about allowing Walmart to come to Monroe.
(Also see UFCW Local 21's "Broken Promises" report on Walmart's plans in Snohomish County.)
National news:
►  In today's NY Times — NLRB plans to sue two states over union rules — The National Labor Relations Board has told state officials that it will soon file federal lawsuits against Arizona and South Dakota in seeking to invalidate those states' constitutional amendments that prohibit private sector employees from choosing to unionize through a procedure known as card check.
►  In today's LA Times — Judge orders end of NFL lockout — NFL players saw the labor fight tip in their favor Monday as a federal judge ordered the league to end its lockout, meaning football will continue while owners and players bicker over how to divide more than $9 billion in annual revenue. U.S. District Judge Susan Richard Nelson ordered an end to the 7-week-old lockout, saying she believed the players' argument that the situation was causing irreparable harm to their careers.
►  From AP — Study: More states falling short on pension money — Bad decisions and a sour economy combined to leave 31 states below the safety line set for investing money to meet future pension costs, according to a study released Monday. The double-whammy also has increased the chance that officials may eventually have to fix the problem by cutting benefits or raising taxes.
►  In today's NY Times — Public pensions, once off limits, face budget cuts — When an arbitrator ruled this month that Detroit could reduce the pensions being earned by its police sergeants and lieutenants, it put the struggling city at the forefront of a growing national debate over whether the pensions of current public workers can or should be reduced.
►  At TPM — Gov. Walker: Too many recalls "make it very hard" to get things done — In the past, he says lawmakers faced recall elections only after instances of misconduct, but not over a single vote. (In the past, Wisconsin employees had the freedom of association. Apparently, things change.)
►  At Politico — Raynor out at SEIU — SEIU will announce the departure of Bruce Raynor today, ending a divisive chapter in the recent history of the labor movement. Raynor has been a lightning rod since leading the garment-workers union then known as UNITE into a disastrous merger with the hotel workers union HERE, which turned into open warfare until it was resolved last year with SEIU swallowing the remnants of the garment-workers under the rubric of Workers United. Raynor is now president of Workers United and sits on SEIU's executive board. But Raynor, who had been an ally of departed SEIU chief Andy Stern, continued to be a center of conflict inside SEIU, which brought him up last month on internal charges of abusing his expense account.
WASHINGTON IS A UNION STATE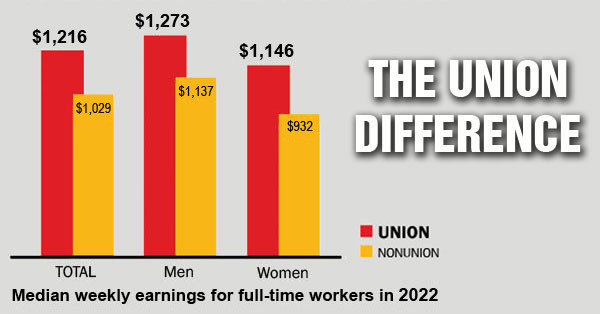 CHECK OUT THE UNION DIFFERENCE in Washington state: higher wages, affordable health and dental care, job and retirement security.
FIND OUT HOW TO JOIN TOGETHER with your co-workers to negotiate for better working conditions and respect on the job. Or go ahead and contact a union organizer today!