About The Stand
If you want news and opinion from Washington State that hasn't gone through the commercial media's filter, The Stand is for you.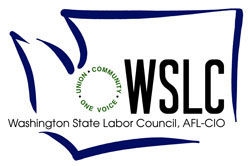 A service of the Washington State Labor Council, AFL-CIO (WSLC) and its affiliated unions, The Stand was launched on May Day 2011 to restore the kind of progressive populist source of information that once thrived in our state, but has disappeared thanks to media consolidation and corporate influence on the press. The Stand features news about — and for — working people. Its reports and opinion columns focus on creating and maintaining quality jobs, improving our families' quality of life, promoting public policies that will restore shared prosperity, and other things that the rest of us care about.
The Stand is a free service and accepts no advertising. Its editor, David Groves, has been writing and publishing news and opinion about Washington state since joining the WSLC staff in 1992. Other progressive voices — both inside and outside the labor movement — contribute content to The Stand. The positions and opinions expressed in The Stand aren't necessarily those of the WSLC, though they often are. Contact the WSLC directly if you have any questions about the council's positions on the issues.
If you have questions about The Stand, or would like to submit a news article or opinion column (which is encouraged!), email david.groves@thestand.org.