U.S.-Korea trade, Nalley's closure, corporate court…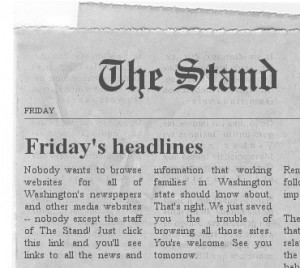 The Stand posts links to Washington state and national news of interest every weekday morning by 9 a.m. Make this electronic "clip service" your first stop of the morning to get O.P.P. news and opinion. (Other People's Press.) These links are functional on the date of posting, but sometimes expire.
---
Trade news:
►  In today's Seattle Times — State eager for approval of free trade with South Korea — Four years after President Bush reached a free-trade agreement with South Korea, Congress may at long last vote on it this summer — paving the way for duty-free Starbucks roasted coffee in Seoul and lower sticker prices on Hyundai sedans in the United States. The pact, the largest since the NAFTA of 1994, has united odd ideological corners of Congress in support while splintering organized labor's long-standing opposition to liberalizing trade. This week, Commerce Secretary Gary Locke; Rep. Jim McDermott (D-Seattle); Rep. Dave Reichert (R-Auburn); and two other House members are making a three-day swing through the Korean peninsula to promote ratification of the agreement.
►  At AFLCIO.org — Why AFL-CIO, other unions oppose the U.S.-Korea free trade agreement
►  At Huffington Post — Trading with South Korea (by U.S. Rep. Jim McDermott) — The Korea free trade agreement is something that is good for both the U.S. and Korea… Korea renegotiated the trade agreement in spite of political opposition in their country. They have excellent labor and environmental standards. It is important we begin to establish trade agreements with other countries in the Pacific Region to allow states like Washington to create export-related jobs.
►  At SeattlePI.com — Locke: Korea trade treaty 'incredible… of great benefit' — U.S. Commerce Secretary Gary Locke shows he hasn't lost a penchant for hyperbole or his enthusiasm for free trade.
---
State Legislature news:
►  In today's News Tribune — Early release plan disappears — A plan senators considered Thursday for cutting DOC costs was notable for what it didn't propose: knocking the last 60 days off inmate sentences. That idea was pitched as part of the bipartisan Senate budget plan and funneled most of the savings into crime-prevention programs. The House budget went further, calling for shortening sentences by 120 days. But House Democrats have been wrestling with the complications that go along with cutting 395 prison jobs, Rep. Jeannie Darneille said.
►  Also see in Wednesday's News Tribune — DOC cuts put safety at risk (by IBT 117's Tracey Thompson)
►  At TheOlympian.com — Budget talks go on at low-key Capitol — House budget negotiators sent an offer to the Senate Thursday morning and the Senate was working to send back an answer a few hours later. But no one is talking about achieving major breakthroughs any time soon, and Senate Republican Leader Mike Hewitt is assuming the session will run the whole 30 days.
---
Boeing news:
►  In today's Seattle Times — Gregoire, aerospace union chiefs going to Paris Air Show— IAM District 751 President Tom Wroblewski and SPEEA President Tom McCarty will join a delegation led by Governor Christine Gregoire to the Paris Air Show in June to promote Washington state to Boeing suppliers — and even to Airbus and its suppliers — as a good place for aerospace investment.
---
Local news:
►  In today's News Tribune — Iconic Tacoma business Nalley's to close June 25 — Tacoma has known since early December that an iconic business that was once one of the area's larger employers was due to shut down for good some time this year. Pinnacle Foods Group has now said it will halt production at Nalley's South Tacoma plant by June 25. Production is being transferred to an Armour Canned Meats facility in Fort Madison, Iowa. Pinnacle owns Armour. The Tacoma plant will remain open as a warehouse and distribution facility through next fall and then close down permanently. Pinnacle has notified 139 of the plant's 160 workers that they will be laid off on the June date.
►  In today's Olympian — Pierce Transit plans to trim Olympia Express — It will cut its weekday Olympia Express service in half, and Intercity Transit is considering whether to pick up the slack.
►  In today's Kitsap Sun — North Kitsap School Board rejects plan to lay off 38 educators — The board unanimously rejects a plan to cut 38 teachers, librarians and counselors, 10% of its certificated staff.
►  In today's Kitsap Sun — Departing teachers will reduce number of pink slips South Kitsap hands out — The board approved layoffs for 15 teachers, but several have announced they are retiring or leaving.
►  In today's Olympian — Half century of service earns South Sound postal worker a joyous goodbye — George Witherow, 85, will work one more four-hour shift today for the USPS and then, 50 years after he went to work for the federal government, he'll finally call it quits. More than 50 people crowded into the break room of the processing and distribution facility in Tumwater to say goodbye to him.
---
National news:
►  At Huffington Post — Supreme Court to corporations: You write the rules — The potential impact of Wednesday's Supreme Court decision is breathtaking. Corporations can now prevent consumers and small business owners from exercising what is often their only real option for challenging companies that defraud them by millions or even billions of dollars: banding together to file class action lawsuits. The case could be equally devastating to millions of non-union employees, who need class actions to challenge systemic discrimination by their employers. The Supreme Court has given major corporations the green light to engage in nearly limitless wrongdoing against others, so long as they do it in relatively small dollar amounts, which ensures that no one can afford to challenge the misconduct without a class action.
►  At Politico — Madison to Boston — The collective bargaining fight that's unfolding between the Democratic Massachusetts Legislature and their nominal labor allies is neither a superficial reform nor political posturing. The proposal mostly ends labor's ability to collectively bargain over their health care packages at the municipal level. "It's very much like Wisconsin," a local UAW president says.
►  From AP — Chevron profit rises 36% on high oil prices — Chevron's net income rose to $6.21 billion from $4.55 billion a year ago. The results topped Wall Street expectations and marked Chevron's best three months since it earned $7.9 billion in the third quarter of 2008.
►  At Huffington Post — Reclaiming oil subsidies: Senate Dems prepping bill the would recover billions — Seizing the moment, Senate Democrats work on legislation to reclaim billions of dollars in taxpayer subsidies to Big Oil and redirect the money toward developing cleaner and cheaper fuel sources.
►  In today's NY Times — The intimidated Fed (Paul Krugman column) — Instead of addressing the dismal unemployment picture at Wednesday's press conference, Ben Bernanke bent to the inflationistas.
►  In today's Washington Post — China's trade union takes up a new cause — workers — China's only legal trade union organization, a tool of Communist Party control long scorned by workers as a shill for big business, is experimenting with a novel idea: speaking up for labor.
WASHINGTON IS A UNION STATE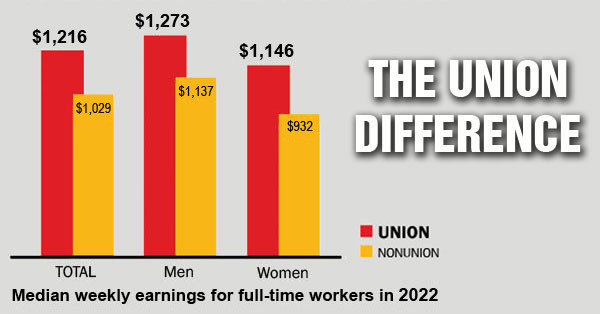 CHECK OUT THE UNION DIFFERENCE in Washington state: higher wages, affordable health and dental care, job and retirement security.
FIND OUT HOW TO JOIN TOGETHER with your co-workers to negotiate for better working conditions and respect on the job. Or go ahead and contact a union organizer today!