Boeing, Gregoire, workers' comp, Wall Street rules…
---
BOEING NEWS:
►  In the Wall Street Journal — Boeing rejects Machinists' settlement offer in NLRB case — The Machinists union proposed a settlement ahead of a NLRB hearing next week, but Boeing said it "went well beyond what we would consider reasonable." The union wouldn't disclose details of the proposal. Tuesday's hearing in Seattle is the start of a process that could last for several months. Union General Counsel Chris Corson said in an interview earlier this week that the union remained open to a deal, even once the hearing gets under way.
►  In today's Seattle Times — Boeing officials hints of job security for Puget Sound-area workers — Commercial Airplanes chief Jim Albaugh foresees such rapid growth in the next few years that he says Puget Sound-area workers needn't fear competition from the company's burgeoning East Coast manufacturing site. Many of Boeing's almost 76,500 local workers are concerned about the area's diminished role on the 787 and worry that the next jet will be built somewhere else. That anxiety will be aired starting Tuesday when an administrative law judge in Seattle begins hearing a NLRB complaint that Boeing put its second 787 final-assembly line in South Carolina instead of Washington state to retaliate for past strikes. That would violate labor laws.
►  In the P.S. Business Journal — Boeing's new Southern workplace gears up to show that it's the future — Republican Gov. Nikki Haley of South Carolina pledges to keep unions away from Boeing, a popular stance in a state where fewer than 5% of workers belong to unions. "It's a struggle every day to be a union member in South Carolina," said Donna Dewitt, president of the South Carolina AFL-CIO. That struggle may prove to be the starkest contrast between Washington and South Carolina, where the new plant will be Boeing's only commercial jet assembly line outside the Puget Sound area.
---

POLITICAL NEWS:
►  From AP — Gov. Chris Gregoire to announce plans at 10 a.m. — Gov. Chris Gregoire has called a 10 a.m. Monday news conference in Olympia to announce her future plans. The Democrat is expected to say whether she'll seek a third term.
UPDATE: The apparent answer is "go."
►  In the Columbian — Inslee sounds like a candidate at local fundraiser — "We are the party who respects all work and who respects all workers," Inslee told about 470 people gathered at the Hilton Vancouver Washington for the annual Jefferson-Jackson Dinner, a major fundraiser for Clark County Democrats. "We know what our task is: jobs, jobs and jobs for the middle class."
►  In today's Seattle Times — McKenna's call to boost school funds is short on details — McKenna said K-12 schools should get about 51% of the budget, instead of the current 40%, and colleges should have a 16% slice, double what they receive now. If applied to the two-year, $32 billion budget recently approved by the Legislature, an additional $5 billion would have had to be shifted to education. Yet, McKenna rules out tax increases — in fact, he's mulling a small-business tax cut — and his speech did not go into detail on what other state services he would reduce. McKenna spoke mainly of reducing "general government" costs, hiring fewer state employees and getting a handle on rising health-care costs.
►  In the Olympian — 2012 races take shape — Republican Reagan Dunn, a King County councilman and son of a former congresswoman, is expected to announce his run for state attorney general as soon as Monday. Two Democrats – John Ladenburg and Bob Ferguson – already are running for AG. Then there is the question of who will run against McKenna, who has more than $300,000 left in his AG re-election fund. The most likely Democratic opponent is U.S. Rep. Jay Inslee, who has more than $1 million stockpiled for either a House re-election bid or a run for governor. Inslee is waiting for two-term Gov. Chris Gregoire to say she is not running before he makes his bid formal.
►  In today's Olympian — Cantwell flexes her political muscle — As the higher costs put a renewed focus on energy issues, Cantwell, 52, once again finds herself in the thick of things in Washington, D.C., working on a hot-button issue that has dominated her agenda this year – and gives her a public relations boost as she faces re-election next year.
---
STATE GOVERNMENT NEWS: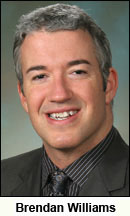 ►  At Crosscut — Workers' comp reform worse than dreaded I-1082 (Brendan Williams column) — HB 2123 is immediately harmful to workers.  We know this because its effectiveness is defined by taking hundreds of millions out of workers' pockets. The fiscal note assumes 40% of claimants will enter into "structured settlements" without benefit of counsel.  That's dangerous.  It's expected that claims will be sold for 80% of their value… Despite the Republican endzone dancing (over HB 2123's passage), the business community has made it clear they'll move the goalposts after this touchdown.  And why shouldn't they, if it's clear even an all-cuts budget can be held hostage to force through any bad idea?
►  At TheNewstribune.com — House Speaker Chopp reflects on session — Chopp maintains HB 2123 wasn't the raw deal portrayed by unions. It avoided the lump-sum payments that he says might have tempted workers in financial straits to take less than they should. "I feel very proud that we were able to do that." He praised the overall worker's-compensation deal for adopting a series of cost-cutting and reform changes favored by the House, including a rainy-day fund for the troubled system, which business lobbyists opposed. "In the final analysis, everybody had to give some," he said.
►  In today's (Everett) Herald — Ferry rates going up, structure of fees may change — Fares will be rising, but the size of the increase and who would pay it is under discussion and may depend on the length of one's car and whether you walk, pedal or drive on board. This is all happening because the system must come up with an additional $310 million from fares in the next two years to keep its operating budget from sinking in red ink.
►  In Sunday's Olympian — Maple Lane School gets brief reprieve — State budget cuts will close Maple Lane School as an institution June 30. But the juvenile prison at Grand Mound is getting a short afterlife as temporary "satellite" for the Green Hill youth prison in nearby Chehalis. Maple Lane also remains one of three potential sites for a new state receiving unit to serve Washington's adult prison system in the next few years.
---
LOCAL NEWS:
►  In the Kitsap Sun – Workers picket outside Doctors Clinic offices — Licensed practical nurse Sandy Phillips said she didn't like it when her employer, The Doctors Clinic, made her drop her health-insurance policy last fall since she had Medicare. Unresolved health care issues like Phillips' spurred workers represented by UFCW Local 21 to stage an informational picket outside The Doctors Clinic in Poulsbo on Saturday.
►  In the Kitsap Sun — Contractor EJB Facilities Services hands out furloughs as Navy work dries up — For the first time in its almost six-year history here, Navy base operations contractor EJB Facilities Services is forcing furloughs on its workers. About 300 hourly workers are being affected by the three forced unpaid days off. Salaried workers are not as affected.
---
NATIONAL NEWS:
►  In today's Washington Post — Obama pitches jobs initiatives — Bedeviled by a bleak employment picture, President Barack Obama is pushing for more private sector hiring while seeking to protect his own job during a two-day domestic trip that aims to raise his political profile in two key states and with an important Hispanic constituency.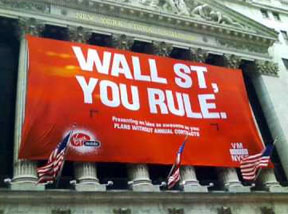 ►  In today's NY Times — Obama reaches out to win Wall Street cash — A recent meeting with Wall Street executives, organized by the Democratic National Committee, kicked off an aggressive push by the president to win back the allegiance of one of his most vital sources of campaign cash — in part by trying to convince Wall Street that his policies, far from undercutting the investor class, have helped bring banks and financial markets back to health.
►  In the Washington Post — Gridlocking the lives of the jobless (E.J. Dionne column) — All the spending cuts in the world will do Obama no good if unemployment next year is anywhere close to where it is now. Changing the message and the policies coming out of Washington is urgent. A deficit deal that ignores the unemployed will flunk the dual test the voters set up in 2010.
►  From Yahoo! News — Congressional travel spikes, despite vows of austerity — With gas prices pinching the wallet and the national debt mounting, members of Congress proclaim that they feel Americans' pain and are committed to cutting back. Just not one of their favorite perks—globetrotting to far-flung locations at the expense of taxpayers and special interests.
►  At TPM — Feingold addresses anti-Walker protesters: "We will not stop until we win" — Former Sen. Russ Feingold (D-WI), who was defeated for re-election in the 2010 Republican wave after three terms, has now begun to re-emerge into the public eye — taking part in the protests against Republican Gov. Scott Walker that have been going on pretty much non-stop for the last few months at the state Capitol.
►  In today's NY Times — Medicare saves money (editorial) — Privatizing health insurance for seniors, which is what Mr. Lieberman is in effect proposing — and which is the essence of the G.O.P. plan — hurts rather than helps the cause of cost control. If we really want to hold down costs, we should be seeking to offer Medicare-type programs to as many Americans as possible.
---
The Stand posts links to Washington state and national news of interest every weekday morning by 9 a.m. Make this electronic "clip service" your first stop each morning! These links are functional on the date of posting, but sometimes expire.
---
WASHINGTON IS A UNION STATE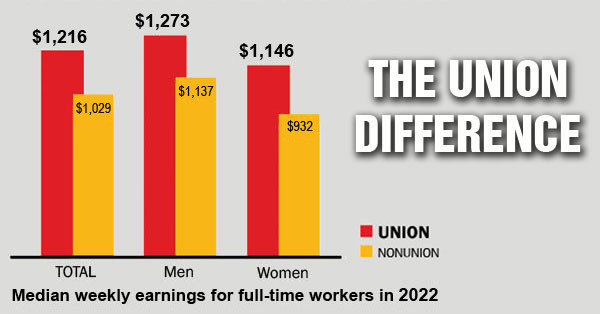 CHECK OUT THE UNION DIFFERENCE in Washington state: higher wages, affordable health and dental care, job and retirement security.
FIND OUT HOW TO JOIN TOGETHER with your co-workers to negotiate for better working conditions and respect on the job. Or go ahead and contact a union organizer today!