Keeping WA ports union, Boeing, Supremes™…
---
LOCAL NEWS: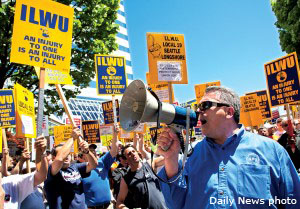 ►  In today's (Longview) Daily News — ILWU to meet with international EGT partners — The top three officials of the International Longshore and Warehouse Union will meet next month with the Asian partners of the EGT grain terminal to negotiate with the owners to use union labor, ILWU officials said Friday. In the meantime, ILWU Local 21 held another informational picket Friday afternoon in Longview near the south end of Lake Sacajawea, demanding work at the $200 million terminal at the Port of Longview.
►  In today's Olympian — Pierce Transit will end I-5 service to Olympia — Pierce Transit will cut its remaining Olympia Express service from Pierce County to Olympia in October, the agency decided last week, making commuting more difficult on the Interstate 5 corridor.
►  In the (Everett) Herald — Heavy hitters behind state initiatives — Petitions are on the street for initiatives to change how hens are caged, tolls are set, booze is bought and health care workers are trained.
►  In today's Seattle Times — Hanford's adverse atmosphere to safety (editorial) — The Department of Energy and a primary contractor at the Hanford nuclear reservation are not protecting worker health. The failure threatens to compromise the cleanup mission and, ultimately, protection of the public.
---
BOEING NEWS:
► Today at The Stand — Washington's edge: Its aerospace workforce — Watch the video — produced by Washington State Labor Council Communications Director Kathy Cummings on behalf of Machinists District 751 and SPEEA/IFPTE 2011 — that is being featured in the Washington State booth at the 2011 Paris Air Show to show the world why Washington has the key advantage necessary for their success: a skilled, experienced and passionate aerospace workforce.
► Today at IAM 751's blog — Boeing honors Machinists for outstanding quality — The Boeing Co. has honored a group of nearly 300 Machinists Union members at the company's Everett site for their outstanding performance in improving the quality of the aircraft components they produce.
► Today at IAM 751's blog — Machinists promise support for Project Pegasus — Machinists Union leaders applauded the appointment of Tayloe Washburn to head up the campaign to ensure Boeing's next new airplane is manufactured within Washington state. Machinists Union District Lodge 751 President Tom Wroblewski also vowed the support of all 28,000 of his members in backing Gov. Chris Gregoire's "Project Pegaus," which Washburn will lead.
►  In today's Seattle Times — Decisions on production to impact location of new Boeing jet — Commercial Airplanes chief Jim Albaugh said Monday in Paris that by the time the company announces a decision on whether a new plane is needed to replace the single-aisle 737 — likely by the end of this year — his team will have "a very credible production system in our mind." What they have in mind then could have a very direct bearing on where the next jet will be built.
►  In today's Seattle Times — Key plane buyer wants new Boeing jet, not revamped 737 — Steven Udvar-Hazy, the airline world's most influential player, said Sunday in Paris that he's ready to be Boeing's launch customer for an all-new narrowbody jet to replace the Renton-built 737. He said Boeing should resist doubters who are urging it to follow Airbus' lower-risk strategy in the narrowbody jet market and just outfit the 737 with new engines.
►  In the PS Business Journal — Boeing announces $7.1 billion in 747-8, 777 orders in Paris — The orders announced at the Paris Air Show include 17 747-8 Intercontinental planes worth $5.4 billion and six 777-300 extended range planes worth $1.7 billion.
►  In the PS Business Journal — Phil Condit reflects on how move to Chicago changed Boeing — A decade after moving Boeing's headquarters from Seattle to Chicago, former chairman and CEO Phil Condit believes his controversial decision brought Boeing the improvements he had sought — and more.
---
STATE GOVERNMENT NEWS:
►  In the PS Business Journal — State lawmakers decline to fund Convention Center expansion — Measures to speed up expansion of the Washington State Convention Center in Seattle died in the last moments of the legislative session. A pair of bills that would have raised $150 million for the convention center expansion, using revenue from King County hotel, restaurant and car rental taxes, failed to pass in the just-ended session, lawmakers said. The money would have completed the project's financing so that the center could expand within three years. It will now take six years to complete the job with the existing revenue stream.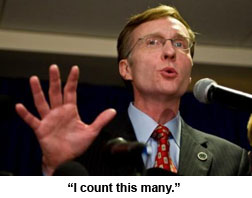 ►  From AP — Fact check: Math behind McKenna claims faulty — Rob McKenna launched his campaign for governor recently with a vow to curb the costs of personnel in state government, citing statistics that drew gasps from his audience of supporters. Problem is, a couple of McKenna's key numbers were wrong, exaggerating the speed of government growth.
►  In today's Yakima H-R — CWU may cut up to 20 jobs — To help balance its budget in light of state funding cuts, Central Washington University anticipates laying off 15 to 20 employees in the next several weeks. "I'm hoping that the layoffs are equitable," said Angie Wedekind, president of the CWU chapter of the Public School Employees of Washington. "I do think the board is trying to do the right thing."
---
NATIONAL NEWS: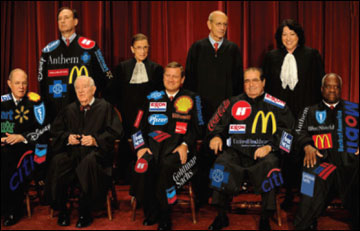 ►  Today at NYTimes.com — Supreme Court blocks suit against Wal-Mart — The Supreme Court on Monday blocked a massive sex discrimination lawsuit against Wal-Mart on behalf of women who work there. The court ruled unanimously that the lawsuit against Wal-Mart cannot proceed as a class action, reversing a decision by the 9th U.S. Circuit Court of Appeals. The lawsuit could have involved up to 1.6 million women, with Wal-Mart facing potentially billions of dollars in damages. Now, the handful of women who brought the lawsuit may pursue their claims on their own, with much less money at stake and less pressure on Wal-Mart to settle. The justices divided 5-4 on another aspect of the ruling that could make it much harder to mount similar class-action discrimination lawsuits against large employers.
►  From AP — AARP slammed for not fighting Social Security cuts — AARP's longtime policy chief, John Rother, was quoted as saying the agency was dropping its longstanding opposition to cutting Social Security benefits. "The ship was sailing. I wanted to be at the wheel when that happens," The Wall Street Journal quoted Rother as saying. The story set off a firestorm among Social Security advocates, who roundly criticized AARP as selling out seniors. Most advocacy groups oppose all cuts to Social Security benefits, even those that would affect only future generations, such as an increase in the retirement age.
►  In the Washington Post — With executive pay, rich pull away from rest of America — For years, statistics have depicted growing income disparity in the United States, and it has reached levels not seen since the Great Depression. But economists had little idea who these people were. How many were Wall street financiers? Sports stars? Entrepreneurs? Economists could only speculate, and debates over what is fair stalled. Now a mounting body of economic research indicates that the rise in pay for company executives is a critical feature in the widening income gap.
►  In today's NY Times — Companies push for tax break on foreign cash — Some of the nation's largest corporations have amassed vast profits outside the country and are pressing Congress and the Obama administration for a tax break to bring the money home. Apple has $12 billion waiting offshore, Google has $17 billion and Microsoft, $29 billion. Under the proposal, the federal income tax owed on such profits would fall to 5.25% for one year, from 35%. Corporations and their lobbyists tout the idea as "the next stimulus."
EDITOR'S NOTE — But corporations are already sitting on $2 trillion in cash on their balance sheets rather than hiring more workers. How does giving them another $1 trillion in tax savings change that?
►  At Huffington Post — 24% of Americans consumers have no emergency savings, poll finds — Only 24% of consumers have the recommended cushion of at least six months' expenses set aside. The vast majority aren't ready for contingencies; another 24% don't have any emergency savings at all.
►  In today's LA Times — Actors unions start formally discussing merger — The Screen Actors Guild and its smaller sister union, the American Federation of Television and Radio Artists, have begun formal discussions to merge their unions.
►  In today's LA Times — Fewer hands in the fields — Labor contractors and farmers across Georgia fret that the state's tough new immigration law is scaring away the illegal immigrant workforce they depend upon.
---
The Stand posts links to Washington state and national news of interest every weekday morning by 9 a.m. Make this electronic "clip service" your first stop each morning! These links are functional on the date of posting, but sometimes expire.
---
WASHINGTON IS A UNION STATE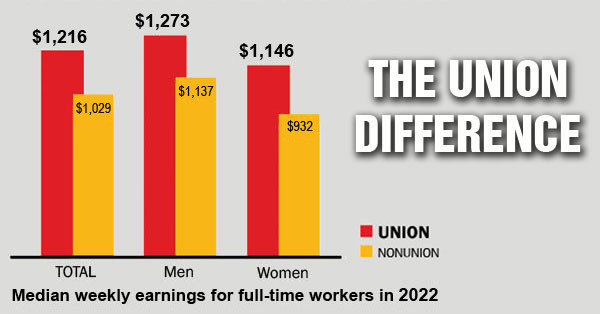 CHECK OUT THE UNION DIFFERENCE in Washington state: higher wages, affordable health and dental care, job and retirement security.
FIND OUT HOW TO JOIN TOGETHER with your co-workers to negotiate for better working conditions and respect on the job. Or go ahead and contact a union organizer today!