More arrests as UW's Sodexo protests continue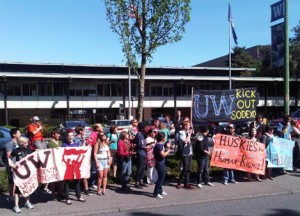 Student outrage is growing at University of Washington after another 14 students were arrested Wednesday night as campus protests continue over the university's food-services contract with Sodexo, a company accused of global human rights violations. More than 50 students have been arrested at UW protests against Sodexo in the past month.
"We deeply fear for the future of our institution in which corporate excuses take precedence over the democratic will of the campus community," said Allie Padgett, a junior who is a member of United Students Against Sweatshops. "Students and community leaders are furious that President (Phyllis) Wise is so willing to protect her relationship with Sodexo."
The UW Kick Out Sodexo Coalition, which includes 23 campus groups, is urging the university to cancel its contract with Sodexo, a food-services company that supplies concessions at UW athletic facilities under a contract that expires in June 2012. Human Rights Watch and TransAfrica Forum have reported that Sodexo pays poverty wages, denies employee breaks, and intimidates those who seek to form unions.
A Washington Post report found:
TransAfrica and its partners interviewed Sodexo employees in five countries– the United States, the Dominican Republic, Guinea, Morocco and Colombia. One of the company's cafeteria workers at Tulane University in New Orleans, for instance, complained of still making $7.42 an hour after 40 years on the job. A chief complaint across the globe was a hostile climate toward joining or forming unions, with employees allegedly being threatened or fired.
Currently, the UW is the last public university in Washington State to hold a contract with the food service giant. A UW spokesman told the Seattle Times that a committee of students, faculty and staff would investigate allegations against Sodexo during the summer. The company's top executives recently met with UW students and administration, but the students were not satisfied with their assurances.
"Sodexo executives refused to take even the most basic steps to protect its workers against human rights abuses," said Gaby Guillén, a freshman with Movimiento Estudiantil Chicano de Aztlán. "After the company took such a backwards position, it's embarrassing that the administration is continuing to protect its relationship with the company while rejecting the voices of so many angry students."
On Wednesday, students from the Black Student Union, Movimiento Estudiantil Chicano de Aztlán (MEChA de UW), and First Nations joined the UW Kick Out Sodexo Coalition to occupy the Office of Admissions. Fourteen of them were arrested on charges of criminal trespass after they refused to leave the building.
Based on the lack of action taken by the administration in regards to the Sodexo campaign, the students also expressed concerned for what is to come next year when administrators, including new UW President Michael Young, will have unprecedented new power to increase tuition.
"Next year, student struggles are only going to increase as budget cuts hit home," says Katy Lundren, a sophomore with the UW Kick Out Sodexo Coalition. "How can we trust the administration to keep public education affordable if they won't even obey the will of the campus community to end ties with human rights abusers like Sodexo?"
Short URL: https://www.thestand.org/?p=1673
Posted by
David Groves
on Jun 3 2011. Filed under
LOCAL
. You can follow any responses to this entry through the
RSS 2.0
. Both comments and pings are currently closed.