Politics of Boeing, our deadly prisons, UW cuts, Freeman's boy Eyman…
---
BOEING-N.L.R.B.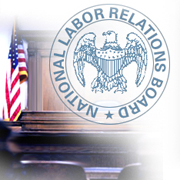 ►  From AP — Judge denies Boeing motion to dismiss labor case — A federal judge on Thursday denied Boeing's request to toss out an NLRB lawsuit that claims the company illegally retaliated against unionized workers by moving some work from Washington state to South Carolina. The ruling is an early victory for the National Labor Relations Board, which has been widely criticized by Republicans and business groups for bringing the case.
►  Also see The Stand's coverage posted yesterday, plus more from The Hill and the (Everett) Herald.
►  In today's NY Times — Boeing labor dispute is making new factory a political football — Connie Kelliher, a spokeswoman for the machinists, said the union was not seeking to shut down the South Carolina plant. In its settlement negotiations with Boeing, the union has suggested that the company keep the plant operating by moving some outsourced parts production from other countries to South Carolina — an idea that Boeing and industry analysts consider unrealistic.
►  In the Seattle Times — The president and the unions: The community organizer isn't a labor organizer (Jon Talton column) — After decades of a business-dominated NLRB making pro-management rulings, now some are shocked that the federal agency charged with ensuring balance between business and labor should actually attempt to do so. Yet it's just that balance, along with the right to organize and bargain collectively in the private sector, that is a cornerstone of American democracy. It also played no small role in lower income inequality. The rise of business power has had the opposite effect, while offshoring millions of jobs and, emboldened by deregulation and the big money to drive self-serving policies, driving the economy into a ditch.
EDITOR'S NOTE — What he said.
---
STATE GOVERNMENT
►  In today's Peninsula Daily News — Officer taken hostage was working alone — A prison guard was the only corrections officer supervising 104 inmates in the laundry and garment area when he was taken hostage Wednesday during a botched escape attempt. Armed with only handcuffs and a radio, he was left to supervise the inmates by himself when his partner left the room to take a 30-minute lunch break — standard staffing practice in state prisons. Two inmates seized the opportunity. One took the solo guard hostage using a pair of scissors, the other grabbed his keys, unlocked a forklift chained to a wall and was later killed.
EDITOR'S NOTE — Is there any question at this point that chronic prison understaffing in Washington state has emboldened dangerous inmates and endangered Corrections Officers? What's it going to take before we fix this? Another officer's death? A costly lawsuit? What?
►  In today's Seattle Times — UW Regents approves biggest-ever tuition increase, announces layoffs — The University of Washington raised tuition and fees by the largest dollar amount in the school's history Thursday, hiking tuition for in-state undergraduates by nearly $2,000, or 20%. At the same time, the school announced "significant layoffs" to try to blunt the impact of a $106 million cut in state funding this year. The UW has cut or eliminated about 900 positions since 2009 and eliminated hundreds of classes. The UW — like all state agencies — is required by the Legislature to take a 3% salary reduction, which totals a little more than $11 million. The UW has decided to keep salary levels frozen, and take the reduction by eliminating positions.
►  In today's Spokesman-Review — State employee paychecks shrink a little — Happy new fiscal year, Washingtonians. If you're a state employee, your paycheck gets smaller starting today. State employees' paychecks go down by 3% starting today, part of a contract change negotiated by state employees unions and the governor's office. The hourly wages aren't being reduced, but employees will work 5.2 fewer hours per month, and their pay will be reduced to reflect the drop in hours.
►  In today's Olympian — July brings many state law changes — State government today enters a new budget cycle fraught with spending cuts, accompanied by a quiet restructuring of agencies that deal with health care.
---
POLITICS
►  In The Stranger — Tim Eyman is attacking transit — Tim Eyman's latest bomb of an initiative, I-1125, doesn't specifically ask voters to drop airplanes on Sound Transit trains or ram an explosive-laden speedboat into the 520 floating bridge. But it might as well. The intent of this boring-sounding initiative is far-reaching — particularly on projects that affect Seattle. By barring not just the use, but the "transfer" of gas-tax-funded lanes for non-highway purposes, I-1125 seeks to block Sound Transit's access to the I-90 bridge, thus killing its plans to connect Seattle and the Eastside via light rail.
---
LOCAL
►  In today's Spokesman-Review — Spokane County employees to shoulder costs — County commissioners took a first step this week to trim employee medical benefits they say are no longer feasible. Changes imposed on 262 nonunion employees – including commissioners and other elected officials – will nearly triple some current rates. For Spokane County to achieve its desired savings, commissioners must persuade 1,651 union employees in 20 bargaining units to accept the new package in ongoing negotiations.
---
STARVE THE POOR, FEED THE RICH
►  At Huffington Post — No extended unemployment benefits for people laid off from now on — After this week, workers laid off through no fault of their own will not be eligible for any of the generous extended unemployment benefits layoff victims have received from the federal government since 2008.
►  From AP — Federal jobless tax for employers expiring quietly — Nearly every private employer in the U.S. will get a tax cut today. It won't affect workers' paychecks. But the expiration of a 35-year-old "temporary" unemployment tax — about $14 a year per worker — will mean real money for some big companies.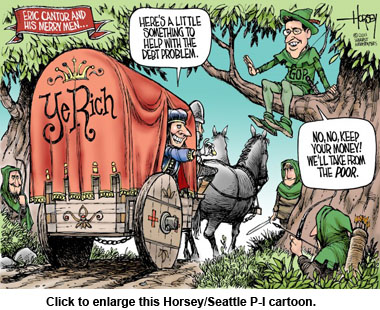 ►  At TPM — Dems put GOP on spot over tax benefits for super-rich — If Republicans are taking all taxes off the table, then they're playing reverse Robin Hood — demanding trillions in cuts to social programs while refusing to budge on preferences to unfathomably wealthy special interests. It's class war, but in tactical sense. If Democrats can make the GOP feel so uncomfortable that they agree to end special tax favors for the ultra-wealthy — even if those favors don't ultimately cost that much money — then maybe they can break the anti-tax firewall.
►  At NYTimes.com — The wageless, profitable recovery — Economists at Northeastern University have found that the current economic recovery in the United States has been unusually skewed in favor of corporate profits and against increased wages for workers. The economists found that since the recovery began in June 2009 following a deep 18-month recession, "corporate profits captured 88 percent of the growth in real national income while aggregate wages and salaries accounted for only slightly more than 1 percent" of that growth.
---
NATIONAL
►  In today's NY Times — Republicans boycott a hearing on trade — In an upside-down pair of performances, Democratic senators filled half a hearing room to declare their support for trade deals opposed by much of their party's political base, while Republican senators stood before television cameras to declare that they would not allow a hearing on legislation that much of their own base strongly supports. Sen. Orrin Hatch, the ranking Republican on the Finance Committee, said Republicans were responding to a decision by the White House to include in the free trade legislation the expansion of Trade Adjustment Assistance, a benefits program for workers who lose jobs to foreign competition.
►  In today's NY Times — Two rulings find cuts in public pensions permissible — Judges in Colorado and Minnesota have dismissed court challenges by retired public workers whose pensions had been cut — developments that may embolden other states and cities to use pension reductions as a tool to help balance their budgets.
►  In today's NY Times — Lies and truth about Upper Big Branch (editorial) — Profits trumped all, including the safety and lives of 29 miners. That is the clear conclusion of a yearlong federal investigation into the Upper Big Branch disaster. Industry must finally learn its lesson. Congress and federal regulators must ensure that it does.
►  At TPM — Anger mismanagement: Wisconsin justice grabs reporter's mic when asked about assault — Wisconsin state Supreme Court Justice David Prosser, who has been publicly accused of putting Justice Ann Walsh Bradley in a chokehold, had another flare-up on Thursday — this time with a reporter.
---
The Stand posts links to Washington state and national news of interest every weekday morning by 9 a.m. Make this electronic "clip service" your first stop each morning! These links are functional on the date of posting, but sometimes expire.
---
Short URL: https://www.thestand.org/?p=2657
Posted by
David Groves
on Jul 1 2011. Filed under
DAILY LINKS
. You can follow any responses to this entry through the
RSS 2.0
. Both comments and pings are currently closed.