State layoffs, U.S.-Mexico trucking, Social Security cuts…
---
STATE GOVERNMENT

►  From AP — New round of layoffs begin in state government — The heaviest reductions are taking place at the Department of Information Services. More than 30 workers there have received layoff notices while another 30 positions that had been vacant are now being eliminated for good. DSHS is also pursuing new cuts. The agency is currently working through 40 layoffs while another 74 layoffs loom in the near future. WFSE Executive Director Greg Devereux said the layoffs are creating a massive workload problem for employees left behind: "There are many fewer workers doing either the same or greater work," Devereux said. "Work is either not getting done or people are working strained."
►  In today's News Tribune — State hiring freeze, such as it was, thaws in July heat — Thousands of employees were added to the payroll during the 151/2-month freeze – lawmakers purposely shielded some from the freeze, and some were approved by officials under 1,975 special exemptions. The state government work force is still shrinking. The state employed the equivalent of 110,000 full-time workers on average in fiscal 2010, excluding K-12 schools. Through 11 months of fiscal 2011, the work force dropped to an average of 107,600. And lawmakers budgeted even fewer workers, 106,500, for the new two-year budget period that started this month.
►  In today's NY Times — First study of its kind shows medical benefits of providing health insurance to poor — When poor people are given medical insurance, they not only find regular doctors and see doctors more often but they also feel better, are less depressed and are better able to maintain financial stability, according to a new, large-scale study that provides the first rigorously controlled assessment of the impact of Medicaid. The study comes at a time states are cutting back on Medicaid. In fact, the only reason it was done was Oregon was running out of money and had to choose some people to get insurance and exclude others.
---
LOCAL
►  In today's News Tribune — Lakewood leaders sign contract with city's largest labor union — The city's largest union has secured its first labor contract after negotiating for 18 months and surviving a decertification vote. Tuesday night, the City Council ratified the three-year contract with AFSCME Local 1938. The contract is retroactive to 2010. The union was certified in July 2009 and represents 105 clerical, professional and technical employees. The city's two other unions represent Lakewood police officers and community service officers.
►  Today at SeattlePI.com — Supporters cheer for mandate for Seattle paid sick leave — A packed room of vocal supporters cheered a government proposal Wednesday that would make employers give Seattle workers paid sick leave, largely drowning out business groups that oppose the plan. City Councilmember Nick Licata proposed the ordinance last month, for the roughly 200,000 Seattle workers who get no paid sick leave.
►  In today's Columbian — Farwest Steel lands $48M in federal tax credits to build local plant — Farwest Steel Corp. has obtained $48 million to build and equip its planned Vancouver steel fabrication plant. The company will kick off construction of the facility this week. The project is expected to bring 228 new and relocated jobs to Vancouver.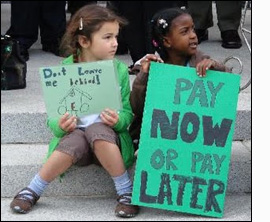 ►  At SeattlePI.com — Seattle school board cuts counselors to close budget gap — Though some schools scraped together funding to keep their school counselor, the $577 million budget no longer includes those positions. The school district also froze non-essential hiring and spending, changed school transportation to combine bus routes, and ordered unpaid furlough days for about 325 non-union employees.
►  At SeattlePI.com — Seattle schools must cut teacher pay or not buy textbooks — The levy voters approved in November included about $5.9 million for textbooks this year and next year. However, the school district must make up for an additional $4 million in cuts by the state this year, and if the salary reductions don't close it, the textbook funds may be among those that will.
►  In the Wenatchee World — Firefighters putting face on city's budget problems — A half dozen or more firefighters have been regulars at City Council meetings in the weeks since Mayor Dennis Johnson publicly floated an idea for closing the Maple Street fire station and laying off 12 firefighters.
►  In today's Kitsap Sun — Bremerton city council defeats $20 car tab proposal — A measure to add $20 for road repairs to Bremerton residents' vehicle license fees failed to pass the council by a one-vote margin.
---
BOEING
►  At Crosscut — Would a new tax break win Boeing's 737 successor for Washington? (Dick Nelson column) — The governor left the door open to an offer of tax incentives, saying that it's too early to know, but that if "a minimal amount brings in millions of dollars and thousands of jobs, that's a good investment." A small incentive that yields big dividends would be a decided bargain, especially if it convinces Boeing to carry out all of its substantial production ramp-up of the 737 in Washington. It would differ from the very generous and problematic package of 787 tax breaks.
---
POLITICS
►  In today's Columbian — Backers of liquor privatization initiative are optimistic — As Friday's submission deadline for citizen initiatives draws near, backers of an initiative to privatize liquor sales and distribution are confident in their campaign's progress. The spokesman for "Yes on 1183" would not say how many signatures in support of the initiative have been gathered so far, but he said he expects to get enough.
---
AGRICULTURE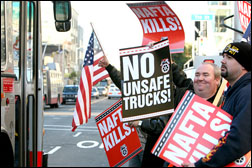 ►  In today's NY Times — U.S., Mexico sign trucking deal — Mexican truckers will be able to carry goods deep into the United States, and vice versa, under a deal signed Wednesday in Mexico City to keep a 17-year-old NAFTA promise. Under the terms of the final deal, signed by their transportation secretaries, both sides agreed to drop their barriers for a trial period of three years.
►  In today's Yakima H-R — Deal with Mexico ends tariff costing state's apple growers $44M a year — An agreement announced by trade officials Wednesday will see 20% tariffs on apples, cherries, pears and apricots reduced almost immediately. Mexico imposed the tariffs in 2009 as part of a long-standing dispute over cross-border commercial truck traffic. The powerful Teamsters Union has vowed to fight the deal and some members of Congress may seek to strip funding for truck and driver inspection and certification.
►  In today's Tri-City Herald — State's farmers celebrate end of trucking feud — Sen. Maria Cantwell described the agreement as a "major step forward for Washington agriculture." But not everyone was happy with the deal. "So much for their supposed transparency," said Jim Johnston, president of the Owner-Operator Independent Drivers Association. "Seems like the administration is dead set on caving to Mexico's shakedown regardless of the cost to the American public and our tax coffers."
►  At Publicola — The Atlantic: Illegal immigrant crackdown cripples farming — Here in Washington State — where the $35 billion food and agriculture industry makes up 11% of the state economy — growers are getting nervous about a proposal from Texas Republican Rep. Lamar Smith that would mandate the use of E-Verify by all employers. The legislation would likely cripple the state's farms, where, according to the immigrant rights group OneAmerica, an estimated 80% of all workers are undocumented immigrants.
---
NATIONAL
►  In today's Washington Post — In debt talks, Obama offers Social Security cuts — President Obama is pressing congressional leaders to consider a far-reaching debt-reduction plan that would force Democrats to accept major changes to Social Security and Medicare in exchange for Republican support for fresh tax revenue. At a meeting with top House and Senate leaders set for Thursday morning, Obama plans to argue that a rare consensus has emerged about the size and scope of the nation's budget problems and that policymakers should seize the moment to take dramatic action.
►  In The Hill — Obama move on Social Security puts him at odds with Reid, Pelosi — President Obama's stunning move to consider major changes to Social Security puts him at odds with Democratic leaders in Congress. Senate Majority Leader Harry Reid (D-Nev.) has said, "Leave Social Security alone… Two decades from now, I'm willing to take a look at it. But I'm not willing to take a look at it right now."
►  From Reuters — Private hiring picks up, jobless claims fall — Payrolls processor ADP said on Thursday private sector employment increased 157,000 after a modest 36,000 gain in May, and beating economists' expectations for a 68,000 rise.
►  In today's Washington Post — In Minnesota, workers who calculate cost of government shutdown are laid off — Even Minnesota's leaders don't know the cost of the state government's shutdown. That's because the people who would calculate the price tag were put out of work. Now more than six days old, the shutdown has continued to shutter parks and toll booths and to leave thousands of government workers at home.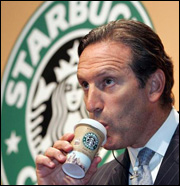 ►  At Huffington Post — Starbucks workers in Chile plan strike over low wages — Employees at Starbucks Corp's outlets in Chile plan to walk out on Thursday because, they say, their wages are so low that they can't afford to buy lunch. Unionized employees at 30 of Starbucks' 31 Chilean stores plan to walk out for as many as several days. The starting hourly wage for Chilean Starbucks workers is the equivalent of $2.50 and has not changed in eight years.
EDITOR'S NOTE — Meanwhile, Starbucks' union-busting Sonics-killing CEO Howard Schultz (at right) remains the Pacific Northwest's highest paid executive, pulling in more than $21.7 million in 2010, a 45% raise from 2009.
---
The Stand posts links to Washington state and national news of interest every weekday morning by 9 a.m. Make this electronic "clip service" your first stop each morning! These links are functional on the date of posting, but sometimes expire.
---
WASHINGTON IS A UNION STATE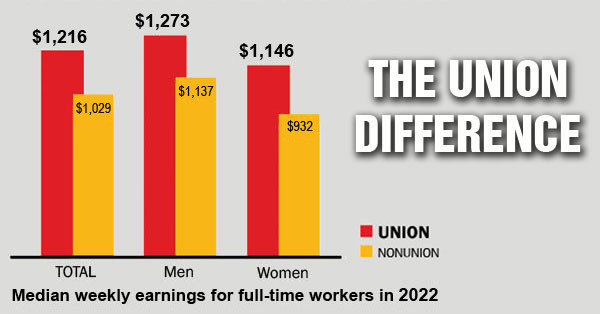 CHECK OUT THE UNION DIFFERENCE in Washington state: higher wages, affordable health and dental care, job and retirement security.
FIND OUT HOW TO JOIN TOGETHER with your co-workers to negotiate for better working conditions and respect on the job. Or go ahead and contact a union organizer today!