EGT says it'll hire IUOE, not ILWU; Costco & Freeman initiatives…
---
LOCAL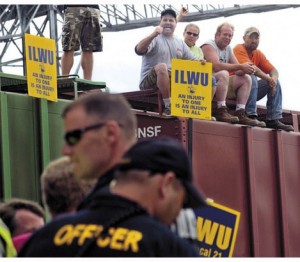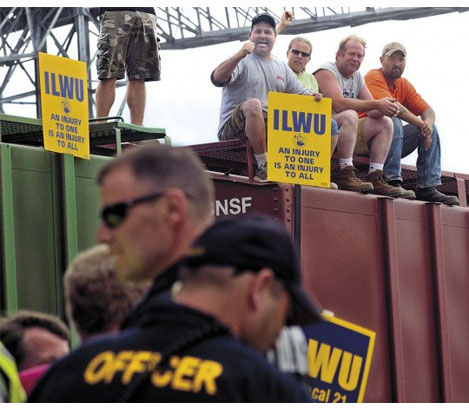 ►  In Sunday's (Longview) Daily News — EGT to hire through Federal Way-based union contractor — In a move that "stunned" the local longshore leadership, EGT Development announced Sunday it will hire a union contractor to staff 25 to 35 jobs at its $200 million grain terminal at the Port of Longview. Federal Way-based General Construction Co., a subsidiary of Kiewit Infrastructure West Co., which hires workers through the International Union of Operating Engineers, will start working at the terminal this week, EGT officials say. Representatives from IUOE Local 612, based in Tacoma, could not be reached Sunday to comment on whether union operators would be willing to work while EGT remains at loggerheads with Longview-based ILWU Local 21.
► In Saturday's Daily News — Economic boom becomes heart of fierce battle between longshoremen, EGT — Along the West Coast, labor leaders are closely watching the dispute, fearful that an EGT victory could embolden grain companies at other ports to challenge the union. The Stand, the Washington State Labor Council's weekly newsletter, called the protest "one of the more militant union campaigns in decades."
EDITOR'S NOTE — Weekly? You mean I can just update this weekly?
►  In today's News Tribune — Pierce County employees agreeable to going without cost-of-living increases — So far, eight of the county's 20 bargaining units have agreed to labor agreements with no COLAs for 2012 covering about 40% of the county's 1,700 represented employees. The county's budget has shrunk 14% in the last four years — from $881 million in 2008 to $762 million in 2011. More than 450 positions were cut.
►  From AP — Inmate injures 3 prison officers at Clallam Bay — A 35-year-old convicted killer injured three correctional officers at the Clallam Bay Corrections Center on Saturday night after he refused to return to his cell.
EDITOR'S NOTE — With prison staffing cuts and high-profile violent incidents, including the murder of corrections officer Jayme Biendl in January, inmates in this state appear to have become emboldened.
►  In the P.S. Business Journal — Buyers snap up Boeing suppliers as production ramps up –Aerospace conglomerates are snatching up Washington companies that supply parts to Boeing, positioning themselves to cash in on huge upcoming increases in plane production.
---
POLITICS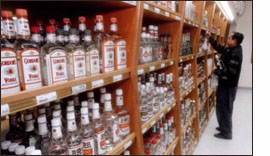 ►  In Sunday's Seattle Times — Costco revamps liquor privatization initiative — Having lost last year at the polls, the country's third-largest retailer is back with another initiative for voters to consider. Initiative 1183 resembles last year's effort in that it would push the state out of the liquor business, but there are differences intended to make it more palatable to voters. The company claims I-1183 would not reduce government liquor revenues like last year's measure and it would limit the number of stores that would sell liquor. Perhaps most important from a political perspective, it makes no changes in the way beer is distributed and sold. Last year, beer makers and distributors contributed more than half of the $9.2 million that helped defeat Costco's initiative.
►  In today's Seattle Times — Tunnel foes, backers see high stakes in Aug. 16 votes — For a time, supporters of a tunnel replacement for the Alaskan Way viaduct considered ignoring Ref. 1, but they quickly realized the stakes of letting tunnel opponents' arguments go unmatched and have gotten organized to oppose it. "It's a proxy vote on the project," said Dave Freiboth, executive secretary of the M.L. King County Labor Council. "And so technically, it doesn't matter. Politically, it matters, this vote, and so we're taking it seriously."
►  In Sunday's Seattle Times — One rich guy's unending war on light rail (Danny Westneat column) — Bellevue mall developer Kemper Freeman threw his financial weight behind the latest Tim Eyman initiative, putting up $1.1 million of the $1.2 million used to gather signatures. The measure is mostly about tolls, but one small section is about something else. It seeks to prevent Sound Transit from building the Eastside leg of light rail across the I-90 bridge. It's a sorry part of our democracy these days that any rich guy can buy his pet peeve onto the ballot.
►  At SeattlePI.com — Sen. Cantwell builds political firewall — with greenbacks — The Democratic U.S. Senator has no challenger yet for 2012, but she raised almost $1.4 million in campaign cash during the quarter just ended, raising her total to more than $2.7 million so far in 2011.
---
STATE GOVERNMENT
►  In the Spokesman-Review — State health coverage plan falls flat — Washington's Health Insurance Partnership to help small businesses and low-wage workers pay for medical coverage was conceived four years ago with Gov. Gregoire predicting as many as 650 people could have insurance through the program by 2011. But HIP fell far short of that lofty target. Congress pulled back the grant this April in a round of budget cuts. Between the time the first workers were enrolled in January and the program was closed to new enrollees in May, only 16 small businesses signed up. In all, 66 people, a combination of workers at those businesses and their dependents, got insurance coverage. That coverage will end a year after a worker signed up.
►  In today's NY Times — The value of Medicaid (editorial) — Conservative critics of Medicaid — and of health care reform's requirement to expand it — have made the outlandish claim that it provides such poor care that enrollees would be better off having no coverage. That claim has been refuted by a new study of Oregon's program that finds that Medicaid patients reported both better health and more financial stability than uninsured poor people.
►  In today's NY Times — States' money woes show no favorites –Governors of both parties say states are going to have to adjust to what some are calling the "new normal": the strong likelihood that they will be asked to make do with less federal aid. "It's like falling off a cliff," said Gov. Christine Gregoire. "And we're going to be at the bottom of that cliff for a long time in our relationship with the federal government. And whatever they're going to decide in the way of cuts, I hope they understand the implications to the states and what it's going to mean on the ground out here."
►  In the Spokesman-Review — Higher ed, lower affordability (Shawn Vestal column) — The Tuition Policy Report of the Higher Education Coordinating Board recommended that our state reject the "high tuition/high aid" model, because it hurts middle-class and poor students. I wonder what our current model – high tuition/low aid – will do for those kids?
►  In today's Olympian — GA's Joyce Turner to lead transition efforts — Gov. Chris Gregoire named Joyce Turner, her General Administration director, to oversee the major restructuring of five agencies this fall that will eventually result in a new Department of Enterprise Services. Gregoire proposed the consolidation last year and it became controversial in the Legislature, which eventually authorized the changes in SB 5931. That bill included new provisions for contracting out work to the private sector.
►  In today's Daily News — Oregon state workers' unions set for labor talks — The two top state workers' unions in Oregon are set to hold a second joint bargaining session Monday with representatives of Gov. John Kitzhaber. They're hoping to break a deadlock about furloughs, health care and pay increases. Kitzhaber wants state employees to pay 5% of their health care premiums.
---
CAREENING TOWARD THE CLIFF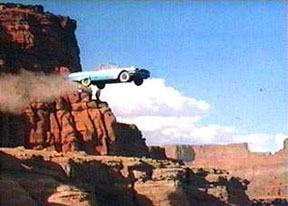 ►  In today's Washington Post — Congress tees up crucial votes on debt limit — A bipartisan effort in the Senate to allow President Obama to raise the federal debt ceiling in exchange for about $1.5 trillion in spending cuts over 10 years gained momentum Sunday, as leaders agreed they would have to act in the next two weeks to avert a potential default by the U.S. government.
►  At Huffington Post — Debt talks continue, Washington grinds to standstill — From the White House to Congress, the negotiations over raising the U.S. debt limit have overshadowed or halted work on everything from job creation to the military conflict in Libya to education reform.
►  In today's Washington Post — Why did Washington waste six months? (E.J. Dionne column) — Every member of Congress who got us into this debt-ceiling fight should be docked six months' pay. They wasted our time on political posturing instead of solving problems. Better yet, the voters might ponder firing them next year. This could do wonders for national productivity.
►  In today's NY Times — Across nation, budget talks spur pessimism — A selection of people across the country report both pessimism and cynicism about the state of negotiations in Washington, resignation about the partisan jousting and more confusion than conniption about what exactly will happen if the president and his Republican opponents cannot make a deal to raise the debt ceiling by Aug. 2.
---
The Stand posts links to Washington state and national news of interest every weekday morning by 9 a.m. Make this electronic "clip service" your first stop each morning! These links are functional on the date of posting, but sometimes expire.
---
Short URL: https://www.thestand.org/?p=3125
Posted by
David Groves
on Jul 18 2011. Filed under
DAILY LINKS
. You can follow any responses to this entry through the
RSS 2.0
. Both comments and pings are currently closed.