Longview's long haul, Boeing's bidding, heat on Murray…
---
I.L.W.U.: IN IT FOR THE LONG HAUL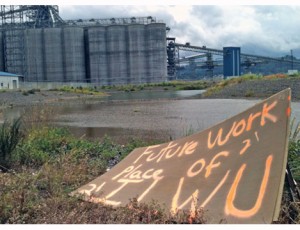 ► In Saturday's Daily News — Both sides settle in for long legal battle over grain terminal labor dispute — Despite the small number of jobs at stake, the terminal has touched off the local area's most intense labor standoff in decades, as the ILWU tries to compel owner EGT Development to hire its workers, as all other West Coast grain terminals do. Talks broke off month ago and there's little prospect that they'll resume. Acrimony aside, the economic stakes in the battle seem relatively low. EGT now acknowledges that its earlier estimates that union longshore labor will increase its costs by $1 million a year were shots in the dark and that unionized operating engineers hired to run the terminal will be paid comparably to union longshore workers. Meanwhile, just outside the terminal's gates, the union longshoremen plan to continue their 24-hour picket. Says ILWU 21 President Dan Coffman: "The ILWU is not going away in this. We will fight to the end to secure what is rightfully our turf."
---
STATE GOVERNMENT
► In The Olympian — State revenue guesses were off by almost $10 million — A new state tax-collections report showed Washington took in $9.4 million less in the past month than was forecast, and the state's top economist said he is more pessimistic and recession risks are higher for the state and nation.
► In The Olympian — 30 state lawmakers have now agreed to cut own pay — A third of state lawmakers have now lined up to cut their pay. As of Friday, 25 House and five Senate members had answered the call of legislation that large majorities in both chambers passed in late May. SB 5860 spelled out 3% pay cuts for most state-government workers starting July 1 — and on pages 2 and 3 it encouraged elected officials to follow suit.
---
BOEING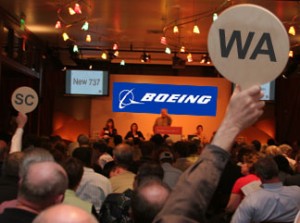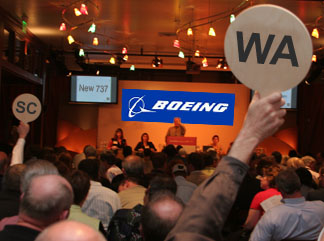 ► In the Seattle Times — Boeing: "Six to eight months" until Boeing picks 737 site — Boeing Commercial Airplanes chief Jim Albaugh told a crowd of several thousand employees in Renton that the company will conduct a careful selection process over "the next six to eight months" before deciding where it will build a new version of the single-aisle jet.
EDITOR'S NOTE — That ought to be just long enough to squeeze in yet another "Make Us Happy" legislative session.
► In the (Everett) Herald — NLRB balks at Boeing document subpoena — A House committee chairman, Rep. Darrell Issa (R-Calif.), called the NLRB a "rogue agency" after the board balked at releasing confidential documents in its complaint against Boeing.
EDITOR'S NOTE — Meanwhile, in today's New York Times, we learn that rogue Rep. Darrell Issa (R- Calif.) is unapologetically enriching himself with his actions as House committee chairman: "Most wealthy members of Congress push their financial activities to the side, with many even placing them in blind trusts to avoid appearances of conflicts of interest. Not Mr. Issa, one of Washington's richest lawmakers…"
► Ar SeattlePI.com — Boeing more than halves time to assemble 777 sections — Boeing has slashed the time its takes to assemble the 777′s three main sections and landing gear from more than 60 hours to just 24.
---
LOCAL
► In the (Everett) Herald — Union's proposed contract with county draws ire — Some Snohomish County leaders say a demand from the county's largest workers union (AFSCME), in a proposed contract, seeks the equivalent of a signing bonus. To them, the request to give $460 to each of the union's members is a perk the county can ill-afford right now. Union leaders, meanwhile, call the one-time payment an adjustment for paying higher medical premiums. To them, it's not a signing bonus at all.
► In the Tri-City Herald — Fired workers rehired at Tri-Cities Community Health –In a complaint filed by OPEIU Local 8, the NLRB found the clinic moved a worker from a union job to a non-union job without telling the union, and then fired her. Says the clinic's interim financial officer: "We kind of screwed up in that process."
---
NATIONAL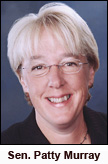 ► In today's Bellingham Herald — Murray gets heat as she prepares to co-chair debt panel — As official Washington speculates on what Sen. Patty Murray's presence might mean on Congress' new debt-reduction committee, one thing is clear: Her contribution to the 12-member panel ultimately could depend on which Patty Murray shows up for work. Will it be Murray the compromiser, the former preschool teacher who voted in 2001 for President Bush's No Child Left Behind law, even though she worried that it would put too much emphasis on high-stakes tests? Or will it be Murray the partisan, the champion of Social Security, Medicare and myriad other social programs who's been busy blasting Republicans for their intransigence in dealing with the national debt this year?
► In today's NY Times — A jobs agenda, anyone? (editorial) — In what can only be described as a triumph of bad policy and craven politics, Congress and the Obama administration have spent the year focused on budget cuts, as the economy has faltered and unemployment has worsened. By a large margin, Americans have told pollsters that job creation is more important than budget cuts. Yet Republican leaders are wedded to austerity and appear to think that high unemployment will hurt President Obama politically more than it will hurt them, so they will likely resist efforts to create jobs, no matter how great the need.
► At TPM — Tea Party movement getting Americans steamed — Three separate polls that showed Americans are not just more skeptical of the Tea Party, but growing tired of their role in the political process, which builds on previous evidence that the Tea Party is being pushed away by independent voters.
► At In These Times — Verizon strike highlights union effect on middle-class jobs — Given the attacks on public sector unions and the overall decline in unionization rates, the unions' emphasis on Verizon's threat to middle class jobs might be seen as part of a larger strategy to remind the public of the critical role of unions in the very creation of an American middle class in decades past, especially during the heyday of the auto industry.
► At AFL-CIO Now — APWU: Crushing workers will not solve Postal Service's financial woes — Crushing postal workers and slashing service will not solve the U.S. Postal Service's financial crisis, American Postal Workers Union President Cliff Guffey said in response to the announcement that the Postal Service will seek congressional support to cut 120,000 jobs, break its labor contract signed earlier this year and withdraw from the federal health and retirement plans.
► In The Hill — Romney makes organized labor a favorite whipping boy — The former Massachusetts governor seems to have made unions — traditionally a bugaboo of many conservatives–— a focal point of his jabs, hitting labor groups more often than most of his fellow contenders for the Republican presidential nomination.
► In today's NY Times — The Texas Unmiracle (Paul Krugman column) — What Texas shows is that a state offering cheap labor and weak regulation can attract jobs from other states. I believe that the appropriate response to this insight is "Well, duh." The point is that arguing from this experience that depressing wages and dismantling regulation in America as a whole would create more jobs involves a fallacy of composition: every state can't lure jobs away from every other state. In fact, at a national level lower wages would almost certainly lead to fewer jobs — because they would leave working Americans even less able to cope with the overhang of debt left behind by the housing bubble, an overhang that is at the heart of our economic problem.
---
WHILE WE WERE OUT…
► In the NY Times — Wisconsin's warning to union-busters (editorial) — Five months after Gov. Scott Walker of Wisconsin pushed through a law stripping public unions of their bargaining rights, the Republican Party has paid a price. Two of the state senators who backed the law were thrown out of office by voters on Tuesday and replaced with Democrats. Mr. Walker's opponents did not succeed in turning over the Senate, but it was still an impressive response to the governor's arrogant overreach.
---
TODAY'S MUST-READ
► In today's NY Times — Stop Coddling the Super-Rich (by Warren Buffett) — Our leaders have asked for "shared sacrifice." But when they did the asking, they spared me. I checked with my mega-rich friends to learn what pain they were expecting. They, too, were left untouched. While the poor and middle class fight for us in Afghanistan, and while most Americans struggle to make ends meet, we mega-rich continue to get our extraordinary tax breaks. Blessings are showered upon us by legislators in Washington who feel compelled to protect us, much as if we were spotted owls or some other endangered species. It's nice to have friends in high places.
---
The Stand posts links to Washington state and national news of interest every weekday morning by 9 a.m. Make this electronic "clip service" your first stop each morning! These links are functional on the date of posting, but sometimes expire.
---
Short URL: https://www.thestand.org/?p=3885
Posted by
David Groves
on Aug 15 2011. Filed under
DAILY LINKS
. You can follow any responses to this entry through the
RSS 2.0
. Both comments and pings are currently closed.