Strike ban extended, Supercommittee!™, Obama standby…
---
LOCAL
► In today's Peninsula Daily News — Judge adds 30 days to strike ban at Olympic Medical Center — A Kitsap County Superior Court judge grants a joint request of OMC and SEIU Healthcare 1199NW to extend the expiring temporary order to Sept. 16, at which time another judge will consider a preliminary injunction sought by OMC to maintain the status quo for the remainder of the case and prevent the 369 SEIU-represented nurses, dietary workers and service workers from striking over health care insurance costs and staffing levels.
EDITOR'S NOTE — Also see The Stand's Aug. 3 posting: Judge blocks Olympic nurses' ULP strike
► In today's Yakima H-R — Appeals court favors 600 displaced Valley farm workers — A federal appeals court decides that a class of more than 600 Yakima Valley farm workers should be paid nearly $2 million in damages for multiple violations of the state's Farm Labor Contractor Act. The decision by a majority of the four-judge panel ups the potential damages per worker substantially, from about $350 each to $3,000.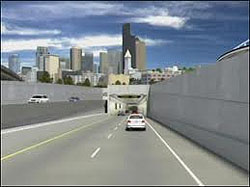 ► In today's Seattle Times — After vote, tunnel work is full speed ahead — In a few days, the environmental-impact statement is expected to be signed, freeing the state DOT to tell its tunnel contractors by Sept. 1 to move into final design and construction, starting with Sodo utility work.
► In today's Seattle Times — Drilling of Brightwater tunnel finished — At 2:26 p.m. Monday, King County turned a milestone: Drilling of the Brightwater tunnel was completed by contractors who bored through the final segment, some 300 feet below Lake Forest Park.
► In today's (Everett) Herald — Everett could get hit with $3 million more in wage costs — City officials are in crisis mode after learning that city payroll is projected to cost $3 million more than expected in 2012. That's on top of a $10 million projected gap that officials were struggling to solve.
► In today's (Everett) Herald — Boeing confirms 787 flight testing is over — The company confirms that it had wrapped up the final test flight for the 787s powered by Rolls-Royce engines last weekend as planned. Boeing still has some testing to do on 787s that will be powered with GE engines.
---
UNEMPLOYMENT
► In today's Seattle Times — State jobless rate remains steady — as in high — Last month's unemployment rate remained high at 9.3 percent, unchanged from June's revised rate. But Washington had strong overall job growth in July, its 11th consecutive month of gains, with 5,700 jobs created on a seasonally adjusted basis.
---
SUPERCOMMITTEE!™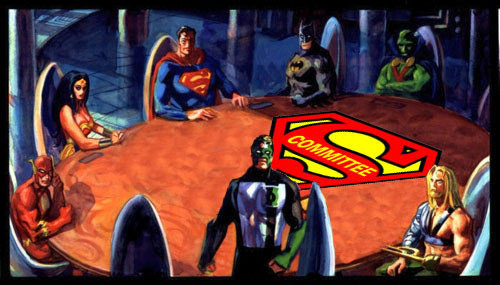 ► In today's NY Times — Obama to press committee on jobs — The president will deliver a major address soon after Labor Day seeking to pressure the Supercommittee!™ to propose new measures to promote job creation as well as larger long-term deficit cuts than mandated.
► In today's LA Times — Obama's jobs package may include school renovations, tax break for hiring — His proposal would mean construction work and an incentive for businesses to add employees. It's expected to come with a plan to reduce federal budget deficits.
► In today's NY Times — Amid skepticism, debt panel is pressed for a deal — "I approach this task like all tasks in Washington, with high hopes and tempered expectations," said Rep. Jeb Hensarling (R-Texas), a Supercommittee!™ co-chairman. "This committee has very serious work to do, but it should not be confused with Captain America or any other superhero."
EDITOR'S NOTE — Congressman, clearly the Supercommittee!™ is comprised of DC superheroes, not Marvel.
► At TPM — Norquist calls Sen. Murray "the lady from Washington" who "doesn't do budgets" — All six Republicans on the new deficit Supercommittee!™ have all kissed anti-tax zealot Grover Norquist's ring. So now he's training his sights on the six committee Democrats — not always politely.
---
NATIONAL
► In The Hill — AFL-CIO: Labor will stand by Obama — Despite the frustration labor activists have expressed toward the administration for the deals it has cut with congressional Republicans, Obama still provides a better alternative to a potential Republican president, said Michael Podhorzer, the labor federation's top politics officer.
► In today's NY Times — Cuts in health care may undermine role in labor market — Even during months of stubborn unemployment, the health care industry has provided a solid underpinning, reliably adding jobs in an otherwise dismal environment. Now, many in the health industry to caution that it cannot be relied upon to keep hiring workers.
► At AFL-CIO Now — Verizon joins extreme fringe's attack on middle-class jobs — Striking Verizon families have begun receiving letters from the $20 billion company telling them they will lose their health care coverage if the strike isn't over by Aug. 31.
► In today's LA Times — Southern Calif. grocery workers to vote on strike authorization — Thousands of Southland employees of Ralphs, Vons and Albertsons this weekend will cast ballots for a second time as contract negotiations drag on. Healthcare benefits remain a divisive issue. So do wages and staffing levels.
► From Reuters — Allstate agent group votes to organize with OPEIU — More than 90% of the members of a group of independent Allstate Corp insurance agents have voted to affiliate the Office and Professional Employees Union. The National Association of Professional Allstate Agents said 94% of its 1,200 members voted to align with the union.
► In today's Washington Post — Scare tactics on the border (editorial) — Against substantial and mounting evidence, Republicans in Congress continue to portray the border as beset by rising violence, out of control and a grave threat to national security. Given the clear data, it is hard to view these scare tactics as anything but a cynical effort to distort the debate on immigration reform.
► At AlterNet — Longshore workers solidarity strike settlement raises questions — Four months ago, longshore workers shut down the ports of San Francisco and Oakland in solidarity with workers in Wisconsin and across the country whose collective bargaining rights have come under attack.  The Pacific Maritime Association responded with a federal lawsuit against  ILWU Local 10.  The union's president says PMA and Local 10 have agreed to a settlement, but some workers question whether the union gave away too much, and why they didn't get to vote on it.
---
TODAY'S MUST-READ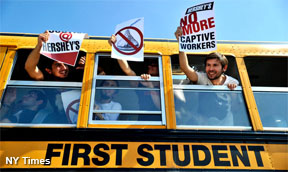 ► In today's NY Times — Foreign workers in work visa program stage walkout at Hershey plant — Hundreds of foreign students, waving their fists and shouting defiantly in many languages, walked off their jobs on Wednesday at a Pennsylvania plant here that packs Hershey's chocolates, saying a summer program that was supposed to be a cultural exchange had instead turned them into underpaid labor.
EDITOR'S NOTE — The excerpt that explains how U.S. corporations try to exploit workers and flout the law without sullying their brand name and identity: "A spokesman for Hershey's said the chocolate company did not directly operate the Palmyra packing plant, which is managed by a company called Exel. A spokeswoman for Exel said it had found the student workers through another staffing company." You can't blame or prosecute the bosses if you can't find them!
---
The Stand posts links to Washington state and national news of interest every weekday morning by 9 a.m. Make this electronic "clip service" your first stop each morning! These links are functional on the date of posting, but sometimes expire.
---
Short URL: https://www.thestand.org/?p=4013
Posted by
David Groves
on Aug 18 2011. Filed under
DAILY LINKS
. You can follow any responses to this entry through the
RSS 2.0
. Both comments and pings are currently closed.