Sens. Kilmer, Pridemore: We're not 'Roadkillers'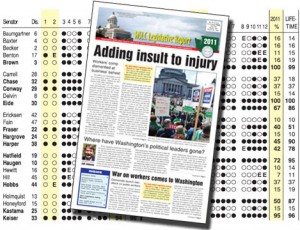 In its recently published 2011 Legislative Report, the Washington State Labor Council, AFL-CIO printed a list of state legislators in the Roadkill Caucus. Since its publication, the WSLC has been contacted by state Sens. Derek Kilmer (D-Gig Harbor) and Craig Pridemore (D-Vancouver), who have both disavowed membership in the coalition of conservative Democrats.
The Roadkill Caucus has sided with Republicans in the minority, particularly in the State Senate, to support regressive policies opposed by traditional Democratic constituencies. Its members have played a key role in forcing passage of all-cuts budgets, legalizing lump-sum buyouts in the workers' compensation system, attacks on collective bargaining rights, and other labor-opposed legislation.
Although a formal list of the caucus's members does not appear to exist, several legislators do self-identify as members, including:
SENATE — Steve Hobbs, Brian Hatfield, Jim Kastama, Mary Margaret Haugen, Paull Shin, and Rodney Tom.
HOUSE — Brian Blake, Judy Clibborn, Deb Eddy, Fred Finn, Kathy Haigh, Chris Hurst, Troy Kelley, Larry Seaquist, and Dean Takko.
A photograph that appeared in the WSLC 2011 Legislative Report, which appeared courtesy of the Washington State Senate, was provided to the Council with a caption identifying the photo's subjects, including Sen. Pridemore, as members of the Roadkill Caucus. The Caucus's Facebook page includes photos of members it identifies as members of the caucus, including Sen. Kilmer, plus it includes links to articles supporting Kilmer's election campaign.
Kilmer has earned a 77% lifetime WSLC voting record, and a 55% voting record for 2011. Pridemore has a lifetime 84% WSLC record, but earned just 31% in 2011.
The WSLC regrets misidentifying the two senators.
Short URL: https://www.thestand.org/?p=4116
Posted by
David Groves
on Aug 23 2011. Filed under
STATE GOVERNMENT
. You can follow any responses to this entry through the
RSS 2.0
. Both comments and pings are currently closed.