The Washington State Labor Council has posted comprehensive coverage of its 2011 Convention, held Aug. 4-6 at the SeaTac DoubleTree Hotel, at its website.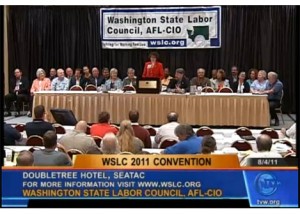 TVW, Washington state's public-affairs network, covered the plenary sessions of convention and has posted those videos online. You can watch the entire sessions for Thursday, Friday and Saturday at www.tvw.org, OR you can watch selected individual clips of specific speakers and panels, embedded here.
Debate and action on political endorsements and resolutions were not filmed. The 2011 Resolutions, as approved by convention delegates, are available here. Delegates voted to take the following endorsement actions:
ENDORSE Sharon Wylie for State Representative, 49th LD
OPPOSE Initiative 1125 defunding highway and transportation projects
SUPPORT Initiative 1163 training for long-term care workers
OPPOSE Initiative 1183 on privatization of liquor sales and distribution
At the convention, the WSLC honored three lawmakers with its 2011 Legislators of the Year Awards: Sen. Steve Conway (D-Tacoma), and Reps. Mike Sells (D-Everett) and Bob Hasegawa (D-Seattle). It also presented special legislative awards to eight freshman Democratic state representatives who stood united in support of working families' issues and earned 100% voting records from the council: Andy Billig of Spokane, Joe Fitzgibbon of Seattle, Connie Ladenburg of Tacoma, Kris Lytton of Bellingham, Luis Moscoso of Everett, Chris Reykdal of Olympia, Cindy Ryu of Shoreline, and Derek Stanford of Everett. Read more here.
The following unions and individuals were also honored with special WSLC awards:
— Bruce Brennan Award (apprenticeship) — Former WSLC Secretary-Treasurer Al Link
— Elsie Schraeder Award (advancing women's causes) — Nicole Grant, IBEW Local 46
— Joe Murphy "Power to the People" Award (political action) — Union Award: Sheetmetal Workers Local 66 Individual Award: Leanne Guier, UA Local 32
— Mother Jones Award (outstanding labor advocacy) — Union Award: Teamsters Local 760 Individual Award: Ed Wood, CWA 7818