EGT dispute, teachers strike, WA redistricting…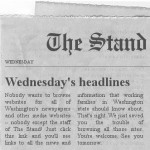 Today's news links:
---
E.G.T. DISPUTE
► In today's (Longview) Daily News — ILWU, grain elevator operators begin contract negotiations — Union longshoremen and operators of lower Columbia River grain terminals have started contract negotiations which will likely be closely watched because of the union's labor fight with the EGT terminal in Longview.
Also see today's posting here at The Stand.
► In today's (Longview) Daily News — Sheriff announces two arrests related to EGT conflict — A Kelso union longshoreman was arrested Monday on suspicion of four felony charges in connection with last Thursday's vandalism of the EGT grain terminal after being identified by a witness who later saw a profanity-laced video of him confronting a TV news crew. A Longview woman also was arrested and released Monday on suspicion of misdemeanor charges as part of the effort to block an incoming train. Both are ILWU Local 21 members. Cowlitz County Sheriff Mark Nelson says more arrests are expected in the next few days.
---
TACOMA TEACHERS STRIKE

► In today's News Tribune — Strike goes to court today — The fight between Tacoma teachers and the school district shifts this morning to a Pierce County courtroom, where district officials will ask a judge to order the striking teachers back to work. The hearing is scheduled for 9 a.m. before Superior Court Judge Bryan Chushcoff. School was canceled for the second straight day today when it was announced Tuesday that a hearing on the district's request for an injunction against the teachers union, the Tacoma Education Association, could not be heard until today.
EDITOR'S NOTE — For the union's side of the story, visit www.WeTeachTacoma.org.
► In today's News Tribune — Teachers, families have mixed emotions — Hundreds of Tacoma teachers walked picket lines Tuesday, while parents around the city alternately fumed and supported them. More than 28,000 district students just tried to keep busy.
---
ELECTION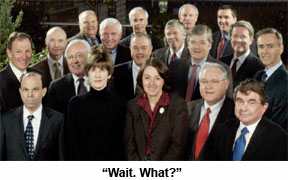 ► In today's Olympian — Redistricting: A new minority seat? — Washington's political map may be redrawn for the first time to include a congressional district where racial minorities outnumber whites. Of the four draft maps revealed Tuesday by the four voting members of the Washington State Redistricting Commission, three of them include a minority-dominated congressional district in south Seattle and south King County – stretching as far south as Tacoma in one proposal.
► See the actual proposed plans here. Also see The Seattle Times' chart (PDF) summarizing the four proposals, plus local redistricting coverage from the Bellingham Herald, (Everett) Herald, Kitsap Sun, (Longview) Daily News, The Olympian, The Seattle Times, The Spokesman-Review, The (Vancouver) Columbian, and the Yakima H-R's "Hispanic majority 15th District proposed."
► In The Hill — Kucinich will run for re-election in Ohio — Rep. Dennis Kucinich (D-Ohio) will run for reelection in Ohio next year, he announced Tuesday, a change of heart after months of hinting he might move to Washington state if Republicans dismantled his district.
► In today's NY Times — GOP wins House seat vacated by Weiner — A little-known Republican businessman from Queens, channeling voter discontent with President Obama into an upset, won election to Congress on Tuesday from the heavily Democratic district in New York City last represented by Anthony Weiner.
► In today's Washington Post — Elizabeth Warren announces Senate campaign — The Harvard law professor announced her campaign against Sen. Scott Brown (R-Mass.) this morning via web video: "I've fought all my life for working families and I've stood up to some pretty powerful interests. Those interests are going to line up against this campaign, and that's why I need you."
---
LOCAL
► In today's Seattle Times — Crisis in state's funding of higher education puts future at risk (editorial) — An expected grim economic forecast poses the threat of deeper cuts. That is despite the fact that these institutions have taken the brunt of state budget reductions, more so than social services. A dire sense of urgency therefore drives the launch of The Greater Good Campaign by the Seattle Times Company to raise public awareness about higher education's precarious funding and the risks this poses to future generations of Washington residents. Other corporate leaders have joined the effort, including The Bellevue Collection, Safeco Insurance, Davis Wright Tremaine, Microsoft and Rowley Properties.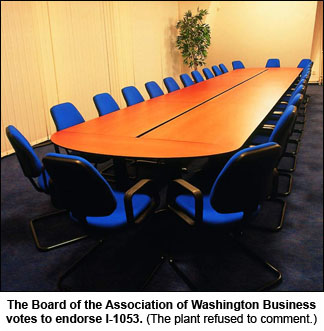 EDITOR'S NOTE — For more information see The Seattle Times' July 22, 2010 editorial endorsing Tim Eyman's latest initiative requiring two-thirds supermajorities to increase state revenue, "I-1053 would rein in state spending" — and also see the Washington State Labor Council's June 16, 2010 report, "Do employers REALLY support Tim Eyman's I-1053?" about the Association of Washington Business's unanimous endorsement of I-1053.
► In today's (Everett) Herald — Everett's Providence Hospital to slash up to 150 jobs — The loss of jobs is intended to stem a big budget shortfall. The hospital will cut about 4% of its staff by late October through involuntary and voluntary layoffs, said the organization's CEO.
► In today's Tri-City Herald — Hanford contractor says 70 volunteer for layoff — Washington River Protection Solutions agreed to voluntary layoffs for 44 nonunion employees and 26 union employees who applied for them, the Hanford contractor says.
► In today's Spokesman-Review — Nicks set to retire after chief steps down — The Spokane Police Department's top two officers are on their way out, leaving city officials to find new leadership as they struggle with the continuing legal fallout surrounding the death of Otto Zehm.
► In today's Kitsap Sun — State puts contractor paychecks on hold — A dispute between a Puget Sound Naval Shipyard contractor and the state has delayed paychecks to dozens of workers.
---
POVERTY AND JOBS BILL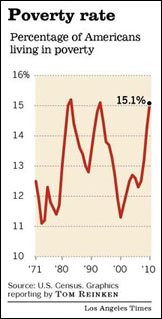 ► In today's LA Times — Poverty hits a 50-year high — In a grim portrait of a nation in economic turmoil, the government reported that the number of people living in poverty last year surged to 46.2 million as 1 million more Americans went without health insurance and household incomes fell sharply. The poverty rate for all Americans rose in 2010 for the third consecutive year, matching the 15.1% figure in 1993 and pushing many more young adults to double up or return to their parents' home to avoid joining the ranks of the poor.
► In today's NY Times — Bigger economic role for Washington — Just weeks ago, economists and financial analysts were dismissing Washington as largely irrelevant to the economy's course in coming months, if only because it chose to be. They are not dismissing it anymore.
► In today's NY Times — The cost of inaction (editorial) — The latest figures from the Census Bureau show the devastating cost of the recession and why putting Americans back to work must be Washington's top priority.
► In today's NY Times — A good jobs program (editorial) — President Obama has often trimmed his ideas to what he thinks he might possibly get from an opposition that intends to give him nothing. So it is a relief to see him demanding that Congress do what the country really needs. Congressional Republicans initially offered a cautious reaction to the jobs bill. But once Obama talked about taxes, they lost all restraint. For all the caterwauling from Republicans about the budget deficit, the House majority leader, Eric Cantor, said paying for the plan would amount to a tax on "job creators." The Senate minority leader, Mitch McConnell, said the tax proposals were dead on arrival — his reaction to anything Obama has proposed since Inauguration Day. Now it is up to the president to sell the public on his approach, something the White House has not done well. It will be a test of whether Obama will aggressively take on his opposition as the 2012 elections approach.
► In the Lookout — Could Obama's jobs bill change unemployment benefits as we know them? — A provision that would encourage states to replicate a voluntary Georgia program that allows jobless workers to continue collecting unemployment benefits while training with potential employers. The idea — similar to the thinking behind the 1996 welfare reform law — is to encourage the jobless to remain productive, and to keep them connected with the workforce. Some advocates for the jobless say the idea of connecting jobless benefits to work-training programs run by potential employers represents a slippery slope that could undermine the system over the long term.
---
NATIONAL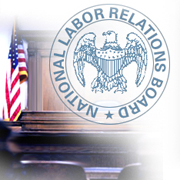 ► At AFL-CIO Now — Professors say GOP to cripple NLRB an 'unprecedented' assault — House Republicans are pushing a bill to cripple the NLRB because the agency filed a routine complaint against Boeing. Now, some 250 university law and labor policy professors warn that if their bill becomes law, "employers will be able to eliminate jobs or transfer employees or work for no purpose other than to punish employees for exercising their rights and the Board will be powerless to direct the employer to return the work regardless of the circumstances."
► In today's LA Times — Boeing gets $1.1 billion Air Force satellite contract — In a major boost to its sprawling satellite-making operation in El Segundo, Boeing Co. wins a contract that will preserve high-paying engineering jobs in Southern California and bolster smaller firms that supply parts for the massive satellites. The deal was the fourth big-money satellite contract for Boeing in two years and it keeps the production line humming at a time when the state is facing a 12% unemployment rate.
► At The Hill — House passes short-term bill extending funding for FAA, highways — Transportation associations were breathing a sigh of relief Tuesday after the House approved a combined bill that extends highway and aviation funding through the beginning of next year.
► From Reuters — UAW expects GM contract deal after 'much progress' — "We are confident that we can reach an agreement that will meet many of the goals we set at the beginning of negotiations," UAW Vice President Joe Ashton said in an electronic update for the 49,000 union-represented GM workers.
---
HEALTH CARE
► In today's NY Times — Democrats see perils on path to health cuts — As Congress opens a politically charged exploration of ways to pare the deficit, President Obama is expected to seek hundreds of billions of dollars in savings in Medicare and Medicaid, delighting Republicans and dismaying many Democrats who fear that his proposals will become a starting point for bigger cuts in the popular health programs.
► At The Ticket — Audience at Tea Party debate cheers leaving uninsured to die — If you're uninsured and on the brink of death, that's apparently a laughing matter to some audience members at last night's tea party Republican presidential debate.
---
TODAY'S MUST-READ
► At Huffington Post — Supercommittee!™ divided over basic facts — "I think really the fundamental question for you is not how we got here, but where you want the country to go, what role do you and your colleagues want the government to play in the economy and the society?" Doug Elmendorf, who heads the Congressional Budget Office, told the Supercommittee!™ Tuesday. "If you want a role that has benefit programs for older Americans, like the ones we've had in the past, and that operate for the rest of the government like the ones we've had in the past, then more tax revenue is needed than under current tax rates. On the other hand, if one wants (to keep) those tax rates, then one has to make very significant changes in spending programs for older Americans" or all the rest of the government's functions.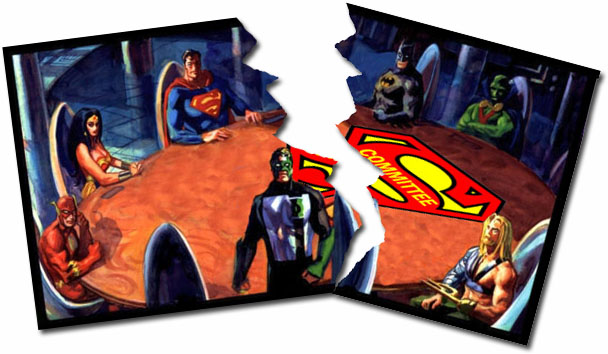 That's the debate Democrats want to be having. Should we roll back safety net programs for the elderly like Social Security and Medicare in order not to increase taxes on the wealthy? And it's precisely the debate Republicans do not want to have. So they spent Tuesday trying to reorient the conversation: instead of arguing in favor of their preferred and informed decisions about the future of the country, they posited a scenario where crisis is upon us already and the only plausible way to avert fiscal catastrophe and help the country end its economic slump is to cut, cut, cut right now.
---
The Stand posts links to Washington state and national news of interest every weekday morning by 9 a.m. Make this electronic "clip service" your first stop each morning! These links are functional on the date of posting, but sometimes expire.
Short URL: https://www.thestand.org/?p=4924
Posted by
David Groves
on Sep 14 2011. Filed under
DAILY LINKS
. You can follow any responses to this entry through the
RSS 2.0
. Both comments and pings are currently closed.