Ignoring job crisis, Republicans attack NLRB, workers' rights
By DAVID GROVES
The Stand
---
WASHINGTON, D.C. (Sept. 16) — House Republicans on Thursday continued their all-out assault on the National Labor Relations Board when, on a 238-186 vote, they passed H.R. 2587, known in labor circles as "The Job Outsourcers' Bill of Rights." The bill would make it easier for employers to outsource jobs by eliminating the authority of the NLRB to restore jobs if a company illegally moves operations or cuts jobs in direct retaliation for their employees engaging in legally protected activities.
It is a legislative attempt, ironically, in direct retaliation for the NLRB engaging in its legal duty. H.R. 2587 aims to circumvent the NLRB case against the Boeing Co., whose executives openly admitted they chose to expand 787 production outside of Washington in retaliation for strikes by unionized Machinists, a message deliberately intended to prevent future strikes.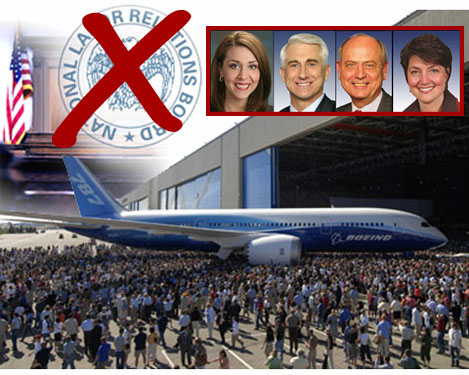 Republicans have seized the issue for political reasons and deliberately misrepresented the case, arguing that it is an attack by President Obama's against so-called right-to-work states, like South Carolina. (See the NLRB's fact sheet on the complaint against Boeing.) And now, they have staged a largely political vote, in that H.R. 2587 is not expected to be brought up for a Senate vote.
Sure enough, Washington's Congressional delegation split exactly on party lines with Republican Reps. Jaime Herrera Beutler, Doc Hastings, Cathy McMorris Rodgers and Dave Reichert voting "yes," and Democrats Reps. Jay Inslee, Rick Larsen, Norm Dicks, Jim McDermott and Adam Smith voting "no."
"This case should be determined based on the facts and the law – not on politics," Rep. Larsen said in a statement. "For this bill to come to the floor while this case is ongoing is troublesome and threatens the independence of the NLRB. Congress should not be attempting to influence the NLRB process for political gains… Instead of playing politics we should instead be focused on creating jobs and getting our economy back on track."
AFL-CIO President Richard Trumka agreed: "Instead of creating good jobs, Tea Party Republicans are wasting time and playing partisan politics. H.R. 2587 is an over-reaching special-interest bill that advances the interests of corporate donors while attacking working people, their rights and their jobs.  It's one more example of an anti-worker agenda that's bad for America and bad for the middle class."
H.R. 2587 has been condemned by a group of 250 law professors as "an unprecedented interference with a pending legal proceeding for the benefit of a particular employer." They said passage would mean that:
Employers will be able to eliminate jobs or transfer employees or work for no purpose other than to punish employees for exercising their rights and the Board will be powerless to direct the employer to return the work regardless of the circumstances. And these employees will lose their jobs because they tried to exercise their federally protected rights.
On Wednesday, NLRB acting general counsel Lafe Solomon issued a statement, saying his decision to issue a complaint against Boeing "was based on a careful investigation and a review of the facts under longstanding federal labor law."
The decision had absolutely nothing to do with political considerations, and there were no consultations with the White House. Regrettably, some have chosen to insert politics into what should be a straightforward legal procedure. These continuing political attacks are baseless and unprecedented and take the focus away from where it belongs — the ongoing trial in Seattle.
Boeing hasn't formally taken a position on H.R. 2587 and instead is hoping the NLRB will simply drop the case. Why? Perhaps because Boeing's lead attorney says he expects the company will lose its case.
Says Trumka, "The American people are calling on Congress to focus on job creation. Shame on those who are pursuing a political agenda that does the bidding of big corporations."
---
Watch David Campbell, the lead attorney for the Machinists union in the NLRB case against Boeing, explain Boeing's efforts to overturn what is known as "the runaway shop" doctrine, which would make it legal to discriminate against workers engaged in lawful activities, and the implications of that for organized labor.
---
Also see Stan Sorscher's Aug. 15 excellent column, Boeing aims to rewrite, not comply with labor "guidelines"
Short URL: https://www.thestand.org/?p=5080
Posted by
David Groves
on Sep 16 2011. Filed under
NATIONAL
. You can follow any responses to this entry through the
RSS 2.0
. Both comments and pings are currently closed.