Rallies across state, nation Tuesday to save USPS
Over the next month, Congress will be forced to make major decisions about the future of the U.S. Postal Service. The agency is in financial trouble for a number of reasons, and proposals to fix it range from ending Saturday delivery, to eliminating hundreds of mail processing centers, to closing thousands of local post offices. But slashing service and slowing delivery, which all these proposals do, would simply drive businesses and customers away to private shipping companies, causing the USPS to lose even more money.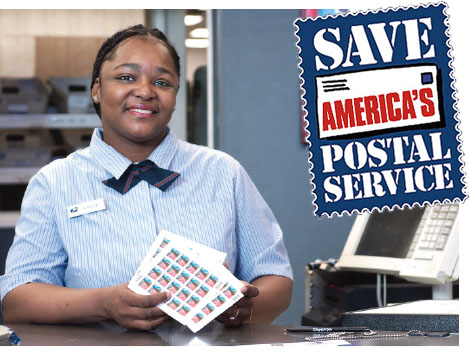 There is one proposal on the table though that ensures the concerns of customers, taxpayers, and the hardworking men and women of USPS are all taken into consideration.
H.R. 1351, the USPS Pension Obligation Recalculation and Restoration Act, which currently has 206 co-sponsors, would allow the USPS to overcome the very difficult challenges it now faces by finally addressing a decades-old accounting error that led to overcharging USPS for employee pensions. (See more background on the bill below.)
TAKE A STAND! Members of the four employee unions of the U.S. Postal Service — the American Postal Workers Union, the National Association of Letter Carriers, the National Postal Mail Handlers Union, and the National Rural Letter Carriers' Association — will join forces with community supporters to send a message to our nation and its Congress. On Tuesday, Sept. 27, from 4 to 5:30 p.m. (local time), informational rallies will be held in every congressional district in the nation, to thank those members who have signed on as co-sponsors of H.R. 1351 and will encourage those who have not to do so.
Here are the locations of the Sept. 27 rallies in Washington all beginning at 4 p.m. (* H.R. 1351 co-sponsors):
Jay Inslee* (1st CD) — Shoreline Center, 18560 1st Ave. NE,  E-800, Shoreline
Rick Larsen* (2nd CD) —  Wall Street Building, 2930 Wetmore Ave. #9F,  Everett, AND
119 N. Commercial St., Bellingham
Jaime Herrera Beutler (3rd CD) —  750 Anderson Street, O.O. Howard House,  Vancouver
Doc Hastings (4th CD) — 402 E. Yakima Avenue, Yakima, AND
301 Yakima St., Wenatchee
Cathy McMorris Rodgers (5th CD) — 10 North Post St., Suite 625,  Spokane
Norm Dicks* (6th CD) — 345 6th Ave.,  Bremerton, AND
323 E. 5th Street, Port Angeles
Jim McDermott* (7th CD) — Westlake Park, 401 Pine St.,  Seattle
Dave Reichert (8th CD) — 2737 78th Ave. SE #202,  Mercer Island
Adam Smith* (9th CD) — 2209 Pacific Ave. #B,  Tacoma
For more details about the Sept. 27 information rallies, visit www.saveamericaspostalservice.org.
BACKGROUND — A 2006 postal reform law requires the USPS to pre-fund 75 years' worth of future retiree health benefits within just 10 years. At the behest of the Office of Personnel Management and the Government Accountability Office, and to make the law appear not to cost the government money (i.e., to be "revenue neutral"), Congress included in the law that destructive pre-funding mandate.
No other federal agency or private enterprise is forced to pre-fund similar benefits like this, especially on such an aggressive schedule.
This postal-only mandate costs the USPS $5.5 billion per year. It accounts for 100% of the Postal Service's $20 billion in losses over the past four years. It also accounts for 100% of the rise in the Postal Service's debt in recent years.
Without the mandate, the USPS would have been profitable over the past four years, and rather than having to use up its $15 billion line of credit from the U.S. Treasury to cover the pre-funding obligation, the Postal Service would have had significant borrowing authority to ride out the bad economy it now faces.
The $47 billion the Postal Service has deposited so far into its retiree health fund over the past four years instead could have been spent on operating costs.
The Postal Service and its employees don't want a taxpayer bailout. They have not received any taxpayer funds in nearly 30 years. What they do want is the freedom to use our own surplus pension funds to pay down the pre-funding obligation. But this can only happen if Congress changes the current law.
For more information, see an excellent column by an NALC local president that appeared in last Friday's Wichita Eagle and the NALC's fact sheet on H.R. 1351.
Short URL: https://www.thestand.org/?p=5129
Posted by
David Groves
on Sep 25 2011. Filed under
LOCAL
. You can follow any responses to this entry through the
RSS 2.0
. Both comments and pings are currently closed.