SPEEA members ask 'partners' at Spirit in Wichita to walk the talk
On Sept. 3, The Seattle Times reported that the Machinists union and management at the Wichita, Kan.-based Spirit Aerosystems, a key Boeing supplier, were virtually singing "Kumbaya," after last year's signing of a landmark 10-year contract. The article suggested that labor-management cooperation at Spirit could provide a path forward in Machinists-Boeing relations.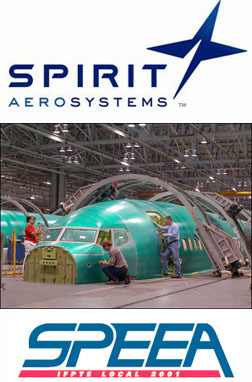 Well, if the Machinists are singing "Kumbaya" at Spirit, then the 2,300 technical and professional workers represented by the Society of Professional Engineering Employees in Aerospace/IFPTE Local 2001 (SPEEA) at Spirit are singing "Why Can't We Be Friends?"
Spirit management says it wants a "partnership" with its employees, but its SPEEA tech workers have been working since July without a contract. An overwhelming 96.5% majority of union members voted July 28 to reject a company offer that would have raised health care costs but cap salaries.
Now, the lack of progress in those contract talks has lead to a "work-to-rule" slowdown that reportedly may threaten production rates at Boeing's 737 line in Renton. SPEEA executive director Ray Goforth said the workers are taking the actions on their own, without orchestration from the union.
On Sept. 8, Spirit presented its latest contract offer to the union, accompanied by an email to all the affected workers claiming that management is seeking "an enhanced partnership." The union explains why Spirit's claims don't match the reality of its offer to SPEEA's Wichita Technical and Professional Unit (WTPU):
Spirit's Claim: "Align compensation with market and business performance, while providing baseline protection."
The Reality: Spirit's compensation offer neither aligns with market and business performance, nor provides any real protection. They offer a "market-based" salary adjustment plan, but then limit raise pools when the market exceeds 3%, as most estimates project. Management states they want us to participate in a bonus plan based upon our team's performance, but the bonus they are offering remains below the amount given to all other salaried members of the "Spirit team." Their alleged "market-based" pension offer falls far below pensions earned by employees at every other local aircraft manufacturer.
Spirit's Claim: "Ensure stability for our customers and competitiveness of the unit, through an enhanced partnership with a long-term agreement."
The Reality: There is nothing in the company's offer that enhances whatever "partnership" we currently have. The management proposal says that they will listen to union concerns, but there are no provisions that require the company to act on those issues and concerns. Currently, every time the contract comes up for renegotiation, federal law requires Spirit management to address union concerns. The decade-long management proposal eliminates the requirement to negotiate with the union over its concerns and substitutes vague and unenforceable promises to listen to the union. A decade-long agreement would provide predictability to customers. That much is true. However, WTPU members have been quite clear that we have no interest in a long-term agreement. Yet, the company continues to offer nothing but a long-term agreement. This unilateral determination does not illustrate the shared decision-making inherent in a true partnership.
Spirit's Claim: "Maintain the ability to quickly respond to our endless productivity challenges and our production cycles."
The Reality: This is technically accurate. However, it does so by placing all the costs of business disruptions and production cycles on the backs of our coworkers. For example, if customer employees go on strike, then the burden falls on direct WTPU employees to go on short workweeks instead of contractors. If there are significant production impacts due to a 9/11-like event, then direct employees are permanently laid off while Spirit keeps off-site contractors employed. The company states that they want to "keep the team intact," but their offer protects contractors instead of their full-time team.
Spirit's Claim: "Provide health care options that align with the needs of our employees, as well as supporting the realities of the economic market conditions through the life of the contract."
The Reality: The management proposal doubles the percent of medical premiums employees owe without any protections from runaway premium costs. Vision and hearing benefit coverage remains static for a decade as actual costs increase (no benefit escalation provisions).
"Our negotiation team has been willing to negotiate within the framework of Spirit's stated values," the union reports. "The problem thus far is Spirit management's unwillingness to give us an offer that aligns to those stated values."
Learn more at www.speea.org.
WASHINGTON IS A UNION STATE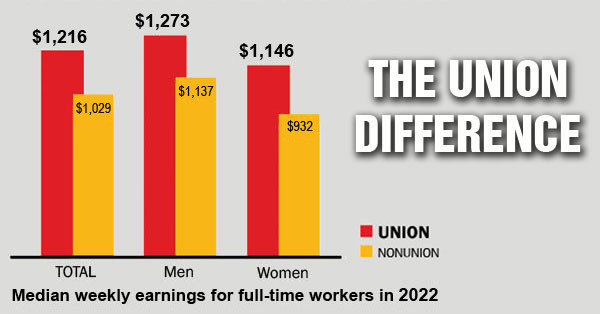 CHECK OUT THE UNION DIFFERENCE in Washington state: higher wages, affordable health and dental care, job and retirement security.
FIND OUT HOW TO JOIN TOGETHER with your co-workers to negotiate for better working conditions and respect on the job. Or go ahead and contact a union organizer today!