EGT update, minimum wage, trade deals…
Today's news links:
---
E.G.T. UPDATE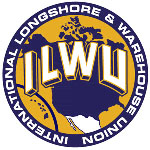 ► From AP — ILWU fined $250,000 for damage; union will appeal — "What's going on out there is awful," says U.S. District Judge Ronald Leighton. "We have to do something about it, and I'm going to do something."
EDITOR'S NOTE — Apparently, the judge was talking about the ILWU protests, as opposed to a multinational corporation (EGT) accepting state taxpayer subsidies, refusing to hire local workers, suing the Port to break its ILWU contract and hiring a "private army" of security thugs, while local police brutalize and harass union members. Learn more. Also see WSLC President Jeff Johnson's column today about last Thursday's peaceful rally in support of ILWU.
► In the (Longview) Daily News — Judge angry with EGT, Port over murky language in lease contract — "There's nothing plain about this language in the contract. None. (The Port and EGT) wanted to massage an issue to get to an agreement, bring in an economic engine and get jobs, and decide later what they didn't agree to," Judge Leighton said.
► In today's (Longview) Daily News — Community members gather to pray for peace in EGT conflict
---
STATE GOVERNMENT
► In The Olympian — Washington's minimum wage set to rise to $9.04 next year — As the result of a voter approved initiative in 1998, L&I has calculated the state's minimum wage every September using an inflationary index. The 37-cent increase comes as a result of a 4.26% rise in the CPI.
► More local coverage: KXLY-Spokane and the (Longview) Daily News.
► In the Olympian — Today, five state agencies officially become one — Nearly 1,100 affected employees perform services including state payroll, training and recruiting workers, preparing legal contracts, managing real estate, purchasing supplies, managing vehicle fleets, running the state accounting and budgeting tools, custodial and groundskeeping functions, printing, and information-technology help.
► In today's News Tribune — Budget cuts muddle mental care releases — Plans for downsizing Western State Hospital rely on spending more money in the world outside the hospital grounds. But in the same breath as state government promises to find treatment for discharged patients, it's talking about deep cuts in the places they would go.
► In today's Olympian — Washington State Lottery buys $49,000 van — The Mercedes Sprinter, to be used as a marketing tool, will be tricked out with awnings, an LCD television, a "jackpot" sign, a refrigerator, air conditioning, and wiring to support Lottery terminals that can print and dispense tickets.
EDITOR'S NOTE: Wait. Air conditioning?!
► In today's News Tribune — We must find ways to fund protection of the most vulnerable citizens (Brendan Williams column) — A just society cannot allow its most vulnerable citizens – sexually abused or sick kids, those with profound disabilities, frail seniors, or even adults struggling with addiction – to bear the brunt of this wretched economy.
---
ELECTION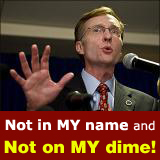 ► At SeattlePI.com — Federal health care lawsuit could make McKenna sick — The Republican gubernatorial hopeful better pray his side loses when Supreme Court justices decide the fate of the new federal healthcare law next year. Although he claims he only opposes the federal mandate on purchasing health insurance, his suit would repeal the entire law, including its popular provisions. "No woman in the state of Washington, who is a breast cancer survivor, should ever be denied health care because she has had breast cancer," said McKenna's opponent, Democratic U.S. Rep. Jay Inslee, who said McKenna should withdraw from the multi-state lawsuit. "Our health care interests have been turned over to the right-wing attorney generals of South Carolina, Virginia and other national activists."
► In the Spokesman-Review — Baumgartner says he'll run for U.S. Senate — After less than a year in the state Senate, the Spokane Republican says he'll enter the race against Democrat Maria Cantwell. During his legislative campaign last year, Baumgartner denied that he was using the Legislature as a steppingstone to higher office.
---
LOCAL
► In Sunday's Spokesman-Review — Postal Service still delivers (letter) — The Postal Service is in the Constitution; it's more than just a business, it is a service for the people. This is just another attempt to privatize and destroy the USPS and the unions. … The money overpaid for health care needs to be returned. Problem solved. No layoffs, no Saturday closures and no closing of small community offices, which are the heart of most small towns.
► In the Tri-City Herald — Social Security big topic at Doc Hastings town hall — Hastings agreed Social Security needs "significant reform" but said the first principle is that "if you're in the system, there can be no changes to your benefits. We can't do that."
EDITOR'S NOTE — The rest of you… good luck out there.
► In the Bellingham Herald — Oregon industrial contractor may add up to 100 jobs in Whatcom County — The company is looking for metal trades workers, including pipefitters and welders.
► In the Everett Herald — Snohomish County's 2012 budget gets by with no major cuts, tax increases — It would trim about 1% of the county's budgeted positions.
► In today's Everett Herald — Jobs may be cut or taxes raised in Monroe
► In the News Tribune — About 600 Pierce Transit bus stops closed amid budget shutdown
► In the Everett Herald — Monroe inmate charged in attack on counselor
---
OCCUPY WALL STREET
► In Sunday's Seattle Times — Occupy Seattle protests corporate America — The local protest at Westlake Park Saturday morning was one of dozens echoing across the country in response to weeks-long protests in New York City by a youth movement called Occupy Wall Street.
► In Sunday's Spokesman-Review — Occupy Spokane protest stays peaceful
► At Workday Minnesota — More working people join Wall Street protests — Some of New York City's largest unions and community groups — and labor organizations across the country — are joining the "Occupy Wall Street" protests.
► In The Nation — AFL-CIO's Trumka hails 'Occupy Wall Street' — Declaring that "Wall Street's out of control," AFL-CIO President Richard Trumka has embraced street protests such as the Occupy Wall Street demonstrations — and others like them that are planned for cities across the country.
---
INTERNATIONAL TRADE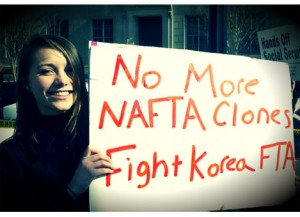 ► At Politico — Hill finds elusive harmony on trade — Congress hasn't had much to celebrate in a year dominated by bitter spending battles and partisan dysfunction. So lawmakers from both parties are heralding the pending passage of a major free-trade package as a victory — and a sign that Washington isn't entirely broken.
EDITOR'S NOTE — That's right, folks. When Congress can set aside its senseless partisanship to pass more NAFTA-like trade deals, which are supported by Wall Street (see above) but OPPOSED by large majorities of Americans — across party lines — that gets hailed as harmony and progress.
► Today from AP — Study: Colombia anti-union violence undeterred — A new study challenges claims from the White House that Colombia is making important strides in bringing to justice killers of labor activists and so deserves U.S. congressional approval of a long-stalled free trade pact. Human Rights Watch found "virtually no progress" in getting convictions for killings that have occurred in the past 4 1/2 years.
► In today's NY Times — Holding China to account (Paul Krugman column) — Legislation that would threaten sanctions against currency manipulators won't solve our economic problems on its own, but it can contribute to a solution.
---
NATIONAL
► At AFL-CIO Now — Next Up: Trumka urges young people to use 'critical imagination' — AFL-CIO President Richard Trumka sends off the 800 attendees concluding the Next Up Young Workers Summit: "America needs a good dose of critical imagination right about now. We need ideas and energy. We need enthusiasm, optimism, that sense that everything is possible.…You are the future of this movement, and all of us—all of America's working people—need and your critical imagination in a big way."
► In today's NY Times — New state laws raising hurdles at voting booth — Since Republicans won control of many statehouses last November, more than a dozen states have passed laws requiring voters to show photo identification at polls, cutting back early voting periods or imposing new restrictions on voter registration drives.
► At Politico — Lobbyists in on Supercommittee!™ secrets — K Streeters with deep ties to supercommittee members and congressional leadership say senior staffers have given them readouts from closed-door committee meetings.
► In today's AFL-CIO Now — FAA workers win back pay for shutdown furloughs
---
TODAY'S MUST-SEE
► This Q13-TV report, which first aired last Thursday and has subsequently been covered by other stations and the Seattle Times, describes how members of Ironworkers Local 86 are brightening the days of kids at Seattle's Children's Hospital. Note that it also features 4-year-old patient Julian Blackwell and his mom, Valancy, who works for the M.L. King County Labor Council. A heartfelt thanks from the staff of The Stand to these Local 86 members, and best wishes to Julian, who is doing an amazing job recovering!
---
The Stand posts links to Washington state and national news of interest every weekday morning by 9 a.m. Make this electronic "clip service" your first stop each morning! These links are functional on the date of posting, but sometimes expire.
Short URL: https://www.thestand.org/?p=5572
Posted by
David Groves
on Oct 3 2011. Filed under
DAILY LINKS
. You can follow any responses to this entry through the
RSS 2.0
. Both comments and pings are currently closed.