Occupy Our State, Intalco strike vote, No on I-1125…
---
OCCUPY WASHINGTON
► In Sunday's Seattle Times — Protest swells at Westlake Park on Saturday — Seattle's contribution to the burgeoning Occupy Wall Street movement surged Saturday with an estimated 3,000 people filling Westlake Park to protest corporate greed and joblessness.
► At Publicola — Labor relations with Occupy Seattle — M.L. King County Labor Council's David Freiboth: "Creating good jobs through progressive tax policies and governmental programs that will put people back to work is our message. That this relates in terms of the economic disparity being expressed by the protests presents us with common ground from which to speak. To that extent there is a natural link between our jobs rally and the protests."
► This morning from CBSnews — Arrests after occupy Seattle defies eviction
► In Sunday's Spokesman-Review — Spokane peacefully Occupied
► In Sunday's Columbian — Vancouver joins worldwide rally of discontent
► In Sunday's News Tribune — Hundreds protest in Tacoma
► In Sunday's Bellingham Herald — Protesters rally, march against corporate greed
► In Sunday's Tri-City Herald — Hundreds gather in Richland for Occupy Tri-Cities
► In Sunday's Olympian — Protests reach Olympia
► In Sunday's Peninsula Daily News — Occupy protests held in Port Angeles, Port Townsend
► Washington's Occupy protests on Facebook: Occupy Bellingham – Occupy Olympia – Occupy Seattle (website) – Occupy Spokane – Occupy Tacoma – Occupy Tri-Cities – Occupy Wenatchee – Occupy Yakima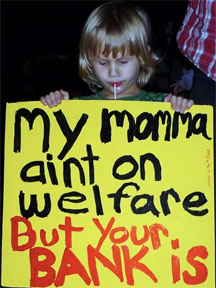 ► In The Hill — Unions back Occupy Wall Street movement — Union leaders say they feel vindicated by the Occupy Wall Street protests and are doing all they can to keep the movement going. Years before the rallies began, union leaders frequently blamed the banking giants for the country's economic woes. Labor officials have criticized CEOs' large compensation packages; pushed for a financial transactions tax; and called for Wall Street bailout funds to be used for small business loans.
► A related story in today's NY Times — Citigroup earnings rise 74% to $3.8 billion — Three years after needing a federal bailout to survive, Citigroup reported its seventh-straight quarterly profit.
► In The Daily Beast — Occupy protests' seismic effect — What we are witnessing in Zuccotti Park and around the globe represents an improvement over the Obama campaign. That campaign was largely about faith in one man. The Occupy Wall Street movement, by contrast, represents a direct reckoning with the most powerful forces in American life, forces that are not voted in and out of office every two or four years. And it represents a belief that young Americans must force that reckoning by themselves. No politician will do it for them. Those instincts are exactly right, and we've never needed them more.
---
ALCOA INTALCO WORKS
► In today's Bellingham Herald —
'Business as usual' at Intalco despite strike vote
— On the first day of operating without an official contract, it appears work is getting done at Alcoa Intalco Works. On Friday, workers rejected the company's final contract offer and voted to strike, but held off on staging a walkout. On Saturday, workers arrived for their regular shifts at the aluminum smelter facility west of Ferndale. How long the facility will continue regular operations is unclear.
---
ELECTION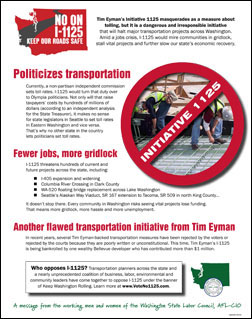 ► In the P.S. Business Journal — Most business groups oppose I-1125 — An OFM analysis concludes that passage of I-1125 could force local governments to return up to $123 million in federal grants for bus service and passenger ferries. The State Treasurer has warned that I-1125 would leave a $500 million funding gap in state funding to replace the 520 bridge, a hole so massive that it threatens the entire project. They say I-1125 also would jeopardize the construction of projects ranging from a new Columbia River bridge between Washington and Oregon to a rebuilt State Route 520 between Seattle and the Eastside.
ALSO SEE — Labor, business agree: 'No' on I-1125
► At SeattlePI.com — McKenna: A quiet 'no' on Eyman's I-1125 — The Republican gubernatorial candidate now says he will vote against I-1125, which has put the state Republican Party — which supports the initiative — on the opposite side from pro-GOP state and regional business groups which are speaking out against it.
► At SeattlePI.com — Washington's 'stupidest No vote:' Will we see a repeat? –With I-1125, we could repeat what former Republican Sen. Slade Gorton calls "the stupidest 'no' vote the people of Seattle ever cast."
---
STATE GOVERNMENT
► In The Olympian — Parties unveil redistricting maps — The bipartisan Redistricting Commission unveiled two maps, one for each party, a step in the process of setting state political lines that the commission hopes to finish by mid-November. They have until Jan. 1.
► At SeattlePI.com — Gregoire extends 'no rules' decree for another year — The state moratorium on "non-critical rule making" has been pushed to Dec. 31, 2012, after Gov. Chris Gregoire on Thursday signed an executive order.
---
LOCAL



► In Sunday's Tri-City Herald — Community copes with 2,000 Hanford layoffs –Since this past spring, almost 2,000 Hanford workers have lost their jobs, most of those within the past month, as work paid for with economic stimulus money is finished. Although the end of Recovery Act spending drove the layoffs, it wasn't just the new hires who lost their jobs. For union workers, it was last in, first out. But for nonunion workers, contractors decided who to keep.
► In today's Tri-City Herald — Many saw their Hanford job as temporary
► In the (Longview) Daily News — Operating Engineers Local 701 gives its side in EGT debate — Saying the ILWU's "illegal actions" shouldn't be rewarded or encouraged, IUOE 701 Business Manager Mark Holliday has written the Cowlitz County commissioners to explain the Oregon-based union's side of the contentious jobs battle.
---
U.S. POSTAL SERVICE
► In The Hill — Lawmakers inch closer to compromise in USPS rescue plan — Observers and lawmakers firmly believe that both Democrats and Republicans are treating the agency's sputtering finances with a sense of urgency, and that the two sides are on the path toward finding a compromise.
► In today's Washington Post — Obama's ex-auto, manufacturing czar sets sights on USPS — Ron Bloom, who helped restructure the automotive industry, served until August as Obama's top manufacturing policy adviser. Now he will advise the NALC as the 280,000-member union attempts to strike a new multi-year deal with the cash-strapped USPS.
► In today's NY Times — NALC turns to Wall Street for advice on its future — Bloom, a former Wall Street investment banker, also worked with the United Steelworkers as a strategic adviser to help revive bankrupt companies and consolidate the nation's steel makers to help save jobs.
---
NATIONAL
► In the NY Times — Ohio wages fierce fight over collective bargaining — The push to repeal the state's public employee collective bargaining law, enacted by the Republican-led legislature in March, will be one of the biggest battles in the country this Election Day, with the law's supporters and opponents expected to spend in total more than $20 million in the fight.
► At AFL-CIO Now — Senate report: The last big corporate tax cut did not create jobs — A law passed six years ago aimed to create new jobs by allowing U.S. corporations that were holding profits overseas to bring that money back into the U.S. at an extremely low tax rate. Corporations brought home billions, but did not invest in U.S. operations or create jobs.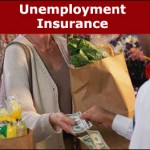 ► In The Hill — Deadline looms for Congress to cut deal on unemployment benefits — Advocates of reauthorizing the program say they are willing this time around to cover the $44 billion cost of a one-year extension, although they prefer that the offsets are pushed down the road at least three years.
► At Politico — Hopes rest of Supercommittee's!™ odd couple — Sen. Patty Murray and Rep. Jeb Hensarling seem to have nothing in common — she's a low-key liberal from the Pacific Northwest tasked with heading the reelection efforts of Senate Democrats, he's the tough-talking conservative from Texas who's climbing the ranks of Republican leadership.
► In today's NY Times — Ratification of Ford pact by UAW seems likely
► In today's LA Times — Safeway profit climbs on cost-control measures
---
TODAY'S MUST-READ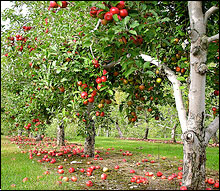 ► From McClatchy — Farm-labor shortage a crisis, Gregoire says — As opponents of illegal immigration continue to vow to seal the borders, Gregoire said Congress should focus instead on a way to get more foreign workers to help with harvesting. She led a delegation of farm-group representatives to Washington, D.C. to oppose a Republican bill that would force employers to use E-Verify to determine whether employees are eligible to work in the U.S. In Washington state, about 66,000 of the 92,000 workers who are needed for seasonal harvests — nearly 72% — are in the U.S. illegally.
---
The Stand posts links to Washington state and national news of interest every weekday morning by 9 a.m. Make this electronic "clip service" your first stop each morning! These links are functional on the date of posting, but sometimes expire.
Short URL: https://www.thestand.org/?p=6118
Posted by
David Groves
on Oct 17 2011. Filed under
DAILY LINKS
. You can follow any responses to this entry through the
RSS 2.0
. Both comments and pings are currently closed.