Risks of deinstitutionalization now outweigh the benefits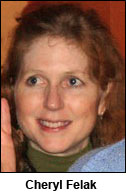 By Cheryl Felak
---
This past week, a tragic death occurred. Tommy, a 30-year-old developmentally disabled man, died. Among his developmental disabilities Tommy had PICA, a condition in which a person ingests non-food items. As reported, Tommy's life ended because he ingested laundry detergent which had been improperly stored in a milk carton.
Tommy's death was not an accident or an "incident" — his was a preventable death of one of our most vulnerable citizens. Until March 2011, Tommy had lived in the Frances Haddon Morgan Center in Bremerton; one of five publicly owned and operated residential service facilities in the State of Washington.
These residential service facilities are called RHCs – Residential Habilitation Centers – which provide comprehensive care by specially trained staff, on-site health care, 24-hour nursing care, behavior management and crisis management in a safe environment. These are not "rehabilitation" centers but rather, "habilitation" centers which work to help disabled people become capable of functioning in society.
Gov. Chris Gregoire, the Department of Social and Health Services (DSHS) and some legislators have been advocating for closure of the RHCs and transferring some of our most vulnerable residents to smaller general community-based residential services. The vast majority of these are privately owned and operated residential service businesses. These residential businesses tend to be scattered-site housing far removed from familiar communities. Too often, caregivers are insufficiently trained and ill-prepared to deal with challenging behaviors. There are reports of abuse and neglect which are admittedly going uninvestigated. The staff turnover rate is extremely high which leads to resident disorientation as well as mistakes by caregivers who do not know them.
Some prominent disability advocacy groups also argue for closing RHCs as a way to save money. They are misunderstanding several points regarding the cost of care: they look at the overall "average" that includes mostly residents with fewer needs for habilitation and then assume the same costs apply to the complex citizen with very intense needs. The "average" cost for the private residential service business does not include the costs for food, medical care, crisis intervention, extra staff support, capital costs and other operating costs for habilitation, all of which are included in the RHC cost but missing from the cost of care for those in the private businesses. Accounting for these costs and paying for these expenses has to be acknowledged somewhere. We can't simply pretend they don't exist.
Ironically, closing the RHCs does not save money at all, it actually costs much more.
The best approach to this problem is a Continuum of Care model. This model is based on what the individual needs for optimal habilitation and functioning. The model includes a whole spectrum of care situations, from RHCs for the most disabled, but also including private residential services providers and family homes with support as needed. It is important to realize that every developmentally disabled citizen is different and what may be right for one person is not necessarily right or safe for another. A person with very serious mental and physical disabilities is safe and well-cared for at an RHC, but at great risk in a privately operated residential business that does not provide the specialized care that person needs.
With the Continuum of Care model, we not only save money by providing coordinated care but also utilize an economy of scale at the RHC end of the continuum. We provide care for our vulnerable citizens not only because that care is mandated in our Constitution but also because every citizen possesses inherent human rights. The Continuum of Care model honors each person's human rights while providing better care at less cost. It only makes sense to use this model as a basis for the care of our citizens with developmental disabilities.
Because the state placed Tommy in an environment where he did not get the care or supervision he needed and deserved as a citizen with inherent rights, he died. How many more deaths must occur before we stop the misguided policy of forcing our most vulnerable citizens out of our quality RHCs and into dangerously inadequate alternatives?
---
Cheryl Felak is a Registered Nurse, a member of SEIU HealthCare 1199NW, and an advocate for citizens with developmental disabilities. She heads Because We Care – Beyond Inclusion, a volunteer organization promoting a Continuum of Care model. She can be reached at cherylfelak@msn.com.
Short URL: https://www.thestand.org/?p=6626
Posted by
David Groves
on Oct 28 2011. Filed under
OPINION
. You can follow any responses to this entry through the
RSS 2.0
. Both comments and pings are currently closed.