Ballot glitches, Supercommittee!™, Wall Street tax…
---
ELECTION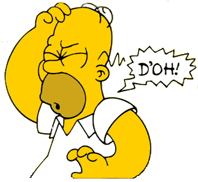 ► In today's Seattle Times — Glitch may mean no ballot for 21,000 voters — About 21,000 voters in the state may not have received ballots for Tuesday's election. The affected voters are those who recently used the Department of Licensing website to update their address or register to vote, according to the secretary of state.
EDITOR'S NOTE — If you are registered but didn't get your ballot, go to your county elections office and cast a provisional ballot. If you aren't sure you're registered, check here. Ballots must be postmarked by today (Tuesday) or returned before 8 p.m. to a voting center or drop box.
► In today's (Longview) Daily News — ILWU targets Woodland mayor — An ILWU-affiliated group launched an 11th-hour campaign over the weekend against Grover Laseke, an administrator in the Cowlitz County sheriff's office, in his race for Woodland mayor.
► From Bloomberg — Ohio vote on union law could set tone for 2012 elections — The outcome "is going to have a lot to do with where this country goes politically," said IAFF President Harold Schaitberger. "In every way you can measure it, this is really a national election."
► From Politico — What to watch for on Election Night — The Ohio measure "is a referendum in the most purple state in America about whether or not the newly empowered right is committing electoral suicide by overreach," said the AFL-CIO's Jeff Hauser.
---
STATE GOVERNMENT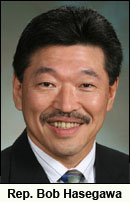 ► At Crosscut — Redistricting away Seattle's minority representation — Thanks in large part to its growing Latino and Asian American populations, Washington is one of only eight states to be awarded new congressional districts. As the draft redistricting maps emerged, activists cheered the prospect of the state's first majority-minority congressional district. But then they noticed what redistricting would do to South Seattle's legislative delegation. Rep. Bob Hasegawa, a longtime labor and social justice activist, would lose the seat he now holds there.
► In today's Columbian — Gregoire delivers straight talk to high school students — Asked by a student why she was proposing cutting school levy equalization, the governor said, "If not that, what? We're already cutting health care, we're cutting food. … I have people coming to me saying, 'Don't cut domestic violence (services), 'Don't cut supervision of people on parole.' I agree with every one of them. This is a burden that everyone must bear."
EDITOR'S NOTE: In the spirit of straight talk, henceforth in The Stand we will refer to "school levy equalization" as what it is: Redistribution of Property Tax Wealth™. We're not saying we don't support it, we just want everybody to be clear on what it is.
---
LOCAL
► In today's Columbian — Vancouver plans salary comparison for workers — Vancouver is planning a study that could dramatically affect the way the city pays its employees. The city council has agreed to get bids from companies on a comprehensive review of compensation for the city's 961-person workforce. The city says the study will include a market survey that includes comparisons with the private sector, a look at performance-based pay, and review of the city's compensation philosophy and structure.
► In today's Columbian – Vancouver inks deals with two more city employee groups — The city's management and non-union workers — about one-quarter of the city workforce — will get a 1.5% base wage increase beginning next year, which is similar to what unionized city workers got, says a city spokeswoman.
► In today's News Tribune — Tacoma public schools audit reveals labor strife — Signs of labor unrest were apparent months before an eight-day teacher strike in September, according to a performance audit of the district's human resources department.
► In the Skagit Valley Herald — Layoffs, furloughs proposed in Sedro Woolley budget — The mayor has proposed 13 city closure days and laying off half of the four-person Planning Department.
---
SUPERCOMMITTEE!™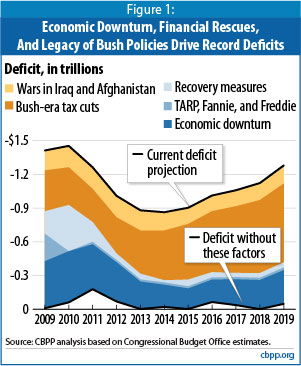 ► In the Wall Street Journal — A look inside the Supercommittee!™ (Steven Moore column) — One deal that is talking shape could include limiting tax deductions, perhaps by capping write-offs on charities, state and local taxes, and mortgage interest payments as a percentage of each tax filer's gross income. In exchange, Democrats would agree to make the Bush income-tax cuts permanent. This would mean preventing top rates from going to 42% from 35% today, and keeping the capital gains and dividend tax rate at 15%, as opposed to plans to raise them to 23.8% or higher after 2013. And there is some indication that corporate rates might actually be pushed lower.
EDITOR'S NOTE — This is a trial balloon floated by Republicans on the committee who are too scared to actually propose it for fear that their master, Grover Norquist, won't approve. But as this chart reminds us: The first rule of holes is, when you're in one, stop digging!
► At TPM — Why the Supercommittee!™ is heading toward Supercatastrophe!® — All signs augur for gridlock, with just over two weeks until the panel is required to report a proposal to Congress and mere days before its recommendations must be sent to the CBO for a final dollar-figure estimate.
► In The Hill — Dem leaders set to drive harder bargain than Obama — Democratic leaders are signaling to worried colleagues and their party's base that they are now in charge of deficit-reduction talks and will be tougher negotiators than President Obama. Senate Democratic Policy Committee Chairman Chuck Schumer (D-N.Y.) made it clear that congressional Democrats would not accept what they consider a "bad deal" from the Supercommittee!™
---
NATIONAL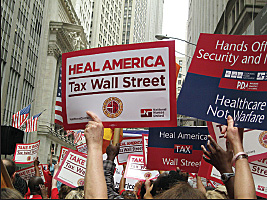 ► At Huffington Post — Wall Street transaction tax would raise $350 billion — A minuscule tax on financial transactions proposed by congressional Democrats would raise more than $350 billion over the next nine years, according to a nonpartisan congressional panel. The Wall Street Trading and Speculators Tax Act would impose a tax of 0.03% on financial transactions, meaning that longterm investors would barely notice it, but traders who move rapidly in and out of positions would feel its sting and, the authors hope, reduce the volume of their speculation in response. The European Union is pressing forward with a financial transaction tax.
► In today's NY Times — End bonuses for bankers (column by NYU professor of risk engineering) — Instead of thousands of pages of regulation, we should enforce a basic principle: Bonuses and bailouts should never mix. Any person who takes risks that might lead to a government bailout — that is, any employee of a bank — should be paid no more than a civil servant.
► AT TPM — Poll shows voters believe GOP intentionally stalling economy — The new data suggests that about half the country, including a majority of self-identified independents and large minorities of conservatives and Republicans, believe that congressional Republicans are using their political power to thwart Obama's efforts to reduce unemployment.
► From Reuters — Wisconsin politicians face specter of fresh recall elections — Republican Gov. Scott Walker could headline a cast of Wisconsin lawmakers who may be fighting for their political lives in a sequel next year to last summer's historic state recall elections.
---
TODAY'S MUST-READ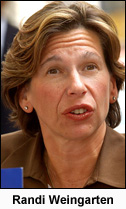 ► In today's NY Times — Teaching with the enemy (Joe Nocera column) — The education reform movement has long demonized Randi Weingarten and the American Federation of Teachers — sometimes with good reason — and that is reflected in Steven Brill's new book, "Class Warfare: Inside the Fight to Fix America's Schools." But Brill himself is now where the reform movement needs to go, if it hopes to change how kids are taught. Randi Weingarten can't be the enemy anymore. She could be the reformers' best friend, if only they'd let her.
---
The Stand posts links to Washington state and national news of interest every weekday morning by 9 a.m. Make this electronic "clip service" your first stop each morning! These links are functional on the date of posting, but sometimes expire.
Short URL: https://www.thestand.org/?p=7013
Posted by
David Groves
on Nov 8 2011. Filed under
DAILY LINKS
. You can follow any responses to this entry through the
RSS 2.0
. Both comments and pings are currently closed.