Wenatchee bailout, blacks hit hardest, NLRB mess…
---
OCCUPY THE CAPITOL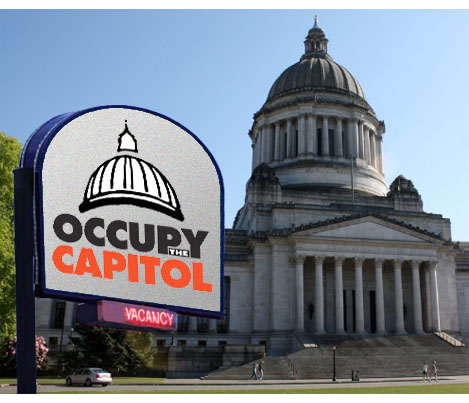 ► See The Stand's roundup of Monday news coverage of the Occupy the Capitol protests.
(Click here for more information about continuing actions this week in Olympia.)
---
STATE GOVERNMENT
► From AP — Pullman feels effects of state budget cuts — The state cutting a whopping 60% of its support for Washington State University in the past four years, prompting more than 500 layoffs at the university – about 12% of its work force – is a big deal. Many fear that even bigger cuts are coming. Real estate sales and construction in Pullman are down, while unemployment is up. That's unusual for a local economy that historically has been immune to big swings.
► In today's Yakima H-R — Teachers take to streets to oppose proposed education cuts
► In today's Kitsap Sun — Kitsap educators travel to Olympia to speak for schools
► In the (Longview) Daily News — Opponents of education cuts take to the streets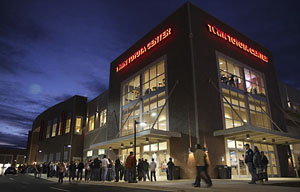 ► In today's Wenatchee World — Lawmakers give approval for $42 million arena bailout — With a key bond payment due later this week, a panel of state lawmakers gave early approval Monday to a $42 million bailout package that would prevent a default on Wenatchee's Town Toyota Center. Lawmakers voiced little resistance but plenty of reluctance while hearing testimony, then passed the measure out of committee on an 18-7 on Monday night. State officials fear that a default will ripple across the state and make it more difficult for similar agencies to borrow.
► In Slog — First task under the Capitol Dome: Bailing out Wenatchee's mess — Sponsored by two representatives from Wenatchee, the bill makes a $42 million loan to the city's public facilities district; meanwhile it stipulates that local authorities (i.e., Republicans who have resisted raising taxes to cover their obligation to fund the 2008 construction project) may either collect their own revenues to reimburse the state or the state will withhold the city's allowance "until the state loan is repaid in full."
EDITOR'S NOTE — Our favorite quote of this young session (and a sure sign Democratic Rep. Ross Hunter of Medina has no plans to run for statewide office.) Says Hunter: "I personally don't care about Wenatchee — I care about the state."
► In today's News Tribune — There's a high price to be paid from moving SCC from McNeil (editorial) — Yes, it's expensive for DSHS to run the SCC on McNeil — about $42 million a year. But the costs of moving it would be high both politically and financially. If the SCC is to be moved, it should only be done after an open public process. Perhaps lawmakers can find a community that actually wants the 400 or so jobs associated with housing hundreds of violent sex offenders. Probably not – which is why the SCC was put on McNeil Island to begin with.
EDITOR'S NOTE — Wait. $42 million? How about we house violent sex predators at Wenatchee's Town Toyota Center? Win win! You're welcome.
---
LOCAL
► In today's Columbian — Union ratifies new labor contract with Vancouver — A new labor contract between the city and its fourth-largest employee group includes small pay increases, a one-time $1,000 per full-time employee payment and a reduction in the cost of health care to taxpayers. The contract, ratified Monday night with OPEIU, is largely similar to a wave of those approved in the past two months with other major city unions.
► In today's Kitsap Sun — Kitsap County presents budget for public review — A loss of 29 positions — some through layoffs, some through attrition — will help the county balance its budget in 2012. Budget officials will negotiate with department heads over the next few days to determine the number of layoffs needed. A partial reduction in hours will remain in force for 138 positions.
---
NATIONAL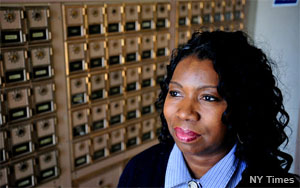 ► In today's NY Times — As public sector sheds jobs, blacks are hit hardest — Tens of thousands of once solidly middle-class African-American government workers — bus drivers in Chicago, police officers and firefighters in Cleveland, nurses and doctors in Florida — have been laid off since the recession ended in June 2009. About one in five black workers have public-sector jobs, and black workers are one-third more likely than white ones to be employed in the public sector.
► In today's NY Times — Senate Democrats propose extending payroll tax cut — The move sets the stage for a showdown with Republicans who are almost certain to reject the Democrats' proposal for paying for the cut: a 3.25% tax on gross income over $1 million for single filers and married couples filing jointly.
► In today's Washington Post — States face bleak economic forecast, report says — States are caught in a fiscal vise as weak economic growth, dwindling federal help and increasing appeals from hard-pressed local governments squeeze their budgets. Because of increasing caseloads, declining federal help and spiraling health-care costs, state Medicaid spending is growing much faster than state revenue, crowding out funding for other priorities.
► From AP — American Airlines parent seeks bankruptcy protection — The airline aims to cut costs and unload massive debt built up by years of high fuel prices and labor struggles. American was the only major U.S. airline that didn't file for bankruptcy protection in the aftermath of the 2001 terrorist attacks that triggered a deep slump in the airline industry.
► In today's LA Times — Chinese factories hit by strikes amid manufacturing slowdown — Already facing a sharp slowdown, factories in China's manufacturing heartland are now experiencing a rash of labor strikes reminiscent of the worker unrest that swept the country last year.
---
TODAY'S MUST-READ
► In The Hill — What in the world is going on at the NLRB? (by John Logan, Professor)– Amid all the recriminations of the past weeks – furious letters and demands for documents from House Democrats and Republicans — it is easy to lose sight of what's really going on. Two major disputes are at the heart of recent events at the NLRB, and both reveal the GOP's cavalier disregard for fundamental labor rights – rights that are taken for granted in almost every other developed democracy in the world.
---
The Stand posts links to Washington state and national news of interest every weekday morning by 9 a.m. These links are functional at the date of posting, but sometimes expire.
Short URL: https://www.thestand.org/?p=7646
Posted by
David Groves
on Nov 29 2011. Filed under
DAILY LINKS
. You can follow any responses to this entry through the
RSS 2.0
. Both comments and pings are currently closed.