Make plans to Occupy the Capitol this week
On Monday, Nov. 28, the Washington State Legislature will convene for a special legislative session called by Gov. Chris Gregoire with plans to cut another $2 billion in state services. This is on top of the $10 billion in cuts over the past three years, which have eliminated thousands of jobs, cost families their health care coverage, increased school class sizes, sent college tuition skyrocketing, and shredded our social safety net.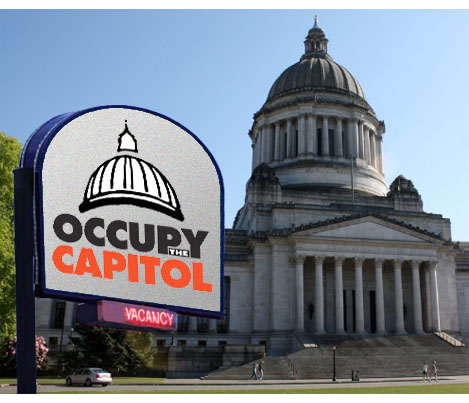 Washington citizens opposed to these cuts plan to occupy our State Capitol in Olympia during the special session to tell our lawmakers that we have had enough! The Washington State Labor Council is urging all union activists and supporters of good jobs and our quality of life in this state to participate in these actions.
The WSLC has announced a state budget agenda that it will pursue in coordination with community, religious and small business groups that share labor's concerns about all-cuts budgets harming our families and our economic future. These Occupy the Capitol protests will feature not just union members but ALL Washington citizens who want to take back state government for the 99%, who will not tolerate another all-cuts budget, and who will demand that the 1% pay their fair share.
Check the Occupy the Capitol website for details and updates, but here is the tentative schedule for the first week of events:
SUNDAY, NOV. 27 —  Sleepover with Occupy Olympia — Bring your tent, warm clothes and a sleeping bag to camp out in Heritage Park next to the State Capitol. Click here to sign up and join us!
MONDAY, NOV. 28 — The 99% Takes Back the Capitol — People from across the state are joining together on the first day of legislative session to begin the occupation and show our lawmakers that we will not tolerate another all-cuts budget. It's time to end unfair tax breaks and raise revenue. See details for events happening throughout the day. Click here if you can make it on Monday or tell your friends with our Facebook event page.
Can't make it to Olympia on Monday? The M.L. King County Central Labor Council is joining the Seattle Education Association and AFT Washington at a "Jobs Not Cuts" Rally and Candlelight Vigil at 6 p.m. Nov. 28 at the South Seattle Community College campus to echo a similar action being held in Olympia that night. See the rally flier.
TUESDAY, NOV. 29 — We are the 99 Percent — Who are the 99 percent? We'll put a face on the 99 percent with personal stories of the devastation suffered because of state budget cuts. Join us at 11:AM at the Capitol Theatre, in Downtown Olympia. Click here to sign up and join us!. Send in your picture of why you occupy.
WEDNESDAY, NOV. 30 — Make the 1 Percent Pay their Fair Share — It's time for the richest 1 percent to pay their fair share to help fix our economy. Big banks and large corporations benefit from outdated tax loopholes while our communities continue to suffer. We need a tax system that is fair to all of us so that we can rebuild an economy that works for the 99 percent. Join us at 9 a.m. at the Capitol Building. Meet at noon at the Rotunda to march to a secret 1% location. At 3:30 p.m., Occupy the Senate Ways and Means Committee hearing in Room 4 of the J.A. Cherberg Building. Click here to sign up and join us!
THURSDAY, DEC. 1 — Do You Stand with the 99 Percent? — Legislators are elected by the people to represent the people. Government's job is to protect Washington families—not big corporations, unfair tax breaks or rich special interests. We call on our elected legislators to stand up for Washington families, stand up to special interests and stand with the 99 percent. Join us at noon for a "Stand With the 99%" teach-in and find out who stands with the 99% at 1 p.m. at the Capitol Building. At 3:30 p.m., Occupy the Senate Ways and Means Committee hearing in Room 4 of the J.A. Cherberg Building. Click here to sign up and join us!
FRIDAY, DEC. 2 — Our Future is at Stake — What do you want to be when you grow up? Our children are looking at a world where they are uncertain of their next meal and unable to see a doctor when they need one. Our students will be shoved into crowded classrooms, graduate saddled by debt and end up unable to find a job. We call on the people of Washington to look to the future and decide what kind of legacy we will leave for our children. Click here to sign up and join us! Friday is also the Children's Alliance lobby day, and there will be a rally on the steps at noon.
SATURDAY, DEC. 3 — We Can Do Better — Meet at the Capitol at 11 a.m. Join community organizations and people from all across Washington state to show our elected legislators that we are the 99 percent–we are the majority — and we deserve better. Click here to sign up and join us!
Details of each days' activities are still being worked out, so make sure you visit the Occupy the Capitol website for updates.
Short URL: https://www.thestand.org/?p=7478
Posted by
David Groves
on Nov 23 2011. Filed under
STATE GOVERNMENT
. You can follow any responses to this entry through the
RSS 2.0
. Both comments and pings are currently closed.