State still stalled, Fairchild fights, tone-deaf 1%…
---
LOCAL
► In today's (Everett) Herald — Despite Boeing hiring, state economy still stalled — The state economy continues to be weighed down by a slack housing market and less demand for construction, despite bright spots in key areas such as aerospace and computer software, the state's chief economist told lawmakers in Olympia on Monday.
► In today's (Everett) Herald — Sen. Patty Murray to visit unemployed Marysville man's home — Randy Heslop recently wrote to Murray's office about his search for employment. Murray read what Heslop wrote and is set to meet him and others at his home Wednesday for a discussion about issues that are facing the unemployed.
► In today's Columbian — Activists hope to cap corporate privileges — In the past two decades, a growing number of cities and towns have passed or attempted to pass ordinances to diminish the ability of corporations to override community decisions. Now, there may be a nascent effort toward that end in Vancouver.
► In today's Yakima H-R — Facing state cutbacks, Sunnyside hospital lays off 9, reduces pay— Sunnyside Community Hospital has laid off nine employees and reduced pay for most staff in anticipation of state reimbursement cuts.
---
BOEING
► At HeraldNet.com — Boeing added 8,361 jobs in Washington in 2011 — Boeing now lists 81,978 employees in the state through Dec. 22, 2011. The company has been increasing production rates on all its jet programs in the Puget Sound region.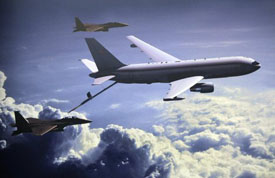 ► In today's Spokesman-Review — Leaders want Boeing's new tankers at Fairchild — The first in the new fleet of KC-46A tankers will roll out of Boeing's Everett plant in 2017. State and local leaders want those first tankers sent to Fairchild Air Force Base, so Greater Spokane Incorporated on Monday kicked off a campaign it is calling Fairchild First — a public information effort to bring the new tankers here.
► In today's Spokesman-Review — Stakes are high in fight for tankers, Fairchild (editorial) — Preservation of Fairchild's mission is vital to Spokane. The base employs about 5,000 airmen and civilians, and sustains thousands of additional jobs. About 17,000 former Fairchild airmen have chosen to continue working in the Spokane area, contributing the unique skills acquired during their tours of duty.
► In the Daily Mail — Engineers call for grounding of Airbus A380 after cracks found in wings — Australian aircraft engineers have called for Airbus A380 – the world's biggest passenger aircraft – to be grounded, after Singapore Airlines and Qantas found cracks in the wings of their super-jumbos.
---
TRANSPORTATION
► In today's Seattle Times — Governor to push for billions for transportation— When Gov. Chris Gregoire gives her State of the State speech Tuesday, she will argue that lawmakers and voters should support billions of dollars in improvements to roads, ferries and transit. She will emphasize road construction as a strategy to create jobs and preserve the movement of people and goods, says a spokesman.
► In today's Tri-City Herald — Cantwell wants to modernize state's freight transportation infrastructure — Washington has the potential to be the doorway to the Asian markets. But Sen. Maria Cantwell said the state could miss out if investment isn't made in infrastructure projects to move freight more efficiently.
---
STATE GOVERNMENT
► In today's Seattle Times — Higher-ed woes tied to state 'leadership vacuum' — Washington politicians have abdicated their leadership role in higher education, leaving the state with a disjointed system that doesn't produce enough bachelor's degrees and forces employers to go out of state — and even out of the country — to find skilled workers. So says a report from the University of Pennsylvania's Graduate School of Education.
► In today's Spokesman-Review — House Speaker Chopp's goals: Create jobs, fund education — House Speaker Frank Chopp set down five goals for a short session with a significant budget problem: Create jobs; fund basic education; save the safety net; ensure equality; and provide opportunity.
► Plus more local Day 1 coverage from AP, The Columbian and the (Everett) Herald.
► In today's Olympian — Gonzalez sworn in as new justice — The historic move diversifies the court's makeup and adds a strong voice for improving the public's access to the costly justice system.
► In today's NY Times — Gov. Gregoire comes around on same-sex marriage (editorial)
---
NATIONAL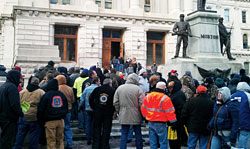 ► At TPM — Indiana Democrats end legislative boycott — for now — Democrats in the Indiana legislature have ended their walkout of the state House, which was tying up a Republican-backed "right-to-work" (for less) bill. But they're not promising that they won't do it again. GOP leaders now hope to hold votes Thursday on committee changes to the bill and a final vote on passage on Friday.
► At AFL-CIO Now — Indiana Gov. Daniels protects secret donors behind 'right-to-work' ads — Indiana's airwaves are being saturated with ads featuring Gov. Mitch Daniels (R) promoting his right to work for less legislation that Republican lawmakers are trying to ram through the legislature. But Daniels continues to refuse to reveal who is bankrolling the media barrage.
► From AP — USDA to close 259 offices to save money— The U.S. Agriculture Department announced Monday it will close nearly 260 offices nationwide, a move that won praise for cutting costs but raised concerns about the possible effect on food safety.
► In today's NY Times — Justices grapple with voting rights issue that could tip the House — Several members of the Supreme Court appeared frustrated on Monday as they surveyed the available options and looming deadlines in a major voting rights case from Texas that could help decide control of the House.
---
1% UPDATE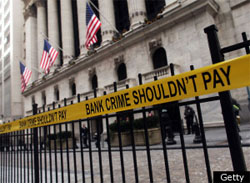 ► At Huffington Post — Wall Street employees threaten to quit if bonuses aren't up to snuff — Brokerage executives at one Wall Street firm, Jefferies Group, have threatened to leave the company if their bonuses aren't up to par with other firms.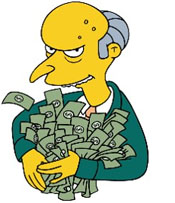 ► In The Hill — Romney: 'Monty Burns — with better hair' — Mitt Romney has tried to portray himself as a regular guy in campaign speeches but his penchant for gaffes has undermined the effort. His remark Monday that he likes to be able "fire people" is the latest awkward statement that will haunt him if he wins the GOP nomination.
► In today's NY Times — A big check, and Gingrich gets a big lift — A $5 million check from Sheldon Adelson underscores how a Supreme Court ruling has made it possible for a wealthy individual to influence an election.
---
TODAY'S MUST-READ
► In today's NY Times — The corporate candidates (editorial) — The Republican presidential hopefuls with backgrounds in ordering layoffs and lobbying Congress can't relate to struggling voters. Mitt Romney claims his background as a businessman provides him with an understanding of the economy and the ability to fix it. His opponents — particularly Newt Gingrich, Rick Santorum, Ron Paul and Rick Perry — say their political experience provides the same advantage. In truth, none have offered anything but tired or extremist economic prescriptions, providing little evidence that they can relate to those at the middle or bottom of the ladder.
---
The Stand posts links to Washington state and national news of interest every weekday morning by 9 a.m. These links are functional at the date of posting, but sometimes expire.
Short URL: https://www.thestand.org/?p=8717
Posted by
David Groves
on Jan 10 2012. Filed under
DAILY LINKS
. You can follow any responses to this entry through the
RSS 2.0
. Both comments and pings are currently closed.