More than 200 rally in Seattle, call on Wells Fargo to pay fair share
SEATTLE (Jan. 31) — More than 200 workers, students, unemployed people and others rallied and marched to a local Wells Fargo branch Tuesday to call on the bank to pay its fair share of taxes.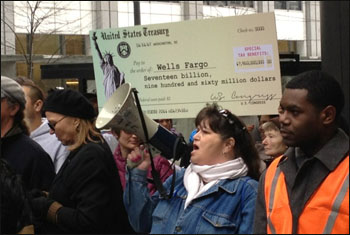 Gina Peterson of Columbia City took part because even though she doesn't have work, she paid more federal income tax than Wells Fargo did.
"I'm unemployed and I pay more taxes than Wells Fargo!" said Peterson, an unemployed medical assistant. "It's time for them to pay their fair share."
How could an unemployed medical assistant pay more federal income tax than Wells Fargo? It's easy: according to a recent report from Citizens for Tax Justice, the bank is one of the worst corporate tax dodgers in the country. While Wells Fargo has made more than $50 billion in profit since the 2008 bailout, it received $17.9 billion in special tax benefits — lowering its total income tax bill to less than zero.
That means that every local resident who paid even a dollar of federal income tax over the past few years paid a higher effective rate than Wells Fargo — at a time when executive compensation at the bank hit a record high.
The tax season is upon us, and as people across the region receive their W-2 forms in the mail and get ready to pay what they owe, many are asking why Wells Fargo doesn't pay its taxes, too. If big companies like Wells Fargo would simply pay their fair share, our country would have the resources we need to invest in healthcare, education, and infrastructure programs so we could create jobs and stop the cuts.
For more information, see the Citizens for Tax Justice report and the New Bottom Line report that reveals record executive compensation at Wells fargo and other big banks.
Tuesday's Wells Fargo demonstration was organized by Working Washington, an organization bringing people together to fight for a fair economy. For more information, visit WorkingWa.org
Short URL: https://www.thestand.org/?p=9796
Posted by
David Groves
on Jan 31 2012. Filed under
NATIONAL
. You can follow any responses to this entry through the
RSS 2.0
. Both comments and pings are currently closed.