Phone bankers needed this week to fight 'right to work'
UPDATE (Jan. 26): With the Indiana House's passage of the right to work' legislation, the Indiana AFL-CIO has requested an end to all national phone banks. So the Thursday, Jan. 26 afternoon phone banks in Seattle are cancelled. Stay tuned for word on next steps. And thank you for your solidarity!
---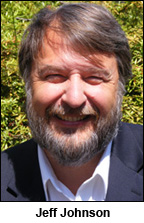 (Jan. 23) Following is an open letter from Jeff Johnson, President of the Washington State Labor Council, to all union members and supporters.
---
Sisters and Brothers,
A tremendous battle is being fought in Indiana to stop so-called "right to work" legislation from being passed by the Indiana State Legislature. Last year, Indiana's House Democrats spent 37 days in Illinois to prevent a quorum for a vote on the bill. The Illinois State AFL-CIO and the labor movement hosted these brave legislators. The House Democrats returned after the Republicans agreed not to bring the "right to work" bill up again during 2011.
This year, the Republicans in the Senate and House held a six-minute hearing on the first day of the 2012 session — without public testimony and without amendments — and have placed the bill on the second reading calendar to be voted on by the House of Representatives. House Democrats once again are staying away from the legislature and each face the threat of $1,000 fines for every day they remain out. Thousands of trade unionists are flooding into Indiana's Capitol to protest this abomination of democracy and this attack on the working class.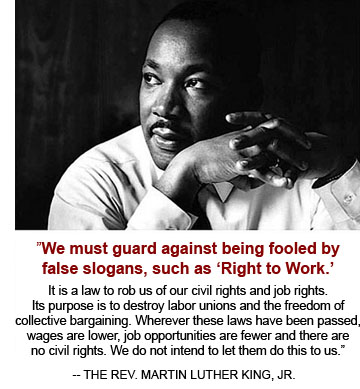 The Washington State Labor Council, AFL-CIO, along with 12 other states, has volunteered to set up phone banks to call Indiana voters to mobilize this week for a "week of action" against right to work (for less)! Machinists District 751 and UFCW Local 21 have volunteered to help us out with their predictive dialer systems. We will have phone banks going this Monday through Thursday, Jan. 23-26 from 1 p.m. until 5 p.m. (Shifts will be from 1 to 3 and 3 to 5 p.m.) at the Machinists Hall, 9125 15th Place S. in South Seattle , and at UFCW Local 21, 5030 1st Ave. S. in Seattle . We can also provide you with passwords so that you can call from your office or home in the afternoon each day. Union offices are asked to consider adopting a 2-hour shift and having staff phone bank during that period.
WE NEED YOUR HELP! Please contact Lori Province at lprovince@wslc.org or 206-351-2956 to RSVP to get more information about phone banking to defeat 'right to work' in Indiana!
Thank you, in advance, for defending against this attack on our Brothers and Sisters in Indiana and entire American labor movement.
Sincerely,
Jeff Johnson
President, Washington State Labor Council, AFL-CIO
Short URL: https://www.thestand.org/?p=9170
Posted by
David Groves
on Jan 23 2012. Filed under
W.S.L.C.
. You can follow any responses to this entry through the
RSS 2.0
. Both comments and pings are currently closed.