Leg. Update: It's still about the jobs in Olympia
Here is today's edition of the weekly Legislative Update the Washington State Labor Council, AFL-CIO (PDF version):
---
Priority bills would create jobs, retain good jobs, ensure job safety
OLYMPIA (Jan. 17) — The Washington State Labor Council continues to join with business and labor organizations in calling for passage of the Washington State Infrastructure Jobs Bond. A $2 billion capital construction bond would boost families and communities by creating 30,000 jobs and generating nearly $4 billion in economic activity statewide. Also, this will help the state deal with the General Fund revenue shortfall by bringing in an estimated $35 million in new sales/B&O tax revenue this biennium and more than $70 million in the next biennium.
While addressing the jobs crisis remains the WSLC's top priority in the 2012 session, there are several priority policy bills supported by the WSLC that also merit passage. Given the short session's time line, many of these bills already have hearings scheduled for this week. They include: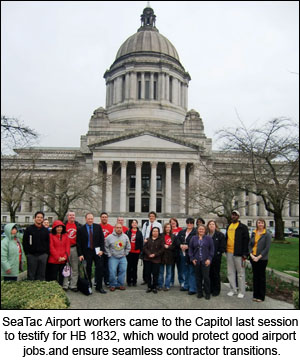 Middle-Class Job Retention at SeaTac Airport — HB 1832 protects and strengthens jobs and the rights of workers and businesses at SeaTac Airport by ensuring seamless transitions with successor contractors. It requires successor contractors to retain employees for 90 days after contract transition and requires workers and their representatives agree to labor peace — as in no work stoppages, no pickets, no strikes, etc. — during this period. This important bill affects up to 1,500 workers at SeaTac Airport, some of whom have worked there for decades and could suddenly face losing their jobs if the Port of Seattle contracts with new management companies to take over existing operations.
HB 1832 is a win-win solution for workers, businesses, travelers and the Port. Workers keep their jobs and the Port retains highly experienced and dedicated workers and is guaranteed smooth transitions between service contracts.
Sponsored by Rep. Dave Upthegrove (D-Des Moines), whose district includes SeaTac Airport, HB 1832 passed the House in 2011 but was not acted upon in the Senate. The WSLC strongly urges its passage in 2012.
Enhancing Safety and Health Protection at Work — HB 2412 modernizes our state's workplace health-and-safety protections by increasing penalties to meaningful levels, enhancing whistleblower protections for workers who raise or report safety concerns, and providing victims and family members the right to be heard in DOSH investigations.
Sponsored by Rep. Phyllis Kenney (D-Seattle), HB 2412 will be heard at 1:30 p.m. Wednesday in House Labor & Workforce Development.
Protecting Workers and Communities from Pesticide Drift — Currently, state law protects wine vineyards and salmon streams from exposure to toxic pesticide drift, but there are no protections for workers. Washington residents deserve at least the same amount of protection that we give to a grape. HB 2413 will protect people from exposure to pesticides by airplane, air-blast sprayer, or any other form of application with a risk of drift by creating a buffer zone and holding violators liable for exposing people to pesticides.
Sponsored by Rep. Chris Reykdal (D-Olympia), HB 2413 will be heard at 1:30 p.m. Wednesday in House Labor & Workforce Development.
Labor Member on Community College Boards — HB 2368 guarantees that at least one member of every community college Board of Trustees represents labor. This is already a requirement in the technical colleges. HB 2368 will create consistent, well-rounded representation on all of the colleges' boards. Just as business members bring their knowledge and needs to their roles on the board, labor members bring the needed perspectives of workers and labor issues.
Sponsored by Rep. Larry Seaquist (D-Gig Harbor), HB 2368 will be heard at 8 a.m. Wednesday in House Higher Education.
Injured Worker Protections — HB 2431 makes several important changes to workers' compensation law to increase accountability, transparency and privacy for injured workers.
Sponsored by Rep. Chris Reykdal (D-Olympia), HB 2431 is scheduled for a 10 a.m. hearing Tuesday in House Labor & Workforce Development.
Due Process Protections in Medical Provider Network — HB 2359 protects injured workers' access to medical care by clarifying due process protections for physicians in the injured workers' medical provider network.
Sponsored by Rep. Chris Reykdal (D-Olympia), HB 2431 is scheduled for a 10 a.m. hearing Tuesday in House Labor & Workforce Development.
Patient Safety Package — Strongly supported by several health-care unions, a package of bills aims to protect the safety of patients and health-care workers: HB 2519 (Green) sets minimum standards for safer nurse staffing, SB 6309 (Prentice) provides for uninterrupted rest and meal breaks for certain health-care workers, and HB 2501 (Green) places restrictions on mandatory overtime for health-care workers.
SB 6309 will be heard Thursday at 10 a.m. in Senate Labor & Commerce. Hearings are pending on the House bills.
Bad workers' comp, minimum wage bills
WORKERS' COMPENSATION — At the same 10 a.m. Tuesday hearing that the above-mentioned positive workers' compensation bills will be heard, the House Labor & Workforce Development Committee will consider HB 2207, which would grant Retrospective Rating Reform employers more control over injured workers. Retro employers would be allowed to schedule independent medical exams and vocational rehabilitation. Because they get to schedule, they get to choose the providers.
Employers have a clear incentive to choose providers who will close claims quickest, as opposed to ensuring the best outcomes for injured workers. That's why, like last year's failed effort to allow Retro employers to close claims, the WSLC opposes HB 2207. Once again, it gives those with an incentive to cut costs too much power at the expense of injured workers.
MINIMUM WAGE — As promised, Republicans have introduced a package of bills that, if passed, would result in a lower state minimum wage. All three are sponsored by the GOP members of the House Labor Committee — Reps. Cary Condotta, Judy Warnick, Matt Shea, David Taylor and Susan Fagan.
HB 2496 would tie annual inflationary adjustments to a CPI index that increases at a slower rate.
HB 2497 would establish a "tip penalty" in Washington State, whereby employers would be allowed to pay a sub-minimum wage to workers who earn tips.
HB 2498 would block annual minimum wage increases whenever the state unemployment rate exceeds 7.5%.
The WSLC strongly opposes all three bills as attacks on the lowest-paid workers in our state. They are in direct contradiction to the wishes of Washington voters, who overwhelmingly established the existing minimum wage law.
More important hearings this week
SENATE LABOR, COMMERCE & CONSUMER PROTECTION — Tuesday at 1:30 p.m., SB 5789 addresses workplace bullying by providing legal recourse for employees who have been deliberately subjected to abusive work environments. The WSLC supports this legislation sponsored by Sen. Nick Harper (D-Everett).
HOUSE HEALTH CARE & WELLNESS — Wednesday at 8 a.m., HB 2319 (Cody) is labor-supported legislation on implementing the Affordable Care Act.
HOUSE LABOR & WORKFORCE DEVELOPMENT — Wednesday at 1:30 p.m., in addition to HB 2412 (modernizing work safety standards) and HB 2413 (re: pesticide drift), the committee will hear HB 2339 (Sells) a bipartisan unemployment insurance bill to protect employers of part-time workers from having their experience ratings negatively impacted when workers need to continue to collect partial unemployment benefits.
Stay tuned at The Stand!
This Legislative Update newsletter will be published every Tuesday during the 2012 session, outlining the legislative agenda of the Washington State Labor Council and its affiliated unions. In addition, stay apprised of developments in Olympia at The Stand — www.TheStand.org — Your Internet Newsstand in Washington State. It features daily updates on legislative action, plus all other news affecting working families.
Short URL: https://www.thestand.org/?p=8900
Posted by
David Groves
on Jan 17 2012. Filed under
STATE GOVERNMENT
. You can follow any responses to this entry through the
RSS 2.0
. Both comments and pings are currently closed.