Infrastructure woes, oil profit 'whoa's, 1% Mitt…
---
TODAY'S MUST-READ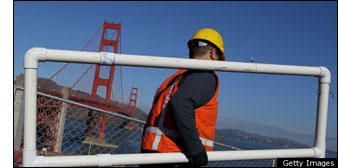 ► At Huffington Post — Infrastructure problems in U.S. go far beyond dollars — The problems America faces with its infrastructure are often much less headline-grabbing than the 2007 collapse of the I-35 bridge in Minnesota, which focused national attention on the subject in a way that has set the tone of discussion ever since. They are more often on the order of lost productivity and lost opportunity. They include other problems Obama referenced in his speech, like "a power grid that wastes too much energy; an incomplete high-speed broadband network."
If the struggle to fix America's infrastructure problem were a movie, it would be less Michael Bay than Woody Allen: not a lot of action, but also not much in the way of mass fatalities. Since 2007, there haven't been any more terrifying bridge collapses. Instead, the United States has failed to innovate and failed to maintain some key pillars of its infrastructure that are often less visible. People aren't dying, but the country is slowly losing its edge.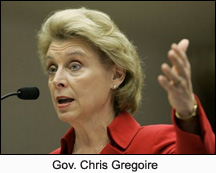 Washington Gov. Chris Gregoire, who has visited Shanghai and other parts of China as part of her efforts to develop her state's economy, told HuffPost "we see our infrastructure deteriorating and becoming inadequate in comparison to those we're in competition with… That construction that we see going on in China? That used to be us, that used to be us doing all that investment."
ALSO SEE — Labor, business urge: Frontload JOBS! (Jan. 10)
'Jobs Now' bill gains steam in Olympia with project lists (Jan. 26)
Sen. Kilmer's plan: Ingenious job creation in hard times'(Jan. 31)
---
STATE GOVERNMENT
► In today's Seattle Times — Consolidate health system? Bill splits school unions — Senate Bill 6442 would repeal the current K-12 employee health-care system, in which each of the state's 295 school districts separately negotiate private insurance plans with individual unions. WEA is opposed, but PSE of Washington supports the plan.
EDITOR'S NOTE — As reported in Wednesday's Legislative Update, the Washington State Labor Council is strongly opposed to this bill. There is clear evidence that this bill will increase costs for desperately struggling school districts. Could there possibly be a worse time to experiment with this than now?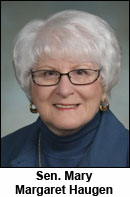 ► In today's Seattle Times — Plan for oil barrel fee dies — Gregoire's proposal to impose a $1.50 charge on every barrel of oil refined in the state has hit a dead end. The barrel charge — to raise $2.75 billion for highway maintenance, in a $3.6 billion package for state and local transportation — lacks support, a pair of leading senators said Thursday. "We've stripped the $1.50 out, and we're looking now at (driver) fees," said Sen. Mary Margaret Haugen (D-Camano Island).
EDITOR'S NOTE — Exxon just reported $41 BILLION IN PROFITS in the 4th quarter, an "eye-popper" that beat Wall Street's expectations. That's $19 million every hour of every day over the past three months. Meanwhile, you paid more in federal income taxes than the company did — which was ZERO. Too bad out state legislators don't think these oil companies can kick in some money to help rebuild our crumbling infrastructure that is killing jobs and the U.S. economy.
► In today's Columbian — Zarelli plan to cut pensions draws foes — Several union groups showed up on Thursday to oppose the Republican's legislation, saying SB 6378 would discourage people from a career in public service. Public service jobs such as teaching don't pay as well as jobs in the private sector, but their draw has been stable benefits.
► In today's Olympian — House GOP budget spends $580M more on education— But the Republicans' math was immediately called into question. And the minority party's leaders refused to say what significant cuts they would make to the safety net, higher education or other programs to offset what they add to K-12.
► In today's Bellingham Herald — WWU president: Budget cuts hurt university's ability to compete
► In today's Seattle Times — National forces likely to lead referendum effort to repeal Marriage Equality Act
► In today's Tri-City Herald — Democrat Jay Clough to challenge GOP state Rep. Brad Klippert
► At Olympian.com — Brendan Williams running for Superior Court
---
LOCAL
► At AFL-CIO now — More than 1,500 workers join AFL-CIO unions — In DuPont, Wash., some 350 workers who repair military helicopters and do site maintenance and repair work for defense contractor URS Corp., voted to join IAM District Lodge 751. The workers have been without a pay or cost of living increase for more than four years, says new IAM member John Davis, and "a bunch of people got fed up."

ALSO SEE — Contractors at JBLM vote to join Machinists union (IAM 751 blog)
► At CrooksAndLiars.com — Seattle truck drivers shut down Port to protest work-related dangers — Nearly 150 truck drivers effectively shut down shipping out of the Port of Seattle when they went to the state capitol in Olympia instead of the port, to protest dangerous work conditions in the trucking industry. Drivers were so concerned about the way the industry treats them that they risked their careers to make their voices heard.
ALSO SEE — Coverage of the Port truckers in The Stand.
► In today's Seattle Times — Looks like liquor prices will go up, over fees from I-1183 — The prospect of higher liquor prices after Initiative 1183 has distillers and distributors worried about making a profit while not driving away customers under the new system.
► In today's (Longview) Daily News — Injured Cowlitz PUD lineman improving— A Cowlitz County PUD line foreman who was seriously injured Wednesday is making good progress.
---
REPUBLICAN WAR ON UNIONS
► At Huffington Post — Arizona governor recall possible over assault on collective bargaining — Arizona could become the next Wisconsin as plans for protests, Capitol sit-ins and a potential effort to recall the governor get underway in an effort by progressives to block the passage of sweeping legislation to ban collective bargaining.
► From AP — Indiana union leader promises no Super Bowl skirmish — The president of Indiana AFL-CIO is promising union members will not disrupt the Super Bowl festivities in Indianapolis after efforts to block right-to-work legislation failed.
---
NATIONAL
► At AFL-CIO Now — Economy adds 243,000 jobs, unemployment drops to 8.3% — Private-sector jobs grew by 257,000, and government employment was essentially unchanged, but over the past 12 months 276,000 public employee jobs have been lost.
► In The Hill — Republicans: Cut federal workers, not defense — A group of Republican senators introduced legislation Thursday that would wipe out automatic defense cuts by reducing the federal workforce by 5% and extending a freeze on federal pay through June 2014.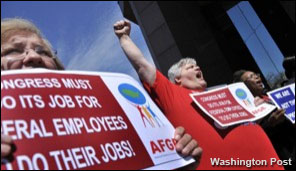 ► In today's Washington Post — Where the CBO report on federal pay went wrong (by NTEU President Colleen Kelley) — This report veers from the middle path that allows the government to attract and retain the best civil service workforce while keeping both the top and bottom compensation levels reasonable and fair. If Congress were to implement legislation based on the report's findings, the resulting bills would not call for across-the-board pay freezes or benefit cuts, as many have suggested. They would call for eliminating health coverage and retirement benefits for the lowest-paid federal workers while increasing salaries for the highest-paid employees to more than $200,000 per year. Would Congress really pass such legislation?
► At AFL-CIO Now — Affordable Care Act saves seniors $2.1 billion in drug costs — It has saved nearly 3.6 million people enrolled in Medicare $2.1 billion on their prescription drugs in 2011, finds a new report by the U.S. Department of Health and Human Services.
EDITOR'S NOTE — Rob McKenna is trying to repeal ACA, in its entirety.
► In today's LA Times — Female Wal-Mart employees file sex-discrimination claims
---
1% MITT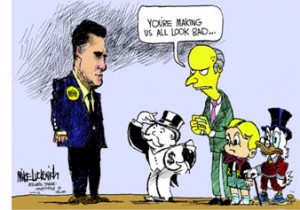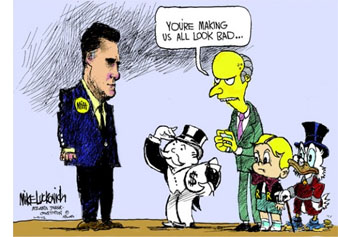 ► In today's NY Times — Romney isn't concerned (Paul Krugman column) — Mitt Romney has said that his comments about not caring about the very poor were taken out of context. But the more context you give them, the worse it gets. You can say this for the former Bain Capital executive: He is opening up new frontiers in American politics. Even conservative politicians used to find it necessary to pretend that they cared about the poor. Remember "compassionate conservatism"? Mr. Romney has, however, done away with that pretense.
► In today's Washington Post — Romney fails the empathy test(Eugene Robinson column) — There was something disturbing about the icy way in which Romney continues to insist that the poor receive government help and therefore need not be a focus of his policies. Even some conservative Republicans are urging him to show more empathy. I worry — and the nation should worry — that he can't show what he doesn't have.
► In The Hill — Romney gaffes alarm GOP
---
TODAY'S OTHER MUST-READ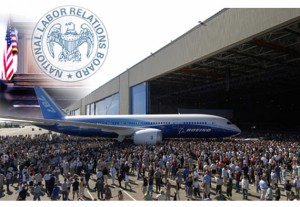 ► In The Hill — For NLRB lawyer Lafe Solomon, Boeing action was no laughing matter — Solomon will defend the labor board in court this year against lawsuits challenging its proposals to speed up union elections and have employers post notices detailing workers' rights. "We are trying our best to enforce the National Labor Relations Act. Some parts of the National Labor Relations Act, our attackers just don't agree with, but it is the law of the land and it's our job to enforce it as written," Solomon said. "If it's changed, we'll change."
---
The Stand posts links to Washington state and national news of interest every weekday morning by 9 a.m. These links are functional at the date of posting, but sometimes expire.
Short URL: https://www.thestand.org/?p=10020
Posted by
David Groves
on Feb 3 2012. Filed under
DAILY LINKS
. You can follow any responses to this entry through the
RSS 2.0
. Both comments and pings are currently closed.