'Smart plan' for jobs, Buffett on corporate taxes, lyin' cheatin' rich…
---
STATE LEGISLATURE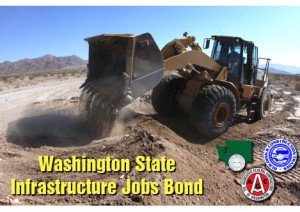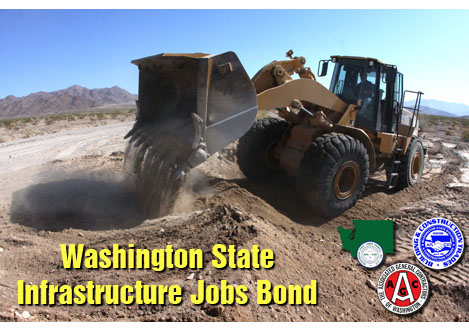 ► In today's (Everett Herald) — Smart plan for now, future (editorial) — (The Infrastructure Jobs Bond) would get projects moving quickly across the state. In Snohomish County, it would fund public-works, housing and hatchery projects, and classroom upgrades at Everett Community College. The result, beyond immediate jobs in the battered construction industry, is a stronger economic foundation that can spark private investment and job growth for years to come. The timing is also right because the plan takes advantage of extraordinarily low interest rates, bringing down the total cost of each project.
ALSO at The Stand — House jobs bills would 'jumpstart' economy (Feb. 24)
'Voices of Unemployed' call for Infrastructure Jobs Bond (Feb. 13)
Sen. Kilmer's plan: 'Ingenious job creation in hard times' (Jan. 31)
'Jobs Now' bill gains steam in Olympia with project lists (Jan. 26)
► In today's Seattle Times — Senate Dems' plan avoids deeper cuts to education— Senate Democrats will propose a budget Tuesday that spares K-12 and higher education from additional cuts, Senate Ways and Means Chairman Ed Murray said. The budget also won't suggest asking voters to approve a sales-tax increase. Murray said such a tax proposal is "highly unlikely" this session.
► At TheOlympian.com — Up next: Senate budget due mid-morning today— Sen. Ed Murray plans to reveal his supplemental budget plan for 2011-13 at 10:30 a.m. today (Tuesday) and public education is reportedly spared any further cuts.
► In today's Seattle Times — Tolls on Hwy. 99 tunnel now expected to fall $200M short — Tolls on the future Highway 99 tunnel now are expected to cover $200 million of its construction cost — half the $400 million that state leaders required when the project was approved three years ago.
► In today's (Longview) Daily News — Rising costs force state Medicaid to trim coverage for ER visits — Under a program to cut Medicaid spending that takes effect April 1, the state likely no longer would pay for emergency room visits for skin infections and hundreds of other emergency services it considers "unnecessary."
► In yesterday's Wenatchee World — House won't vote Monday on bill to help Wenatchee, arena — Rep. Mike Armstrong (R-Wenatchee) said the House will reconvene at 10 a.m. Tuesday and he expects a vote on the bill sometime during the day.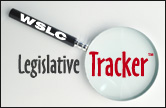 ► CHECK OUT the Washington State Labor Council's Legislative Tracker™to get status updates on many of the key bills of concern to the WSLC and its affiliated unions.
---
LOCAL
► In today's Tri-City Herald — Hanford layoff policy would have saved DOE $7.7 million— Nuclear site employees laid off in South Carolina got a better deal after the end of Recovery Act spending than Hanford workers, according to a DOE audit report.
► In today's (Everett) Herald — Emergency drills paid off when propane tank exploded in Edmonds— When a propane tank exploded at a construction site near Edmonds last week, Snohomish County firefighters and paramedics were ready.
---
BOEING
► In today's (Everett) Herald — 777, 787 execs trade jobs, signaling 777-X plans — A management shift this week by the Boeing Co. seems to indicate the company's intent to develop a new version of the Everett-built 777, now that the future of the 737 is well-defined.
► In today's (Everett) Herald — China Southern buys 10 777s — This is the first time China Southern has bought 777-300ER jets from Boeing.
---
CORPORATE TAXES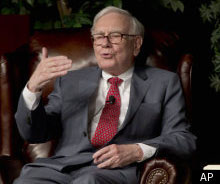 ► At Huffington Post — Warren Buffett: High corporate taxes are an American 'myth' — Corporations, like the rich, aren't paying their fair share in taxes, billionaire investor Warren Buffett says. Even while enjoying record profits, corporations last year paid just 12.1% of those earnings in taxes, their lowest tax rate since 1972, according to the Congressional Budget Office. At least 30 of the country's most profitable companies (including Paccar and Boeing) had a negative tax rate between 2008 and 2010.
► At Huffington Post — GOP Gov. Christie to Buffett: 'Just write a check and shut up' — The New Jersey governor was referring to Buffett's desire to be taxed at a higher rate.
► In The Hill — Tax experts think deal could be done this year on corporate taxes — Washington observers have also speculated that the two parties might want to move forward on corporate reform before having to deal with the expiring Bush tax cuts and other knotty issues at the end of the year.
► At Politico — Corporate tax next battle for White House
---
NATIONAL
► From USW — Steelworkers ratify agreement with Cooper Tire, ending lockout — The USW said that members of Local 207L have ratified a five-year contract with Cooper Tire, ending a three-month lockout at the company's Findlay, Ohio tire plant. The new contract was ratified with approximately 66% of the 948 ballots cast.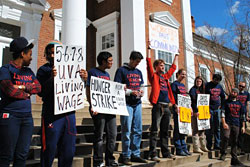 ► At AFL-CIO Now — UVA students, football player on hunger strike for workers' living wages — More than a dozen students at the University of Virginia are the 11th day of a hunger strike to demand a living wage, safer working conditions and better job security for university and university-contracted workers, some of whom make just $7.25 an hour.
► In today's LA Times — IATSE, Teamsters picket producer of '1,000 Ways to Die' — It has become the latest flash point in an effort by Hollywood's leading unions to extend contracts to the rapidly growing cable TV sector.
► At Politico — Long-term transportation bill face detours— Last week's announcement from House GOP leaders that they've given up on a five-year bill and are working on a "revamped" measure that may match the Senate's two-year bill is just the latest twist localities are getting used to after eight transportation policy extensions that have hamstrung large projects across the country.
► From AP — Detroit hiring thousands as U.S. auto sales surge — Carmakers are adding shifts and hiring thousands of workers around the country. Carmakers and parts companies added more than 38,000 jobs last year, reaching a total of 717,000. And automakers have announced plans to add another 13,000 this year.
► In today's NY Times — Justice for Upper Big Branch (editorial) — The filing of criminal conspiracy charges against a top-ranking mine superintendent at Upper Big Branch mine, where 29 miners died, is a major step forward.
► From AP — FAA seeks to raise required flight hours for co-pilots— Co-pilots would have to meet the same experience threshold required of captains, the first increase in four decades, under regulations proposed Monday by the FAA.
---
TODAY'S MUST-READ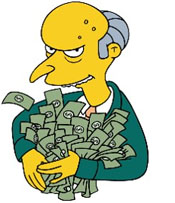 ► From Bloomberg — Study finds wealthy more likely to lie, cheat — The "upper class," as defined by the study, were more likely to break the law while driving, take candy from children(!), lie in negotiation, cheat to raise their odds of winning a prize and endorse unethical behavior at work, the research found.
---
The Stand posts links to Washington state and national news of interest every weekday morning by 9 a.m. These links are functional at the date of posting, but sometimes expire.
Short URL: https://www.thestand.org/?p=10946
Posted by
David Groves
on Feb 28 2012. Filed under
DAILY LINKS
. You can follow any responses to this entry through the
RSS 2.0
. Both comments and pings are currently closed.