99% rolls out the red carpet for Mitt R-money
BELLEVUE —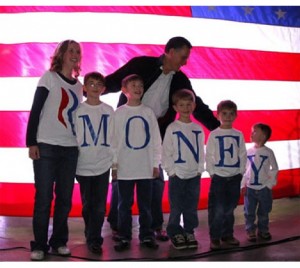 On March 1, some of the richest people in Washington State will gather in one of the richest zip codes in the country to invest their money in the richest presidential candidate in history, a man who promises to to lower taxes on the rich even further.
Visitors to Republican presidential hopeful Mitt Romney's $2,500-per-photo fundraising event in Bellevue will be greeted with a human red carpet that's rolled out directly over members of the 99% — including workers, students, unemployed people, and others.
This human red carpet will dramatize the ugly truth behind this gathering: the 1% are funding a political agenda of lower taxes on big corporations and the rich. It's government of the 1%, by the 1%, and for the 1% — no matter the cost to the rest of us. Romney's recent proposal to pay for a 20% tax giveaway to the rich with big cuts to Social Security, Medicare, and other programs is just the latest example of how the 1% are using their money to walk all over the rights and interests of the people of the 99%.
TAKE A STAND!  (Or in this case, lie down.)  Join demonstrators at the Romney event this Thursday, March 1 from 4 to 6 p.m. Gather at Bellevue City Hall at 4 p.m. for a march arriving at Meydenbauer Center, 11100 N.E. 6th St.,  at 5 p.m. to greet Mitt Romney. This event is organized by Working Washington, an organization bringing people together to fight for a fair economy.
ALSO…  Defeating anti-union right-wing candidates like Mitt Romney and electing pro-worker candidates will take some work in 2012. So let's get started RIGHT NOW by registering voters at our local unions! The Washington State Labor Council can help by providing a list of the non-registered voters in your union. For more information, email Lori Province at lprovince@wslc.org or Karen Deal at kdeal@wslc.org.
Short URL: https://www.thestand.org/?p=11007
Posted by
David Groves
on Feb 28 2012. Filed under
ELECTION
. You can follow any responses to this entry through the
RSS 2.0
. Both comments and pings are currently closed.