Norm Dicks to retire, state budget update, ILWU-EGT redux…
---
POLITICS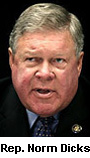 ► Breaking news, from the Seattle Times — Norm Dicks announces retirement from Congress— U.S. Norm Dicks, the longest-serving member of Congress from Washington state, said Friday he will not run for re-election, saying that after nearly 36 years in office, he and his wife are ready to "change gears and enjoy life at a different pace." Dicks, a Democrat from Bremerton, was one of the most powerful House members and the ranking Democrat on the appropriations committee.
► In today's Seattle Times — State Reps. Dickerson, Gutiérrez Kenney won't run for re-election
---
STATE GOVERNMENT
► From AP — House passes budget with delayed payments— The state House passed a supplemental budget that relies on $400 million in delayed payments and reduced support for local governments while largely protecting basic education from further cuts. The bill passed on a 53-45 vote and now heads to the Senate.
► In today's Seattle Times — State Senate still short votes needed to pass budget — If anything drives the Legislature into special session this year, it would likely be gridlock in the state Senate.
► In today's Wenatchee World — Wenatchee imposes sales tax increase— Having been granted approval by the State Legislature, the Wenatchee City Council voted unanimously Thursday night to impose a 0.2% sales tax to help solve the Town Toyota Center debt crisis. No one from the public spoke during the special meeting that lasted about 15 minutes.
---
LOCAL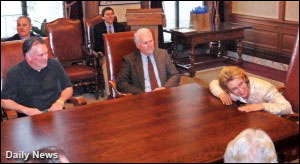 ► In today's (Longview) Daily News — Assessing the gains, losses of the EGT labor dispute— After a yearlong labor battle between the EGT grain terminal and the longshore union — a battle that resulted in hundreds of arrests, thousands of dollars in fines, millions more in lost revenue and sullied reputations — the scene in Gov. Chris Gregoire's office Feb. 16 was almost surreal. The EGT terminal manager, Jerry Gibson, sat smiling at a long, wooden table. Next to him was ILWU 21 President Dan Coffman. Flanking the men were about a dozen members of the union and Port of Longview officials, relieved they could finally get back to work. All the former adversaries were shaking hands and celebrating an agreement that ended the local area's most contentions labor dispute in 30 years.
► In today's Seattle Times — The GOP muddle on health care access for millions of Americans (Lance Dickie column) — Failure to address access to health care for millions of Americans is one of the reasons the contenders for the GOP presidential nomination might inspire light attendance at Saturday's Republican Party caucuses.
---
NEW AFL-CIO WEBSITE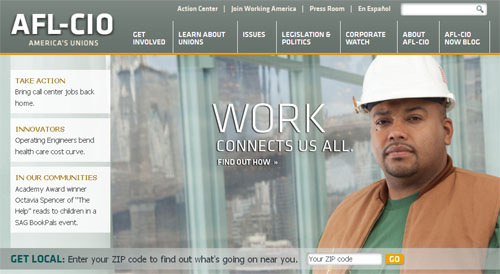 ► In The Hill — AFL-CIO revamps website with an eye toward elections — AFL-CIO Secretary Treasurer Liz Shuler said the federation wanted to create a fresher and more user-friendly website for all workers, not just union members. She said the emphasis on interactivity would help the labor group connect with activists as the election draws near.
► At MetroLatinoUSA.com — AFL-CIO launches newly redesigned "En Español" webpage — The AFL-CIO is launching a new, redesigned "En Español" website as part of a continuous effort to engage with bilingual Latinos and provide useful information about workplace rights and ways to improve their standards of living.
---
NATIONAL
► In today's NY Times — Where the jobs are, the training may not be — As state funding has dwindled, public colleges have raised tuition and are now resorting to even more desperate measures — cutting training for jobs the economy needs most. Technical, engineering and health care expertise are among the few skills in huge demand even in today's lackluster job market. They are also, unfortunately, some of the most expensive subjects to teach.
► In today's Washington Post — Obama seeks to end subsidies for oil and gas companies — "You can either stand up for the oil companies, or you can stand up for the American people," Obama said. "You can keep subsidizing a fossil fuel that's been getting taxpayer dollars for a century, or you can place your bets on a clean-energy future."
► In The Hill — Senate Dems hope transportation bill reprises their payroll victory — The Senate bill, a two-year measure costing $109 billion, has strong bipartisan support. The legislation has bogged down over controversial amendments but is expected to pass with strong bipartisan support.
► In today's LA Times — Millions of retirees can't afford basic living expenses — Of the nearly 20 million older Americans who live alone or with a spouse, about 47% can't afford everyday necessities such as proper nutrition and medical care, according to a new analysis by a nonprofit research firm.
► At AFL-CIO Now — 1,000 union members, allies rally in Phoenix to oppose anti-labor bills — Groups from all over the state lobbied against the package of bills known as "Wisconsin on Steroids."
► In today's NY Times — A bad amendment defeated (editorial) — Republicans failed in their attempt to deny free access to preventive care, but may just be helping to inform more Americans about the benefits of health reform.
► In today's NY Times — Four fiscal phonies(Paul Krugman column) — All four Republican presidential candidates still in the race warn about the dangers of government debt, yet their proposals would add to the debt by helping the rich.
---
TODAY'S MUST-HEAR
► An all-time favorite of the entire staff of The Stand… OZOMATLI!
Have a great weekend.
---
The Stand posts links to Washington state and national news of interest every weekday morning by 9 a.m. These links are functional at the date of posting, but sometimes expire.
Short URL: https://www.thestand.org/?p=11174
Posted by
David Groves
on Mar 2 2012. Filed under
DAILY LINKS
. You can follow any responses to this entry through the
RSS 2.0
. Both comments and pings are currently closed.