Tax Day actions, state job cuts, ALEC's local ties…
---
TAX DAY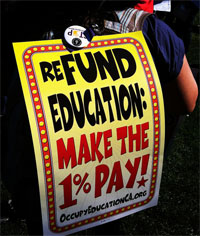 ► At AFL-CIO Now — Join Tax Day actions: Demand corporations, wealthy pay their fair share! — Are you tired of the 1 percent and big corporations gaming the tax system and loopholing their way to a tax bite that's lower than what most of us honest working people pay? Take action on Tax Day today by joining working families and community, faith and other activists to demand that the 1% and corporations pay their fair share.
ALSO at The Stand — See our calendar for information on the events in Seattle and Tacoma today.
► At AFL-CIO Now — Republicans block Buffett Fair Share tax rule — Dubbed the "Buffett Rule" after billionaire Warren Buffett said that he should pay at least the same tax rate on his income as his secretary, this simple piece of tax legislation would require millionaires and billionaires to pay at the same tax rate most of us do. It failed (51-45) to get the 60 votes needed to overcome a Republican filibuster blocking the bill.
► Sen. Patty Murray statement: "It's truly a shame that Senate Republicans are so committed to protecting the rich from paying a penny more in taxes that they won't even allow us to debate a bill that makes sure millionaires and billionaires are playing by the same set of rules as middle class families."
---
ELECTION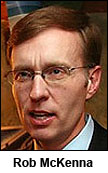 ► In today's Columbian — McKenna criticizes collective bargaining — The Republican gubernatorial candidate said public schoolteachers' collective bargaining agreements and salary rules hinder education. He also said rising health care costs for state employees are "cannibalizing" the money Washington should be spending to improve its education system.
EDITOR'S NOTE — As The Seattle Times has already pointed out, McKenna is not telling the truth when he exaggerates the costs of health benefits for public employees. He is deliberately misrepresenting the facts to support his agenda of eliminating public employees collective bargaining rights.
► At Crosscut — What McKenna and Inslee aren't saying (by Knute Berger) — Both McKenna and Inslee are avoiding the beast in the room. Neither one is talking about raising revenues to help make government work better than a state government that is robbing Peter, or worse, one that only has only one option as it is being squeezed by the economy, Tim Eyman initiatives, and a failure of leadership: to devour its own tail for budgetary "balance." Inslee wants to "grow" our way out of our problems with economic development, McKenna wants to cut our way out of fiscal trouble. Neither is sufficient by itself.
---
STATE GOVERNMENT
► At TheOlympian.com — Decade low? New budget lops 1,266 more state employee jobs — The supplemental budget adopted last week by state lawmakers reduces the state's payroll by another 1,266 full-time jobs by June – lowering the expected number of "FTE" positions to levels not seen in a decade.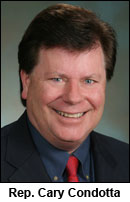 ► In today's Wenatchee World — Local projects to get state funds — The Wenatchee Valley Technical Skills Center will get $9.5 million for a remodel of its Wenatchee campus and $19.4 million for expansion of its branch campus in Moses Lake in the state capital budget approved this week. "The state has really seen a value in skills centers and what they do to stimulate the economy," said Jon Torrence, director of the local center.
EDITOR'S NOTE — Apparently, Rep. Cary Condotta (R-East Wenatchee) didn't see the value. He was one of only a handful of legislators in either house to vote AGAINST the "Jobs Bonds" capital budget legislation. The article didn't mention it, so we thought we would. You're welcome. :)
► In today's (Longview) Daily News — Local lawmakers assess the latest state budget— "I think overall it was a huge success," said Sen. Brian Hatfield (D-Raymond). "For a moderate like me it was sort of a dream. … If you had told me at the beginning that we'd get a strong, bipartisan budget and almost all the reforms bills we were working on, I would have said you were crazy."
EDITOR'S NOTE — Perhaps the following group, of which Sen. Hatfield is reportedly a card-carrying member, also thought 2012 was a "dream" session…
---
ALEC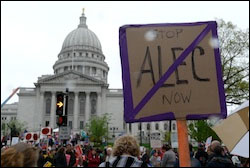 ► In today's NY Times — Embarrassed by bad laws (editorial) — A year ago, few people had heard of the right-wing American Legislative Exchange Council financed by business leaders. Now, news organizations have alerted the public to the damage ALEC has caused: voter ID laws that marginalize minorities and the elderly, antiunion bills that hurt the middle class and the dismantling of protective environmental regulations. ALEC's role in the passage of the "Stand Your Ground" self-defense laws around the country was apparently the last straw for several prominent corporations that had been financial supporters of ALEC. In recent weeks, McDonald's, Wendy's, Intuit, Mars, Kraft Foods, Coca-Cola and PepsiCo have all stopped supporting ALEC.
EDITOR'S NOTE — "ALEC Exposed" lists the Washington state legislators with ties to ALEC. They are Rep. Jan Angel (R-26) and Sen. Don Benton (R-17), who are ALEC's "State Chairmen," and Reps. Matt Shea (R-4), Gary Alexander (R-20), Troy Kelley (D-28), Charles Ross (R-14), Barbara Bailey (R-10), Joe Schmick (R-9), Rep. Kevin Van De Wege (D-24), Kevin Parker (R-6), Mike Armstrong (R-12) and Bill Hinkle (R-13), and Sens. Val Stevens (R-39), Linda Evans Parlette (R-12), Joseph Zarelli (R-18), Michael Carrell (R-28), Pam Roach (R-31), Doug Ericksen (R-42), Janea Holmquist Newbry (R-13), Brian Hatfield (D-19), Randi Becker (R-2), Mike Hewitt (R-16) and Jerome Delvin (R-8).
Feel free to contact these legislators and urge them to drop all ties with ALEC. The Stand will be happy to update this list if legislators report that they no longer participate in ALEC.
---
LOCAL
► In today's (Longview) Daily News — Federal judge allows ILWU civil rights lawsuit to proceed — ILWU attorneys argue that local law enforcement overstepped its authority when they pursued and arrested union members for misdemeanor offenses in connection with the EGT protests at the Port of Longview last summer.
► In today's (Everett) Herald — Boeing signs deal with UAE company for 777, 787 composite work — Abu Dhabi-based Mubadala Aerospace will have its manufacturing unit, Strata Manufacturing, build empennage ribs for the 777 and vertical fin ribs for the 787.
---
NATIONAL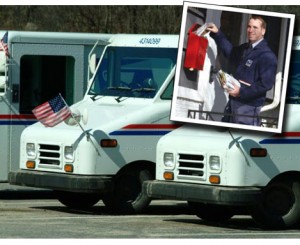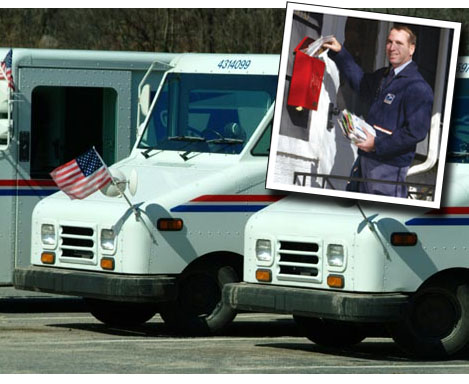 ► In today's Washington Post — Senate resumes debating U.S Postal Service — The Senate is slated to resume consideration of legislation Tuesday that would significantly overhaul USPS operations and finances as the agency nears the end of a self-imposed moratorium on closing post offices and processing facilities.
EDITOR'S NOTE — S. 1789 would put an end six-day mail delivery in two years, phase out door-to-door mail delivery, and fail to fully address the USPS pre-funding requirement or address the overpayment into the CSRS pension fund. Click here for a fact sheet on S. 1789. TAKE ACTION to oppose S. 1789.
► At AFL-CIO Now — Republicans push corporate takeover of public job training system — Their bill would impose a new requirement that two-thirds of the state and local boards, which govern the job training system, be selected from private-sector businesses and corporations. The legislation would overturn legal mandates that the boards include at least two worker representatives nominated by unions and labor federations.
► At Huffington Post — Corporations that spent the most on lobbying saw tax rates decline, report finds — The top eight companies that spent the most on federal lobbying from 2007 to 2009 all saw their reported tax rates decrease from 2007 to 2010, according to the report.
EDITOR'S NOTE — The Boeing Co. was one of them.
► In the New Republic — A conservative scholar on the obvious constitutionality of Obamacare (by Henry Paul Monaghan) — Sustaining the individual health mandate would not give rise to the justices' fears of boundless federal authority. The mandate surely passes constitutional muster under settled judicial principles.
► In Variety — SAG-AFTRA exec director to step down— Kim Roberts Hedgpeth's departure leaves David White as the sole national exec director for the newly merged SAG-AFTRA.
► At AFL-CIO Now — Sean McGarvey elected Build Trades president
---
MO' ROMNEY, MO' PROBLEMS
---
The Stand posts links to Washington state and national news of interest every weekday morning by 9 a.m. These links are functional at the date of posting, but sometimes expire.
Short URL: https://www.thestand.org/?p=12553
Posted by
David Groves
on Apr 17 2012. Filed under
DAILY LINKS
. You can follow any responses to this entry through the
RSS 2.0
. Both comments and pings are currently closed.