May Day coverage, McKenna defies voters, 40 years…
---
MAY DAY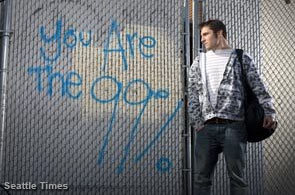 ► In today's Seattle Times — Occupy movement strike a chord in Seattle — Given the kitchen-table concerns of Americans like them, Barbara Strindberg and Linnea Skoglund say they can't believe politicians speak of cutting social programs and tax breaks for the middle class while preserving perks for the wealthy and well-connected. It's not just that regular folks and the powerful aren't playing on an even field — it appears to this couple, at least, that those at the top are playing an entirely different game that enriches only themselves.
► In today's Seattle Times — Rain drives May Day protesters away after earlier outbreak of vandalism — A cluster of about 75 demonstrators dressed in black and carrying poles interrupted peaceful marches to smash windows and clash with police in Seattle's downtown retail core. But by evening, the protests had swelled to thousands of people; the vast majority remained peaceful.
► More regional May Day news coverage from Bellingham, Port Townsend, Yakima, and Portland, OR.
► At TPM — Occupy movement stirs across country — The Occupy Wall Street movement marked May 1, International Workers Day, with demonstrations and gatherings across the country. It was the movement's most visible day since last year, when encampments in major cities were forcibly dismantled.
---
STATE GOVERNMENT
► In today's News Tribune — Liquor privatization may not aid public-safety programs after all — The Costco-backed measure locked in a guaranteed extra $10 million for local governments, but state lawmakers cut a different $10 million from cities' and counties' liquor haul. The local governments want Gov. Gregoire to veto that diversion of money when she signs this year's key budget bills into law Wednesday.
► From AP — WSU Regents set to raise tuition 16% — Tuition would be nearly $11,000 for undergrads from Washington and about $24,000 for non-residents.
---
ELECTION
► From AP — Cutting small business costs spurs job growth, McKenna says — The Republican candidate for governor repeated several ideas he first raised in November, including allowing private competition alongside the current state-run workers' compensation system and lowering taxes for small businesses.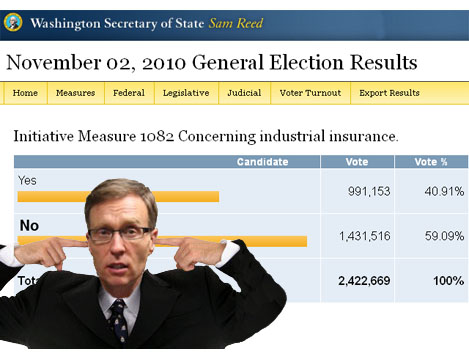 EDITOR'S NOTE — A related story from AP (Nov. 10, 2010) — Workers' comp privatization rejected by Washington voters— Initiative 1082, a business-backed initiative that sought to allow private competition alongside the current state-run workers' compensation system, was defeated by more than 16 points, with 58% of voters saying no. (It actually ended up failing by more than 18 points.)
► At Politico — Washington has nation's 3rd most competitive gubernatorial race
► In the WSJ — Ohio union fight shakes up race — As the 2012 presidential race intensifies, the political backdrop in this pivotal swing state is being shaped by events that roiled Ohio a year ago. The fight over the bargaining rights of public-employee unions energized partisans on both sides, and amounted to a trial run for the general election that each party is now trying to use to its advantage.
► From Bloomberg — AFL-CIO vows 400,000 volunteers for Obama election, Trumka says — The volunteers, accounting for about 3% of the 12 million members in AFL-CIO affiliates, will talk to friends, neighbors and co-workers in a get-out-the-vote effort, says the AFL-CIO president.
► At Huffington Post — AFL-CIO's new Romney video: 'Meet Mr. 1%'
---
LOCAL
► In today's (Longview) Daily News — Letter Carriers' annual food drive set for May 12 — The National Association of Letter Carriers will hold its annual Stamp Out Hunger Food Drive on Saturday, May 12. The nationwide food drive has collected more than 1 billion pounds of food since it began 20 years ago.
► In today's Spokesman-Review — Construction starts on wind farm — A $210 million wind farm to be built south of Spokane this summer will include 58 windmills and generate power for about 30,000 Northwest homes. A First Wind spokesman says construction will create about 150 jobs and result in $30 million of spending with local businesses.
► In today's Spokesman-Review — County wants to cut jail population — Spokane County commissioners on Tuesday asked county staff to take steps to reduce inmate populations in anticipation of Geiger Corrections Center closing.
---
NATIONAL
► In today's NY Times — Fate of Postal Service awaits action in the House — Despite Senate approval of a bill to help the debt-ridden Postal Service, thousands of post offices across the country still face closings beginning in two weeks if the House has not completed work on its version of the legislation.
► At AFL-CIO Now — D.C. hotel workers win groundbreaking contracts — UNITE HERE Local 25 members at 17 area hotels have successfully won their first long-term — 5.5 years — contract, health care security for the entire contact, a 27% wage increase and a 50% increase in pension contributions over the life of the contract.
► In The Hill — Dems attack GOP over Bush tax cuts — The Democratic Congressional Campaign Committee is attacking House Republicans over their plans to extend the Bush-era tax cuts without paying for them with budget cuts. "It's clear House Republicans have one set of rules for millionaires and another set of rules for everybody else," says a DCCC spokesman.
► In today's NY Times — The boss and everyone else (editorial) — The recent shareholder challenges to excessive executive pay are only a start. It's time that all parts of the Dodd-Frank reform law be carried out.
---
TODAY'S MUST-READ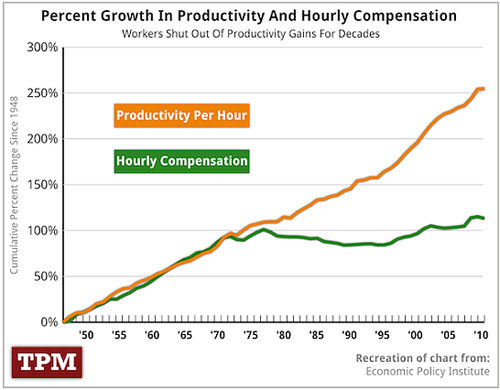 ► At TPM — 40 years of workers left behind — Economic fairness is one of the persistent themes of the 2012 election, and in that spirit the liberal Economic Policy Institute is revisiting the plight of the U.S. worker over the last several decades. The EPI's findings provide a stark illustration of the fact that the vast majority of workers have been closed out of the country's gains for nearly 40 years.
EDITOR'S NOTE — Meanwhile, the mega-rich have their problems, too. The Wall Street Journal's blog reports, "The surge of mega-yachts during the mid-2000s left a huge problem in its wake: too many giant yachts and not enough places to park them."
---
The Stand posts links to Washington state and national news of interest every weekday morning by 9 a.m. These links are functional at the date of posting, but sometimes expire.
Short URL: https://www.thestand.org/?p=13126
Posted by
David Groves
on May 2 2012. Filed under
DAILY LINKS
. You can follow any responses to this entry through the
RSS 2.0
. Both comments and pings are currently closed.