Eyman gets slick, Amazon called out, Mitt sorry…
---
STATE ELECTIONS
► At SeattlePI.com — Big Oil bankrolls latest initiative from Tim 'Slick' Eyman — BP and ConocoPhillips have each contributed $100,000 to the campaign for Initiative 1185, which would (again) put in place the requirement of a two-thirds vote in both houses of the Washington Legislature to enact new revenue measures or close corporate loopholes.
EDITOR'S NOTE — Union delegates voted last weekend to OPPOSE I-1185.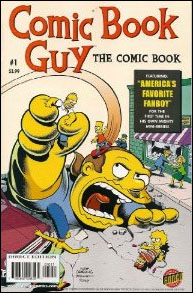 ► In today's Spokesman-Review — Labor Council backs Riccelli without seeking views of other Democrats — Rep. Andy Billig (D-Spokane) decided last week he wouldn't run for re-election as planned so that he could seek the state Senate seat held by Lisa Brown, who announced that she would not run for a new term. Last weekend, the Washington State Labor Council endorsed Democrat Marcus Riccelli, Brown's senior policy analyst, for Billig's seat without seeking the views and positions of the other candidates.
EDITOR'S NOTE — OK, Spokesman-Review editors, let me see if I have this straight. One Democratic candidate, a comic book store owner who complains about the high wages of public employees and acknowledges he wouldn't get labor's endorsement anyway, complains about the WSLC endorsement process and it deserves a headline and a story? And yet, you apparently thought the WSLC endorsements were of such little relevance that you never reported about them anyway, until now? Really, Spokesman-Review? Really?
---
LOCAL
► In today's (Everett) Herald — Letter Carriers still driven to 'Stamp Out Hunger' (Julie Muhlstein column) — Saturday's forecast is sunny, but there are clouds of uncertainty for postal workers about to do a good deed on the job. A USPS spokesman says closure of the Everett mail processing — which would mean the loss of about 100 jobs and next-day delivery in our area — is still part of plans to streamline the agency.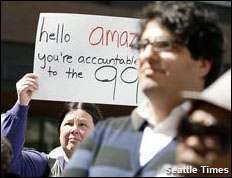 ► In today's Seattle Times — Activists in Seattle slam working conditions at Amazon warehouses — A labor-organized rally Thursday outside Amazon's South Lake Union headquarters drew public attention to working conditions inside the company's warehouses. Conditions at Amazon warehouses in Pennsylvania and Kentucky have come under scrutiny in news reports where former employees describing workers collapsing in the summer heat, getting fired after injuries and other problems.
► In at Slog — Warehouse workers rally outside Amazon HQ — "I didn't like the union," 62-year-old Jim Herbold admitted bluntly, complaining about the monthly dues and his perceived lack of responsiveness to rank and file members. "But now after working at Amazon," Herbold says of his five months laboring in a sweltering Amazon warehouse, "I understand what unions are all about."
► From KXLY — New Caterpillar plant bringing 150 jobs to Spokane — New jobs are coming to Spokane now that the brand new Caterpillar distribution plant is nearly finished and job fairs will be held this month at SCC to fill up to 150 positions.
► In today's Seattle Times — Universities will train DSHS social worker, foster parents, parents — The University of Washington and Eastern Washington University will now be responsible for training state social workers under an agreement with the state Department of Social and Health Services.
► In today's (Longview) Daily News — ILWU offers reward for info on union hall burglary— The local longshore workers union is offering a $2,000 reward for information that leads to the arrest and conviction of whoever burglarized and trashed the union hall in Longview April 9.
---
CONGRESS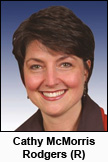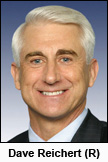 ► In today's NY Times — House approves $310 billion in cuts; Senate passage unlikely — The House approved sweeping legislation on Thursday to cut $310 billion from the deficit over the next decade — much of it from programs for the poor — and shift some of that savings to the Pentagon to stave off automatic military spending cuts scheduled for next year.
EDITOR'S NOTE — Washington GOP Reps. Reichert, Hastings and McMorris Rodgers all voted "yes" on this budget, but Rep. Herrera Beutler was one of 16 Republicans to join Democrats — including Reps. Larsen, Dicks, McDermott and Smith — in voting "no." Rep. Reichert used to be the self-proclaimed "moderate" Republican in the bunch, but with the newly redrawn, redder 8th District, he appears to have shed that pretense.
► In today's NY Times — The human cost of ideology (editorial) — For more than a year, House Republicans have energetically worked to demolish vital social programs that have made this country both stronger and fairer over the last half-century. At the same time, they have insisted on preserving bloated military spending and unjustifiably low tax rates for the rich. That effort reached a nadir on Thursday when the House voted to prevent $55 billion in automatic cuts imposed on the Pentagon as part of last year's debt-ceiling deal, choosing instead to make all those cuts, and much more, from domestic programs.
► In The Hill — Reid furious as GOP blocks quick Senate vote on Export-Import Bank bill — Legislation reauthorizing the Export-Import Bank hit a snag Thursday when Sen. Jon Kyl (R-Ariz.) blocked an attempt by Senate Majority Leader Harry Reid (D-Nev.) to move to a final vote on the bill.
---
'DIVIDE-AND-CONQUER'
► At TPM — Video shows Walker's 'divide-and-conquer' strategy against labor — A newly released video in Wisconsin could potentially have profound effects on the state's recall election: Republican Gov. Scott Walker shown telling a wealthy supporter in January 2011 — before he introduced his legislation to roll back collective bargaining for public employees — that it was part of a "divide and conquer" strategy to take down organized labor, and potentially turn Wisconsin into a right-to-work state.
► At Politico — Armageddon in Wisconsin— It's come down to a 4-week mad dash to determine not only the Wisconsin governorship but who occupies the commanding heights in the 2012 election.
---
MORE ELECTION NEWS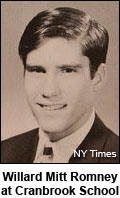 ► In today's NY Times — Bullying story spurs apology from Romney— The day after President Obama endorsed same-sex marriage, Mitt Romney found himself responding to allegations that as a teenager he harassed a prep school classmate who later came out as gay. Romney targeted John Lauber, a quiet, offbeat type who had bleached his hair blond. Brandishing a pair of scissors, Romney led other boys on a hunt for Lauber, teasing him and holding him down while Romney snipped off his long locks.
EDITOR'S NOTE — The man who would be president apologizes for past "pranks," while a friend and participant in the attack describes it as "assault and battery" by a "pack of wild dogs." Says the friend:
"It's a haunting memory.  I think it was for everybody that spoke up about it…  because when you see somebody who is simply different taken down that way and is terrified and you see that look in their eye you never forget it.  And that was what we all walked away with."
► At Huffington Post — Elizabeth Warren did not claim minority status, record show — The records reinforce the Democratic U.S. Senate candidate's earlier statements that she never relied on a claim of minority status to get teaching jobs. She has criticized the campaign of Republican U.S. Sen. Scott Brown for suggesting that might be the case.
---
NATIONAL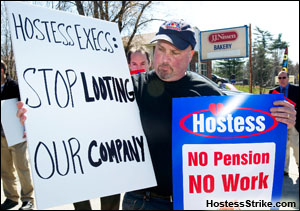 ► At In These Times — Judge drops the hammer on union members at Hostess — In bankruptcy court, a federal judge allows the company to cancel its union contracts, and on same day, the Twinkie-maker sends layoff notices to all 18,500 workers (including 500 in Washington state).
► At Huffington Post — JP Morgan Chase admits big losses 'egregious' credit trades — JPMorgan Chase has suffered big, unexpected losses at a closely watched trading desk, providing fodder to supporters of a new financial regulation Chase CEO Jamie Dimon has loudly opposed.
EDITOR'S NOTE — "We were stupid" when $2 billion went poof, says the guy who got an 11% pay raise to more than $23 million this year. And today, bank stocks are plunging. Thanks, Stupid!
► In today's Washington Post — Extended unemployment benefits cut in 8 states — More than 230,000 jobless Americans will lose their unemployment insurance by this weekend as reductions in the federal program that provides extended benefits to the long-term unemployed take broader effect.
► In today's NY Times — Easy useless economics (Paul Krugman column) — Making excuses to not do anything about current unemployment isn't just cruel and wasteful, it's bad long-run policy, too.
► From AP — Kroger CEO gets a 66% pay raise — CEO David Dillon will get $8.9 million, up from $5.4 million in 2010. (Kroger runs QFC and Fred Meyer stores in Washington state.)
► From Reuters — Starbucks baristas can't be union billboards, court rules — Starbucks baristas were out of line sticking IWW pins all over their clothing in support of attempts to be part of a labor union, a U.S. appeals court has ruled.
---
T.G.I.F.
► "Return of the Mack" by Mark Morrison. Turn it up! And have a great weekend — brought to you by the Labor Movement.
---
The Stand posts links to Washington state and national news of interest every weekday morning by 9 a.m. These links are functional at the date of posting, but sometimes expire.
WASHINGTON IS A UNION STATE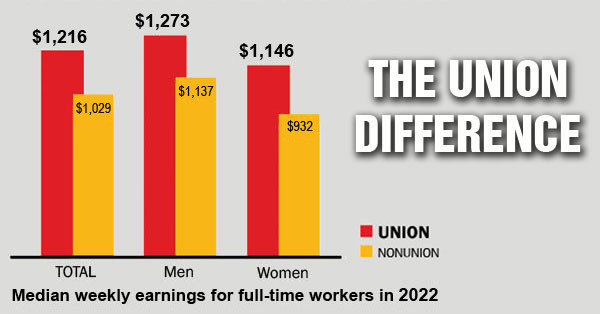 CHECK OUT THE UNION DIFFERENCE in Washington state: higher wages, affordable health and dental care, job and retirement security.
FIND OUT HOW TO JOIN TOGETHER with your co-workers to negotiate for better working conditions and respect on the job. Or go ahead and contact a union organizer today!