WM breakdown, health reform case study, cost of war…
Monday, June 18, 2012
---
LOCAL

► In Saturday's (Everett) Herald — Talks between drivers, Waste Management break down — A labor showdown could affect drivers responsible for curbside recycling and yard-waste pickup in parts of Snohomish County. "It's been our concern all along that (Waste Management) is planning to lock out our drivers," said Paul Zilly, a spokesman for Teamsters Local 117. "If there's a lockout, it could happen at any time."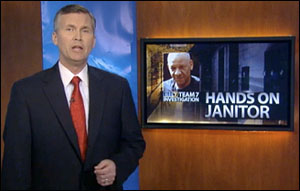 ► At Slog — KIRO-TV reporter should apologize for inaccurate story about Leschi Elementary custodian, says media watchdog— A local media watchdog group staged what was essentially a mock trial of KIRO TV's Chris Halsne over his recent reports about a "hands on" African-American custodian at Leschi Elementary School named Chester Harris. After a 3-hour proceeding, the group's panel voted unanimously that Halsne and his employer had inaccurately described Harris as "manhandling" and "bullying" students at Leschi, and unfairly damaged Harris's reputation.
---
STATE GOVERNMENT
► At Crosscut — Potholes forever: The state transportation funding impasse — The state of Washington has a big and unresolved problem: a transportation budget deficit of large proportions. A task force appointed by Gov. Chris Gregoire in 2011 estimated that the backlog is at least $50 billion, but that the most important needs could be met with the expenditure of $21 billion over 10 years. But the gubernatorial candidates are cautious, with Republican Rob McKenna favoring an early ballot measure and Democrat Jay Inslee balancing competing constituencies.
► From AP — Charter initiative moves forward — Supporters are cleared to begin collecting signatures for a citizen initiative to create a public charter school system in Washington. Thurston County Judge Lisa Sutton tweaked ballot language Friday after hearing from parties on opposite sides of the issue and gave approval.
---
BOEING

► At SPEEA.org — SPEEA, Boeing continue Professional & Technical negotiations — Puget Sound Professional and Technical Negotiation Teams walked negotiators for The Boeing Co. through a complete list of contract issues Friday during a full-day session at SPEEA headquarters. Discussions remained respectful and established a base for continuing talks late this week.
► In today's (Everett) Herald — Busy aerospace agenda — There's a lot on the horizon for Washington's aerospace industry: an upcoming international air show, landing Boeing's updated 777, and positioning the state as an aviation biofuels hotspot. Those lucrative opportunities and what the state is doing to capitalize on them were topics of discussion for the Washington Council on Aerospace, which met Thursday.
---
HEALTH CARE
► In today's NY Times — Washington state provides case study on health care reform — If the Supreme Court overturns the health-care reform law's individual mandate — a decision that could come as soon as Monday — it won't be totally unknown territory. For Washington state, it would be quite familiar.
► In today's Olympian — Offering health care to less fortunate is in everyone's interest (editorial) — The justices may split over the constitutionality of the method the White House chose to extend quality and affordable health care to millions of uninsured Americans, but broad consensus is growing steadily around the need to transform the system.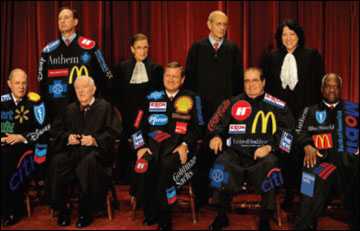 ► In today's Huffington Post — Defeat of healthcare law would erode voters' trust in Supreme Court (by Juan Williams) — The court may do irreparable harm to its reputation with another highly political split between justices appointed by Democrats and justices appointed by Republicans. A 5-4 defeat of the healthcare law will erode trust in the justice system. It will be another example of how polarization has poisoned our politics during the past decade. Team Obama is right to conclude there is fertile political ground to be plowed in lashing out against the right-wing activism of the Roberts Court.
EDITOR'S NOTE — Speaking of right-wing pro-corporate conservative activism on the Roberts court, it ruled today— in yet another 5-4 vote — that sales representatives for pharmaceutical companies do not qualify for overtime pay under federal law.
---
IMMIGRATION
► In the Wenatchee World — It's only a reprieve, but they'll take it— A two-year reprieve from deportation isn't a path to citizenship or even permanent residency. And in an election year, it's a bid for the Latino vote. But it means that for the first time in her young life, Rebeca Rios, an undocumented resident of Manson, won't have to worry every single day about being ripped from her family and forced to a return to a homeland that's anything but home. And that's huge.
► In today's NY Times — Alabama law drives out illegal immigrants, but has unexpected consequences— A variety of employers in Alabama said they have not been able to find enough legal residents to replace the seasoned Hispanic field pickers, drywall hangers, landscapers and poultry workers who fled the state. There was an initial rush of job applications, they said, but many new employees quit or were let go.
---
PUBLIC SECTOR
► In today's PS Business Journal — Bremerton No. 10 in U.S. for government-generated jobs — With the Puget Sound Naval Shipyard and Naval Base Kitsap, the Bremerton-Silverdale area in Washington ranks No. 10 nationally for the percentage of government-related jobs.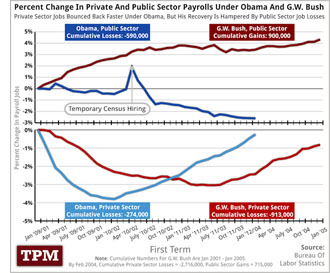 ► In the Seattle Times — The effect of public job cuts on the economy (by Paul Krugman) — Conservatives would have you believe that our disappointing economic performance has somehow been caused by excessive government spending, which crowds out private job creation. But the reality is that private-sector job growth has more or less matched the recoveries from the last two recessions; the big difference this time is an unprecedented fall in public employment, which is now about 1.4 million jobs less than it would be if it had grown as fast as it did under President George W. Bush.
---
NATIONAL
► From Reuters — New AFSCME chief to face war over benefits — When the largest U.S. union for public sector employees elect its first new president in a generation next week it will be a watershed moment. The new chief will be running an organization whose members are fighting almost unprecedented cuts in jobs, benefits, bargaining rights – and increasingly angry taxpayers who question the size of their pension and healthcare benefits.
► In Sunday's NY Times — CEO pay is rising despite the din — Despite a lot of noise from shareholders and a few victories at big names like Citigroup and Hewlett-Packard, executive pay just keeps climbing. Yes, some corporate boards seem to be listening to shareholders, particularly on contentious issues like the seven-figure cash bonuses that helped define hyperwealth during the boom. But rewards at the top are still rich — and getting richer.
► At AFL-CIO Now — American Rights at Work, Jobs With Justice announce merger — ARW Executive Director Kimberly Freeman Brown and JWJ Executive Director Sarita Gupta say: "Unions are about the collective being stronger than the individual — that together we can achieve what we cannot on our own. What's true for construction workers and nurses, for janitors and teachers, is also true for the workers' rights movement. That's why American Rights at Work is joining together with Jobs with Justice by merging."
---

THE COST OF WAR
► In today's Olympian — Third JBLM solider killed in past week in Afghanistan— Three soldiers from the base south of Tacoma have been killed in action in the past week. All three were engineers. The latest casualty to come to light is Sgt. Joseph Lilly, 25, of Flint, Mich. He leaves behind his wife and 3-year-old son.
► So far in 2012, 148 U.S. soldiers have been killed in Afghanistan for a total of 2,012 since 2001.
► Also see the Washington Post's Faces of the Fallen.
► Union delegates at the Washington State Labor Council's 2011 Convention approved a resolution supporting "a significant drawdown of military personnel from Afghanistan this year, setting a firm end date for total withdrawal as soon as that can be accomplished, but in no event later than the 2014 timeline previously announced by President Obama."
---
TODAY'S MUST-READ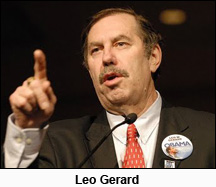 ► At Huffington Post — Corporate primacy causes people poverty (by USW President Leo Gerard) — For the rich, like Mitt Romney, the proposition that they are better than everyone else is a given. Romney believes that he, the son of a wealthy car company executive and governor, the youth who attended exclusive private schools and wallowed in every privilege, is a self-made man. That is basic Republican philosophy: Every wealthy person and every successful corporation achieved that all by themselves. They didn't inherit; they didn't benefit from taxpayer-funded infrastructure like roads, schools and patent enforcement; there was no luck involved. They achieved it alone by virtue of their own grit, hard work and dedication.
---
The Stand posts links to Washington state and national news of interest every weekday morning by 9 a.m. These links are functional at the date of posting, but sometimes expire.
Short URL: https://www.thestand.org/?p=14776
Posted by
David Groves
on Jun 18 2012. Filed under
DAILY LINKS
. You can follow any responses to this entry through the
RSS 2.0
. Both comments and pings are currently closed.