Waste Management, Dunn gone, tax-cut hostage situation…
Thursday, July 26, 2012
---
WASTE MANAGEMENT STRIKE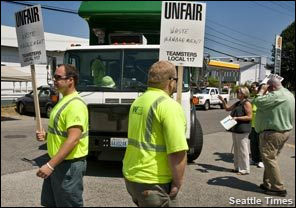 ► In today's Seattle Times — Waste Management drivers strike; trash, recycling collection halted — Garbage, recycling and yard-waste pickup for most of Waste Management's 220,000 customers in King and South Snohomish counties stopped Wednesday when Teamsters went on strike against the region's largest refuse service over wage and benefits issues.
► Today at SeattlePI.com — Garbage pickup halted as strike spreads — Waste Management garbage haulers have joined other drivers on strike Thursday, meaning that the garbage of hundreds of thousands of King and Snohomish County residents will not be picked up.
► In today's (Everett) Herald — Strike could stall Waste Management pickup — A decision by Waste Management's union drivers to go on strike Wednesday could disrupt service for customers in Snohomish County and elsewhere.
► In today's News Tribune — Garbage strike affects King, Snohomish counties— Waste Management Northwest said pickups in Federal Way, Enumclaw, Auburn, Algona and Maple Valley in South King County could be affected by the strike.
---
STATE GOVERNMENT
► In today's News Tribune — Missing diver is 24-year-old from Puyallup — A state diver presumed dead after disappearing Tuesday in the waters south of Bainbridge Island was a 24-year-old Puyallup man. David D. Scheinost was a geoduck compliance diver with the Department of Natural Resources. He was hired in February.
► At TheOlympian.com — State pension costs going up to the tune of $390 million— Washington state's Pension Funding Council voted Wednesday to recommend higher contribution rates for several state pension plans. The moves ultimately affect state and local government employers as well as workers, and the changes had mostly been assumed.
► At TheOlympian.com — PEBB: Many state workers' health premiums to drop — The Public Employees' Benefits Board voted Wednesday to set health-premium rates for 338,000 state workers, dependents and retirees in 2013. In a bit of a surprise, rates are going down for participants in the most popular plan, Uniform Medical.
---
ELECTION
► In today's Seattle Times — Primary to determine on State Supreme Court race — State Supreme Court Justice Steve Gonzalez faces one little-known challenger in the Aug. 1 primary, while Justice Susan Owens has two rivals in her re-election bid.
EDITOR'S NOTE — Both Steve Gonzalez and Susan Owens have earned the Washington State Labor Council's endorsement. Click here for a full list of WSLC-endorsed candidates.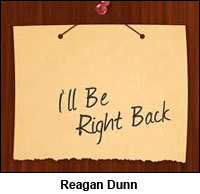 ► At Slog — Dunn-sponsored bill dies after Dunn skips vote — If Reagan Dunn is trying to fend of the attack that he's missed more votes than any other member of the King County Council, he's got a funny way of doing it. Yesterday, he missed a crucial vote in the five-member Law, Justice, Health and Human Services Committee, leaving juvenile gang court legislation he co-sponsored stranded in committee by a 2-2 vote.
---
LOCAL
► In today's Bellingham Herald — Mass layoffs still an issue in Washington state— According to the U.S. Bureau of Labor Statistics, Washington state had 229 mass layoff announcements (involving 50 or more workers) last year affecting 20,988 workers. That's not an improvement compared to 2010, when 230 mass layoffs took place involving 19,346 workers.
► In today's (Aberdeen) Daily World — Grays Harbor Community Hospital announces more layoffs — Just months after a system-wide workforce reduction, the hospital announces further layoffs of the equivalent of eight full-time positions.
► In today's Seattle Times — Sound Transit probe is a dispiriting reminder of workplace discrimination (by Jerry Large) — The reason there is an investigation process in place is that we have a long history of discrimination against women, black people and other groups, too. Today, when it happens, it is harder to tease out and more often a consequence of unconscious bias rather than an act of blatant bigotry.
---
NATIONAL

► At AFL-CIO Now — Senate OKs end of Bush tax breaks for wealthy, but House GOP will block — The U.S. Senate today voted 51-48 to end the Bush tax cuts for the nation's richest 2% and maintain the cuts for middle-class families. Also, by a 45-54 margin, lawmakers defeated a Republican bill that continued the tax breaks for the wealthy. However, today's action was largely symbolic as the Republican-controlled House will not take up the Senate bill that ends the Bush tax breaks for the wealthy. But it's certainly further evidence about whose side congressional Republicans are on.
EDITOR'S NOTE — Sens. Maria Cantwell and Patty Murray both voted to preserve middle-class tax cuts and for people with incomes over $250,000 to return to Clinton-era tax rates.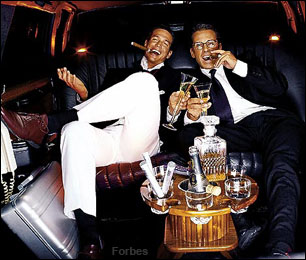 ► In today's NY Times — Who deserves a tax break? (editorial) — Polls show overwhelming public support for the Democrats' plan, giving even the most embattled Democratic Senate candidates a strong platform to run on. The vote, however, exposes the true priorities of the Republicans. No Senate Republican agreed to support the middle-class tax cut by itself because they insisted that the rich get one, too. (Actually, the rich would have gotten a tax cut on their first quarter-million of income, but, apparently, that wasn't enough.) The real reason the bill will die in the House is that it is not sufficiently generous to the only income group that Republicans seem to care about.
► In today's NY Times — Weather extremes leave parts of U.S. grid buckling — From highways in Texas to nuclear power plants in Illinois, the concrete, steel and sophisticated engineering that undergird the nation's infrastructure are being taxed to worrisome degrees by heat, drought and vicious storms.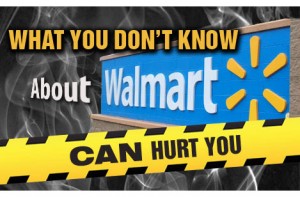 ► At In These Times — Safety complaint filed at California Walmart warehouse — Disturbing working conditions have been documented at an Eastvale, Calif., Walmart warehouse and are outlined in a formal complaint filed with the California Department of Occupational Safety and Health on July 18 by the group Warehouse Workers United.
ALSO at The Stand — Modern-day shackles in Walmart's global supply chain
► At AFL-CIO Now — BCTGM escalates campaign for contract with American Crystal Sugar — It's been nearly a year since the 1,300 American Crystal Sugar Co. workers with the Bakery, Confectionery, Tobacco Workers and Grain Millers have gone to work. The workers are locked out of five American Crystal Sugar processing facilities and other facilities.
► At AFL-CIO Now — AFL-CIO joins group calling for regulation of H-2B program — The H-2B guest worker visa program is plagued by fraud and abuse. Designed to allow employers to hire temporary guest workers for nonagricultural labor, the H-2B program lacks provisions, which would protect workers from wage theft, forced labor, predatory recruitment fees and other forms of exploitation.
---
The Stand posts links to Washington state and national news of interest every weekday morning by 9 a.m.
Short URL: https://www.thestand.org/?p=15727
Posted by
David Groves
on Jul 26 2012. Filed under
DAILY LINKS
. You can follow any responses to this entry through the
RSS 2.0
. Both comments and pings are currently closed.