State Labor Council convention begins today
UPDATE (Aug. 6) — The Washington State Labor Council's 2012 Convention begins today in Wenatchee, and the entire staff of The Stand is there to bring you each day's news. Stay tuned…
---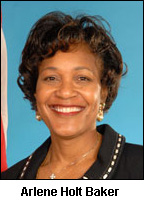 AFL-CIO Executive Vice President Arlene Holt Baker will be a keynote speaker at the 2012 Constitutional Convention of the Washington State Labor Council, set for Monday through Thursday, Aug. 6-9 at the Coast Wenatchee Hotel and Convention Center. At the convention, delegates representing the WSLC's more than 500 affiliated labor organizations, with some 400,000 rank-and-file members, will gather to set the course for the state's largest union organization in the coming year. (Download the tentative convention agenda.)
Holt Baker was elected in 2007 to serve as an AFL-CIO executive officer after rising through the ranks of the American Federation of State, County and Municipal Employees as a grassroots organizer and area director for California. She first joined the AFL-CIO in 1995 as executive assistant to her predecessor, Linda Chavez-Thompson. Serving as Executive Vice President, Holt Baker has focused her advocacy on the rights of workers to organize, health care reform, fair trade, immigrant rights, LGBT rights, voting rights, and the right for all union members to be able to fully participate in democratic unions that reflect the rich diversity of the workplace.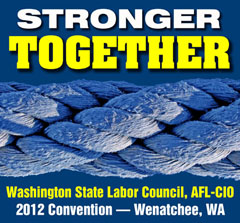 Under the theme "Stronger Together," the WSLC convention agenda will also feature Dean Baker, Co-Director of the Washington, D.C.-based Center for Economic and Policy Research, U.S. Sens. Patty Murray and Maria Cantwell, several labor-endorsed candidates including Democratic gubernatorial candidate Jay Inslee, and many other distinguished guest speakers who will focus on working together to strengthen families and rebuild America's middle class. In addition, there will be panels on Jobs and the Economy; Trade, Immigrant Workers and Trafficking; Union Organizing; Young Workers, Ballot Measures, and much more.
Register online for the 2012 WSLC Convention
RESOLUTIONS — The Washington State Labor Council's Constitution says that proposed resolutions should be submitted 30 days prior to convention. However, "late" resolutions are routinely accepted right up until the first day of convention and also will be considered by delegates. Affiliates are urged to submit these resolutions at the earliest possible time to facilitate reproduction and distribution to the convention body.
These resolutions are a key part not just of the WSLC Convention, but of the organization itself. It is through their debate and passage that WSLC positions and policies are established. This year's convention is the WSLC's Constitutional Convention, meaning that resolutions can be introduced to change the structure and bylaws of the organization. Any WSLC-affiliated union may submit resolutions. See the resolutions approved in 2011 for examples of the diverse issues that are covered. The resolutions are first referred to various committees that will meet Monday afternoon (and Tuesday, if necessary) and consider whether to recommend changes or corrections. Debate and voting on the resolutions, and any committee amendments, will take place Thursday morning.
EVENTS — This convention is a great opportunity for union officers, staff and rank-and-file delegates to hear from political and labor leaders, attend informative workshops, develop relationships with other unions — and have some fun. The action actually begins on Sunday. In addition to the actual agenda of the plenary sessions and workshops, special convention events include:
Sunday, Aug. 5
GOLF TOURNAMENT
"The Tournament in '12," the annual golf fund raiser to benefit the Foundation for Working Families, will be Sunday, Aug. 5 at the Highlander Golf Club. Registration starts at 6 a.m. and the shotgun start is at 7 a.m. Immediately following the tournament will be a luncheon. If you are not a golfer, please join us at the luncheon ($20 per person). There will be fantastic prizes and all proceeds benefit the Foundation for Working Families' Disaster Relief/Hardship Fund and community service agencies throughout Washington state. For more information contact the FWF at 206-254-4919, or download the tournament flier/registration form.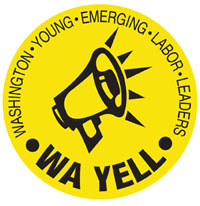 WA YELL CONVENTION
The Washington Young Emerging Labor Leaders (WA YELL) will host its first annual convention at the Coast Wenatchee Hotel and Convention Center beginning at 10 a.m. on Sunday, Aug. 5. Over the past year, WA YELL has been engaging the young and young-at-heart in the political process, in leadership development and in civic engagement. Its mission is to develop future leaders with the knowledge and skills necessary to strengthen their roles in their union and in the progressive community. Sunday's convention will conclude at 2 p.m. when participants will join in a Labor Neighbor canvass in Wenatchee. The $20 registration fee includes lunch. For more information about WA YELL, its convention and activities, visit its Facebook page or contact Shaunie Saelee via email or at 206-290-2590.
PRE-CONVENTION LABOR NEIGHBOR WALK — Union delegates have an opportunity to participate in a special Labor Neighbor walk to urge Wenatchee-area union members to support Jay Inslee for Governor and Bob Ferguson for State Attorney General. Please join local Wenatchee trade unionists and fellow WSLC Convention delegates at 1 p.m. Sunday, Aug. 5 on the lower level of the Wenatchee Convention Center beside the Coast Wenatchee Hotel. Learn more.
TRADE SECTION RECEPTION
The WSLC Trade Section will host its annual reception to meet and greet fellow delegates at 6 p.m. at the hotel (Orchard Exhibit South) featuring light hors d'oeuvres and a no-host bar.
Monday, Aug. 6
FILM NIGHT
The WSLC Diversity Committee will host a Film Night from 7 to 9 p.m. at the hotel (Gala 1, 2 & 3).
Tuesday, Aug. 7
C.O.P.E. BARBECUE
The WSLC Committee On Political Education will host its annual barbecue fundraiser from 5:30 to 8 p.m. at the Coast Wenatchee Hotel's Fountain Courtyard. Tickets, available at registration, are $20 and proceeds go to fund efforts to support labor-endorsed candidates and ballot measures in Washington state. At the conclusion of the barbecue, there will be "Karaoke in the Kourtyard."
Wednesday, Aug. 8
RECEPTION & BANQUET
The WSLC's annual reception and banquet will be Wednesday night. The reception begins at 6 p.m. at the convention center and the banquet begins at 7 p.m. Registered delegates and alternates receive one ticket to the event. Additional tickets can be purchased for $50 at registration or at the convention office.
For more information about the convention, contact the WSLC's Jan Hays or Karen White at 206-281-8901.
Short URL: https://www.thestand.org/?p=15610
Posted by
David Groves
on Jul 23 2012. Filed under
W.S.L.C.
. You can follow any responses to this entry through the
RSS 2.0
. Both comments and pings are currently closed.