Legislators warn White House on TPP secrecy, sovereignty
OLYMPIA and AUGUSTA, Maine (July 6) — While U.S. trade negotiators are meeting behind closed doors in San Diego, 130 state legislators from all 50 states and Puerto Rico have signed a letter to President Obama's senior trade official warning that they will oppose the deal unless the administration alters its current approach.
(Visit the Washington Fair Trade Coalition site for photos and news from Washington state's delegation of activists in San Diego this week.)
"The lack of transparency of the treaty negotiation process, and the failure of negotiators to meaningfully consult with states on the far-reaching impact of trade agreements on state and local laws, even when binding on our states, is of grave concern to us," the legislators write in their July 5 letter.
The letter focuses particularly on the "investor-state" dispute settlement system. This controversial scheme elevates individual companies to the status of signatory countries in allowing them to privately enforce the proposed agreement by suing signatory governments before foreign tribunals. The legislators' letter states that the investor-state provision "has proven to be extremely problematic, undermining legislative, administrative, and judicial decisions, and threatening the system of federalism established in the U.S. Constitution."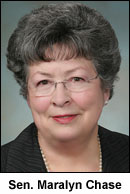 "The U.S. government should not be negotiating trade deals that undercut responsible state and federal laws enacted to protect public health and the environment, preserve the stability of our financial system, or make sure working conditions are safe and healthy," said Maine State Rep. Sharon Treat, who drafted the letter with Washington State Sen. Maralyn Chase (D-Shoreline) and circulated it among legislators nationally.
"The letter is a strong political statement to the U.S. government opposing negotiating away our sovereignty", said Sen. Chase. "When legislators from all 50 states and Puerto Rico are united in their concern about U.S. trade officials undermining our nation's founding principles of democracy, federalism and checks and balance, its time for the administration to change its approach."
"Trade agreements now extend well beyond simply preventing discriminatory tariffs, and instead seek to 'harmonize' laws and regulations among trading partners," said Rep. Treat. "Our experience with NAFTA and other trade deals shows that investor-state dispute settlement is used by large corporations to undermine state and federal laws they don't like —  laws that are fully constitutional, that do not discriminate, and that are needed to protect public health and safety."
"Providing even more opportunities for the industry to undermine state and national tobacco prevention and public health measures would be a big mistake," said Assembly Member Richard N. Gottfried, chair of the NY State Assembly Health Committee, a signer of the letter. Philip Morris is currently using the investor-state clause of the Hong Kong-Australia trade agreement to challenge Australia's plain packaging cigarette law, a public health measure intended to discourage smoking.
"International trade agreements can be designed to lift environmental, labor and human rights standards across the globe, improving living conditions abroad," said Wisconsin State Rep. Mark Pocan in his statement on signing the letter.
"Why we would negotiate a trade deal that would expose ourselves to lawsuits by foreign corporations because they don't like our laws that protect the environment, workers' rights and access to health care is beyond me."  Rep. Pocan is the author of the American Jobs Act in the Wisconsin State Assembly, which prohibits state government agencies from spending Wisconsin taxpayer dollars to contract with companies that will ship those jobs overseas.
The Trans-Pacific Partnership is becoming an expansive international treaty with global reach. Trade negotiators from the United States and eight other Pacific Rim countries are finalizing provisions of the agreement in San Diego this week and next. The negotiations currently include Vietnam, Brunei Darussalam, Singapore, Malaysia, New Zealand, Australia, Peru and Chile. The agreement is intended to expand to other Pacific Rim countries in the future. Mexico and Canada were formally invited to join in June, and Japan has announced it intention to participate.
The state legislators' letter was sent to the U.S. Trade Representative Ron Kirk and lead TPP negotiator Barbara Weisel on Thursday.  The letter specifically endorses the current National Conference of State Legislatures (NCSL) policy that strongly opposes these private dispute settlement clauses like the investor state system in the TPP.
Short URL: https://www.thestand.org/?p=15272
Posted by
David Groves
on Jul 6 2012. Filed under
NATIONAL
. You can follow any responses to this entry through the
RSS 2.0
. Both comments and pings are currently closed.