Mitt's Medicare cuts, transit pay freeze, 'free' trade…
Tuesday, August 21, 2012
---
ELECTION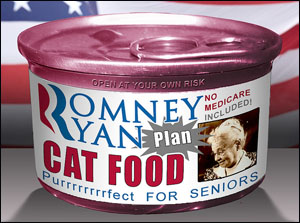 ► At TPM — Surrogates admit Romney will cut Medicare benefits for current seniors — Romney plans to repeal the Affordable Care Act in its entirety, and thus to spend over $700 billion more on the program in the coming decade than the government would spend if the health care law stands. That commitment would leave Medicare poised for insolvency in 2016, years before he proposes to phase in the voucher system. Surrogates say that Romney will save money in the short term by raising the eligibility age and/or means-testing, both of which would be benefit cuts for current retirees, which he has promised not to do.
► At TPM — Poll: Most opposed to Ryan's Medicare voucher plan— A new poll released Tuesday lends credence to what Democrats — and even some Republicans — have warned about Paul Ryan being thrust onto the GOP ticket: Most Americans don't much care for the Wisconsin Congressman's sweeping proposal to reform Medicare.
ALSO at The Stand — Get the facts in the debate about Medicare
► At Huffington Post — Obama 2012 campaign helped by MoveOn.org, AFL-CIO SuperPAC alliance— Two of the top progressive groups in politics will announce a joint get-out-the-vote venture to support President Obama's re-election, and for future campaigns.
► From CLUW — Coalition of Labor Union Women condemns Akin remarks — The Coalition of Labor Union Women expresses their outrage at the sexist and demeaning remarks by Congressman Akin referring to "legitimate rape." This is one more example of the war on women and it will not be tolerated.
► In today's NY Times — GOP's new frontiers of extremism (editorial) — The comment about rape made by Rep. Todd Akin of Missouri shows that he and fellow primary winners are moving ever rightward with the Republican Party.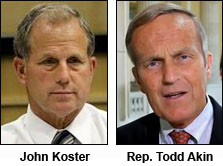 ► At PubliCola — Huckabee favorites: Akin and Koster — Republican candidates certainly don't want to be associated with Akin right now, which makes life uncomfortable for the Republican candidate in the 1st Congressional District, John Koster, who opposes abortion in cases of rape. Koster and Akin are among an exclusive batch of social conservatives nationally to be endorsed by Mike Huckabee's HuckPAC, whose top two issues are "life" and "traditional marriage," and both recently got a shout-out in the same HuckPAC press release.
► In The Onion — Republicans condemn Akin's comments as blemish on party's otherwise spotless women's rights record— "Throughout our history, whether it's been our position on birth control, abortion, or equal pay for equal work, Republicans have always stood together with women, listening to their needs and fighting for issues that are are important to them. That is why we were stunned that someone from our own party could have made such insensitive remarks or expressed such uninformed opinions about women," said Republican National Committee chairman Reince Priebus.
---
LOCAL
► In today's News Tribune — Deal freezes Pierce Transit drivers' pay— Pierce Transit and ATU Local 758 announce that they have reached a tentative labor agreement that would freeze the pay of most employees and require workers to pick up more of their health care costs. The proposed contract, finalized Friday after 15 months of negotiation, is subject to a vote of the union's membership Aug. 29. None of the agency's 141 nonrepresented employees has received a cost-of-living adjustment since 2009.
► At TheOlympian.com — Feds offering $4.8 million extra highway cash to Washington — Last week's news that the federal Department of Transportation has about $473 million in turned-back earmarks money means about $1.8 million for Washington state projects and another $3 million for local projects in the Evergreen State.
---
NATIONAL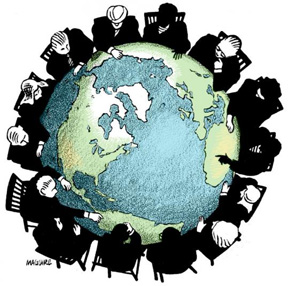 ► At Huffington Post — Ryan-sponsored Bahrain trade agreement under scrutiny amid crackdowns — A spate of brutal anti-democratic actions in the Persian Gulf nation of Bahrain have turned an unflattering spotlight on a six-year-old U.S. free trade agreement sponsored and promoted by Rep. Paul Ryan.
EDITOR'S NOTE — But wait… if it's "free trade," it must be good, says no one except The Seattle Times editorial board. That august group of free-thinkers just endorsed the Trans-Pacific Partnership trade agreement that no one has read and is still being negotiated in secret. And speaking of free trade agreements, and the havoc they have wreaked on U.S. manufacturing jobs and the American middle class, the demolition of the iconic Kimberly-Clark pulp and paper mill in Everett began Monday. Here's all you need to know about that…
► In today's NY Times — Panama Canal's growth prompts U.S. ports to expand — The Obama administration has now moved to speed up the review process for developing and deepening the harbors for several East Coast and Gulf of Mexico ports.
► At AFL-CIO Now — States that boost minimum wage have less job loss during recession— A new study looking at six New England states finds that when states raised the minimum wage in recent recessions, their economies suffered less job loss than those that did not.
► From AP — Wage cuts in final Hostess offer — Hostess Brands Inc.'s final contract offer to certain union members includes lowering wages and commissions by 8% in the first year of a 5-year contract.
---
The Stand posts links to Washington state and national news of interest every weekday morning by 9 a.m.
Short URL: https://www.thestand.org/?p=16308
Posted by
David Groves
on Aug 21 2012. Filed under
DAILY LINKS
. You can follow any responses to this entry through the
RSS 2.0
. Both comments and pings are currently closed.