'Top-two' primary election limits choice, promotes voter apathy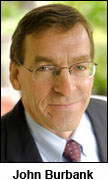 By JOHN BURBANK
---
Many voters in Snohomish County are going to be disappointed even before they cast their ballots in November. They will receive their ballots in the mail, search for their party's legislative candidates, and find no candidates.  Instead, they have but one choice… which is tantamount to no choice at all.
If you live in Edmonds in the 21st legislative district, you will be able to vote for Mary Helen Roberts, a Democrat in position one, and Marco Liias, a Democrat in position two. If you want to vote for a Republican — too bad. There won't be a Republican candidate on the general election ballot. That's because no Republican filed for those seats. And the party didn't recruit a candidate… they just gave up.
A Republican candidate, Ryan Gabriel, did run in Seattle's 36th district (Queen Anne and Ballard). Given Seattle's demographics, he did pretty well. Among seven candidates, he got 13% of the vote. But thanks to the top-two primary, Gabriel won't be on the November ballot.  So voters in the 36th can vote for one Democrat, or another Democrat, but not a Republican. That's close to outright disenfranchisement of the Republican rank-and-file.
It is the same story in the neighboring 46th district, which includes northeast Seattle and Lake Forest Park. The Republican candidate Scott Hodges received almost 18% of the vote among six candidates, coming in third overall. But thanks to the top two primary, you won't find Scott on the ballot in November. Your choice is between one Democrat and another.
This "no-choice" election is widespread in our state. In 48 elections for the Legislature in November, there won't be an alternative to either the Democratic or Republican candidate on the ballot.  In most cases, one party or the other just didn't put up a candidate. And in some cases, when they did, that candidate didn't make it past the top-two primary. In Eastern Washington, a majority of legislative elections will only have Republican candidates. In Western Washington, more than one-fifth of elections will have only Democratic candidates.
We've got ourselves to thank for this situation — with a little help from the Washington State Grange, which proposed this system in 2004, and the backing of John Stanto­­­n, the wireless phone billionaire. They funded a "top-two" initiative, passed by 60% of the voters.
At the time, supporters claimed it would give voters more choices. It didn't. We have fewer choices today than before at the ballot box. In 2006, the last year before the top-two primary took effect, about 25% of seats were uncontested. This year, two out of five legislative "contests" (40%) will be missing either Democratic or Republican candidates.
The top-two primary adds another detour to our democracy. Already our election system is handicapped by campaign financing, through which lobbyists channel contributions to incumbents, giving them the equivalent of a 30-yard head start in a 100-yard dash. And while you might think we have a fair redistricting system — because it is bipartisan — in reality each party just protects its incumbents every 10 years, so the new districts don't create new choices.
All of this leads to the biggest problem with our democracy: apathy. After all, if you don't have a choice, or if your vote is not going to make a difference, why vote?
It doesn't have to be this way. We created this mess, and we can fix it, too. For example, 30 years ago the 39th District surrounding Snohomish was split in two: Districts 39A and 39B. If we did that around the state today, each district for state representative would have 68,000 residents, instead of 137,000. That would make grassroots campaigning actually possible, with a bigger emphasis on doors knocked on and a smaller emphasis on money raised, and encourage more people to run for office.
We could go the other direction, with 33 districts across the states electing 3 representatives each. Candidates would be chosen through "proportional representation." In the Edmonds area, if the Republicans got 30% of the vote and Democrats got 70%, one Republican and two Democrats would be elected.
With this system, Democrats would get minority representation in Eastern Washington and Seattle would elect some Republicans. Citizens would have an incentive to vote, knowing that their vote would most likely result in representation in Olympia. And that would be a breath of bipartisan fresh air for all of us.
---
John Burbank is the executive director and founder of the Economic Opportunity Institute in Seattle. He can be reached at john@eoionline.org.
Short URL: https://www.thestand.org/?p=16167
Posted by
David Groves
on Aug 15 2012. Filed under
OPINION
. You can follow any responses to this entry through the
RSS 2.0
. Both comments and pings are currently closed.