Moonlighting, Rahm's union busting, 'free' trade's toll…
Wednesday, September 12, 2012
---
LOCAL
► In today's Seattle Times — 'We got it all' in arena deal, council member says — The announcement that the Seattle City Council had reached a revised agreement with investor Chris Hansen to build a $490 million arena drew widespread support from city and county business and political leaders Tuesday, and from sports fans who celebrated the possible return of the Seattle SuperSonics. Even Port of Seattle officials, who had warned that the Sodo location could put at risk $3 billion in annual revenues and 33,000 maritime jobs, sounded more optimistic.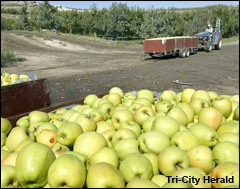 ► In today's Tri-City Herald — Workers needed for state's second-largest apple crop— Every Washington apple is removed from the tree by hand. And this year, there may not be enough hands for all the apples. With production dramatically increasing, the demand for seasonal farm workers rapidly has grown and exceeded the labor supply.
► In the (Aberdeen) Daily World — Pacific County public safety workers will vote on contract — A new contract for the non-deputized employees of the Pacific County Sheriff's Department will be voted on by members of its union, with voting concluding on Sept 17, according to a press release issued by Teamsters Local 252.
► In today's Spokesman-Review — Red Lion outlines attempts at sale, merger — Red Lion Hotels Corp. managers said that they've contacted more than 70 potential buyers but have failed to find offers to buy the hospitality chain.
---
PORT OF SEATTLE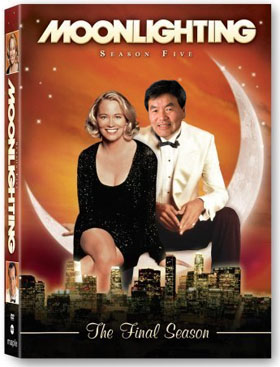 ► In today's Seattle Times — Port will hire outside lawyer to review CEO's board post — Port commissioners Tuesday voted to hire a lawyer to provide an "independent review and analysis" of its in-house counsel's conclusion that Port CEO Tay Yoshitani's board seat poses no "actual, potential or apparent" conflict of interest. That person will report back publicly no later than Oct. 23. Yoshitani makes nearly $367,000 a year as Port CEO. The Expeditors directorship pays $230,000 a year in cash and restricted stock.
► At SeattlePI.com — An 'appearance problem' at Port of Seattle — "We don't have an actual conflict here, but we have an appearance problem," commissioner John Creighton told his colleagues. The commissioners, on the receiving end of 2,000 e-mails, agreed to hire an outside counsel.
---
STATE GOVERNMENT
► In today's Spokesman-Review — Effort to check voter rolls dropped — Washington can't use immigrant registration records from the U.S. Homeland Security Department to verify names on its voter rolls, state elections officials said Tuesday. The reason: The state doesn't have a system that requires proof of legal residency before issuing a driver's license, which is needed to use the federal system.
---
CHICAGO TEACHERS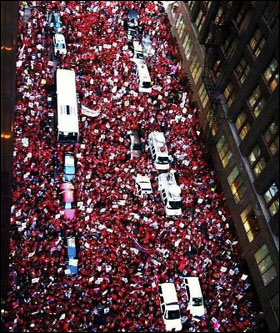 ► From AP — Chicago teachers' strike grinds into its 3rd day — The public teachers' strike that has halted classwork and upset family routines across Chicago ground into a third day Wednesday with some movement reported by union and school board negotiators but no sign of an imminent deal.
► At WBEZ.org — Janitors plan one-day solidarity strike with teachers — In a show of solidarity, some janitors may be joining Chicago teachers on the picket lines. The president of SEIU Local 1 says many of the 1,500 janitors who work in Chicago public schools have wanted to join striking teachers. The union has filed a notice that could make that possible.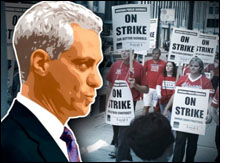 ► At Salon — Stand against Rahm — Since Rahm Emanuel's election in the spring of 2011, Chicago's teachers have been asked to eat shit by a mayor obsessed with displaying to the universe his "toughness" — toughness with the working-class people that make the city tick; toughness with the protesters standing up to say "no"; but never, ever toughness with the vested interests, including anti-union charter school advocates, who poured $12 million into his coffers to elect him mayor (his closet competitor raised $2.5 million).
► At In These Times — Director of private school where Rahm sends his kids opposes testing for teacher evaluations — Instead of sending his kids to public schools, Chicago Mayor Rahm Emanuel's children attend one of the most elite prep schools in Chicago. But the prep school's director agrees with Chicago Teachers Union on a key issue: "Measuring outcomes through standardized testing (is) misguided."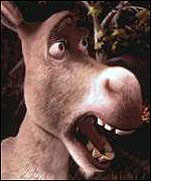 ► In The Hill — Democrats duck labor fight in Chicago — Congressional Democrats from Illinois are treading carefully around the teacher strike in Chicago, underscoring the political squeeze the situation has created for President Obama.
► In today's NY Times — Chicago teachers' strike puts Obama at odds with key part of political base
► In today's Washington Post — In Chicago, a Democratic civil war (by Harold Meyerson) — Mayor Rahm Emanuel made clear from the start he had no interest in working with the teachers, and the teachers reacted as angry and aggrieved partisans. If this war within the Democratic Party spreads beyond Chicago, it doesn't augur well for the future of education or the party. If Democrats are bent on committing suicide, the Emanuel mode of union-busting looks like a fine place to start.
ALSO at The Stand — Why Chicago teachers went out on strike
---
'FREE' TRADE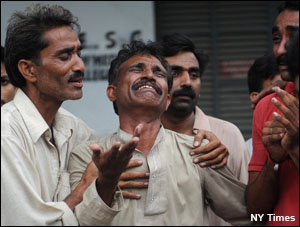 ► In today's NY Times — More than 300 die in 2 Pakistan fires — More than 300 people were killed when fires engulfed two factories in two major cities, renewing concerns about lax building safety measures and dismal working conditions for factory workers in Pakistan. Officials said panicked workers were trapped inside the multistory building, which had just one exit. All the other doors had been locked, a common practice to ensure that workers do not leave the premises before their shift ends. The windows of the building were also blocked by metal grills. Most of the dead were believed to be young workers, men and women, between 18 and 25 years old.
► At TPM — Apple supplier Foxconn comes under fire before iPhone 5 launch — A new series of reports allege that the Taiwanese company has been exploiting Chinese student interns from vocational schools to build the iPhone 5 in its Chinese-based factories, effectively taking advantage of "work study"-like programs and paying the interns very little for long hours of potentially dangerous factory work.
---
NATIONAL
► In today's NY Times — Health care premiums rise slightly — A family with employer-provided health insurance now pays just under $16,000 in annual premiums, an increase of about 4% over a year ago, according to a study by the nonprofit Kaiser Family Foundation. Individual policies purchased through an employer rose even less, increasing just 3%  from last year. Workers at places with more low-wage employees paid on average $1,000 more in premiums than those working at places employing more higher-earning workers.
► In The Hill — Unions vows to fight extended pay freeze in spending bill — Federal worker unions said Tuesday that they will work to reverse an extended pay freeze contained in the six-month continuing resolution coming to the House floor on Thursday. The bill continues the two-year-old pay freeze beyond Jan. 1 until March 27. President Obama had sought a 0.5% increase for civilian workers starting in the new year.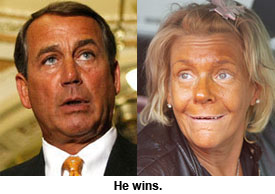 ► From AP — Can Congress avoid fiscal cliff? Boehner 'not confident at all' — The vast majority of Democrats agree with most Republicans that Congress should work to avoid the effects of the sequester, but assert that the GOP goes about it the wrong way by prioritizing defense spending and protecting tax cuts for the wealthy while undercutting the country's social safety net and other programs intended to build the middle class.
► At AFL-CIO Now — State Supreme Court to hear Pa. voter suppression case — The Pennsylvania Supreme Court will hear arguments Thursday against the state's voter suppression law that Pennsylvania House Majority Leader Mike Turzai (R) said "is gonna allow Governor Romney to win the state of Pennsylvania."
---
The Stand posts links to Washington state and national news of interest every weekday morning by 9 a.m.
Short URL: https://www.thestand.org/?p=16762
Posted by
David Groves
on Sep 12 2012. Filed under
DAILY LINKS
. You can follow any responses to this entry through the
RSS 2.0
. Both comments and pings are currently closed.