State labor talks, Boeing concessions, IAFF on Romney, tonight's activity…
Wednesday, October 3, 2012
---
STATE GOVERNMENT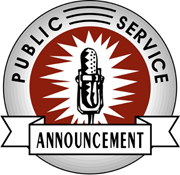 ► In today's Olympian — Most state workers labor talks done; Nov. 14 revenue forecast determines next step— Gov. Gregoire's team has wrapped up wage talks with most of the labor unions, reversing the 3% pay cuts of the past two years and affording a possible 1% raise in mid-2014 for an estimated 105,000 public-sector workers. An agreement on health care for a coalition of 26 unions hasn't yet been accomplished. Also left to decide is whether the state can afford the $238 million cost. That decision about the "feasibility" of contracts hinges on the next state revenue forecast, due Nov. 14. Labor groups assume the money will be there.
► In today's Olympian — Arbitrator awards nearly 5% pay raises across two years to home-care workers— An independent arbitrator has awarded the pay raises to Washington's roughly 45,000 home-care workers who now earn as little as $10.03 an hour. Under the settlement, workers who bathe, clothe, dress, and cook and clean for elderly adults and the disabled could see their pay reach $11.03 per hour in July 2014.
► In today's Spokesman-Review — Transportation needs demand more revenue than fee hikes (editorial) — The higher licensing fees that took effect Monday will generate a projected $60.4 million by the end of this budget biennium June 30, and $186.5 million during the 2013-2015 biennium. In short, chump change for a state that needs billions to start or complete a project list that includes the North Spokane Corridor, the 520 bridge and 99 tunnel in Seattle, and the I-5 Columbia River bridge between Vancouver and Portland.
---
BOEING
► In today's Seattle Times — Boeing comes out softly as it resumes talks with SPEEA— Boeing made three immediate concessions to SPEEA —  pledging to maintain long-term disability and life insurance for employees on active military leave, confirming no monthly paycheck contribution for dental coverage, and withdrawing changes to the wording that governs retiree medical coverage — and signaled a softer approach to the union as talks resumed following the big contract rejection vote Monday.
► In today's (Everett) Herald — Boeing, SPEEA resume talking; is there a deadline? — Negotiations between the Boeing Co. and engineers and technical workers are under way again, but the whole thing is starting to sound like a high-stakes game of chicken. The collision point seems to be Nov. 25. Boeing says that's the soonest SPEEA members could strike. The union says that's the soonest the company could lock workers out.
---
STATE ELECTIONS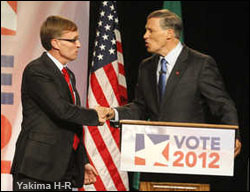 ► In today's Yakima H-R — Gubernatorial candidates spar on issues during Yakima debate — Gubernatorial candidates Rob McKenna and Jay Inslee sparred over how best to provide health care and create jobs during a Tuesday night debate that drew about 600 people to the Yakima Convention Center.
► More debate coverage from AP, Seattle P-I, Seattle Times, and the Spokesman-Review.
► At PubliCola — New anti-Inslee ad features unconvincing spokeswoman — The latest Republican Governors Association ad trashing Inslee features "WA First Responder" Patti Mann, who wasted the Bellevue police's time last year by calling up to demand that the police send an officer out to the Bellevue Community Center to have a Democratic Party cameraman removed from McKenna's talk to a group of Republicans.
► In today's Seattle Times — Latinos gain stature as voting bloc, but turnout is low — A new report by the Pew Hispanic Center that uses census data found that although the number of eligible Latino voters is increasing, voter turnout for Hispanics has been historically lower than for any other group in the country.
► In today's (Everett) Herald — Vote for marriage equality (editorial) — Today a core liberty that touches thousands of Northwest families — the right of same-sex couples to marry — is in the hands of Washington voters. It's time for Washington to side with equality, to follow the lead of Gov. Gregoire and the Legislature and legalize same-sex marriage.
ALSO at The Stand — Why Washington's labor movement supports marriage equality (by Lynne Dodson)
---
LOCAL
► From AP — T-Mobile USA set to merge with MetroPCS — The two struggling cellphone companies are set to merge, in a deal that will create an operator with more than 40 million subscribers.
► In today's Columbian — County agrees to pay hike for local custody officers — The Clark County Custody Officers' Guild won a 3% cost-of-living increase and a smaller contribution to health care premiums in a recent interest arbitration award.
---
OREGON

► In the NW Labor Press — TriMet to demand up to $7,080 for past health insurance premiums — In the wake of a binding arbitration, the Portland, Ore., transit agency is sending letters to more than 3,200 active and retired ATU Local 757 members, settling accounts for health insurance premiums going back as far as 2009.
► In the Oregonian — Child farm labor in Oregon and the U.S.: Big dangers, little change — Lax enforcement of underage labor laws and inadequate safety rules for teens are threatening the long-term health of thousands of children who work on American farms, advocates say.
---
NATIONAL ELECTION

► In today's NY Times — Voter ID rules fail court test across country — The ruling in Pennsylvania, that voters will not have to present a state-approved ID to vote in November, was the latest and most significant in a series of legal victories for those opposed to laws that they charge would limit access to polls in this presidential election.
► At Huffington Post — Mitt Romney would be 'most anti-worker president firefighters have faced, IAFF video says
---
NATIONAL
► In Twin Cities Business — AFL-CIO plans American Crystal Sugar boycott — The national organization, which represents 56 unions, said it endorses a boycott of American Crystal Sugar products; meanwhile, an American Crystal Sugar representative said the company is currently focused on its replacement workers.
ALSO at The Stand — AFL-CIO plans American Crystal Sugar boycott over lockout
► In The Hill — Sen. Patty Murray's stock rising after her 'two assignments from hell' — Murray has become a power player in the Senate Democratic leadership because of how she has handled serving as co-chairwoman of the SuperCommittee™ tasked in 2011 with finding $1.2 trillion in budget savings and taking over the Democratic Senatorial Campaign Committee in a cycle in which the party has to defend 23 Senate seats and deal with a wave of retirements.
► In today's Washington Post — Do health insurance carriers even want to sell across state lines? — A new study says the answer is "no." Maine, Georgia and Wyoming have passed laws — supported by conservatives — allowing insurers from other states to participate in their markets, but so far none of the three have seen out-of-state carriers come into their market or express interest in doing so.
► In the Orlando Sentinel — Mayor's texts show coordinated campaign with foes of sick time — Thousands of cellphone text messages accidentally released by Mayor Teresa Jacobs paint the clearest picture yet of how she, her staff and a ring of informal advisers worked with corporate lobbyists to keep the sick-time ballot initiative off the Nov. 6 ballot.
► From AP — American Airlines, unions agree to resume talks
► At Huffington Post — Millions of workers in Indonesia walk off job in protest — Indonesian unions say more than 2 million factory workers have gone on a one-day strike across the country to call for higher wages and protest the hiring of contract workers.
---
TONIGHT'S ACTIVITY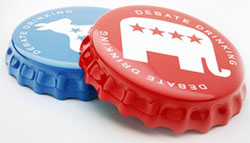 ► At DebateDrinking.com — Obama-Romney presidential debate drinking game — Select a candidate to drink to. For Obama, drink every time he says: Millionaires, Voucher, Let me be clear, Bain, Inherited, Invest, General Motors, Middle Class, Families, or Clinton. For Romney, drink every time he says: 16 trillion, Unemployment, ObamaCare, My friend, Job Creators, 716 billion, Redistribute, Private Sector, Work, or Reagan.
As always, know your limits and please drink responsibly.
---
The Stand posts links to Washington state and national news of interest every weekday morning by 9 a.m.
WASHINGTON IS A UNION STATE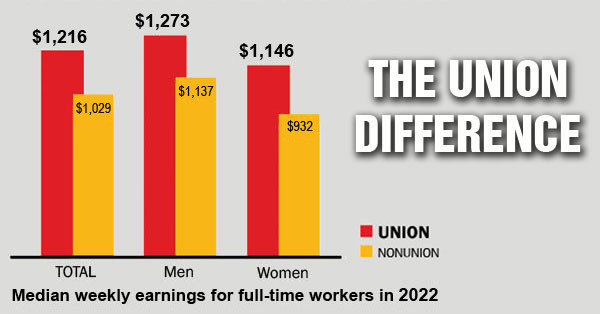 CHECK OUT THE UNION DIFFERENCE in Washington state: higher wages, affordable health and dental care, job and retirement security.
FIND OUT HOW TO JOIN TOGETHER with your co-workers to negotiate for better working conditions and respect on the job. Or go ahead and contact a union organizer today!