Labor Neighbor steps up — and out — for endorsed candidates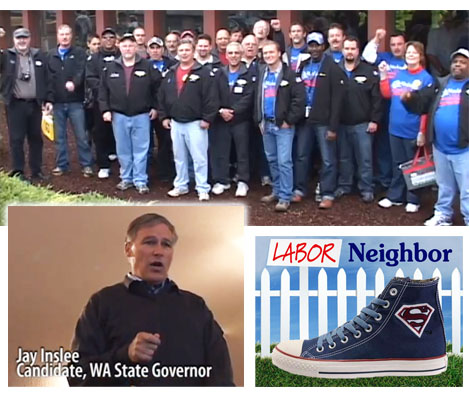 (Oct. 15) — Wow.
Hundreds of union volunteers packed Saturday's Labor Neighbor Super Walks in Tacoma, Richland and Olympia on Oct. 13 to knock on thousands of doors and talk to fellow union members about the importance of this fall's elections. With ballots being mailed this week to voters across Washington state, now is the time to get the message out about why union-endorsed candidates have earned labor's support.
Three of those candidates who were on hand at the Tacoma Super Walk were Congressional candidates Derek Kilmer and Denny Heck and gubernatorial candidate Jay Inslee.
"You're doing the single most important thing that we can do right now, which is to talk to our neighbors about what is important," Inslee said. "They've got the Koch brothers and they've got Karl Rove, but I've got you and I'll take that trade any day."
Check out video coverage of Saturday's Super Walk launch in Tacoma:
This Saturday, Oct. 20 will be the FINAL Super Walks of the election season. In addition, Labor Neighbor — the Washington State Labor Council's member-to-member political action program — continues to conduct weeknight phone banks across the state, including at YOUR home or office, if you like. So please join us!
VOLUNTEER! See the full Labor Neighbor calendar for a list of all of the weekday phone bank opportunities and Super Walks in your area. Phone bank volunteers can call from anywhere. If you have a computer and phone available at your office/home, you can participate in phone banking remotely via a virtual predictive dialing system. Click here to RSVP to volunteer, or contact Lori Province for more information via email or at 206-351-2956.
This Saturday's Super Walk shifts are from 9:30 a.m. to 2 p.m. with snacks/training/pair up at 9:30 a.m., first knock at 10:30 a.m., last knock at 2 p.m., followed by a quick debrief and a BBQ. Here are the locations:
EVERETT — Labor Temple — 2810 Lombard
RENTON — UA Hall — 595 Monster Rd. S.W.
SILVERDALE  — Labor Council office, 10049 Kitsap Mall Blvd. NW (The entire staff of The Stand will be participating in this one!)
SPOKANE — IUOE 370 — 510 S. Elm
VANCOUVER — IAFF 452 — 2807 NW Fruit Valley Rd.
"It's the most important thing that we do," Kilmer said at Saturday's Super Walk in Tacoma. "Standing on a porch and talking to a voter and actually listening to a voter. Grassroots matters so much, and particular when a working person is going to the door of another working person and saying this is the person who's going to fight for working families."
With ballots arriving in voters' mailboxes later this week, volunteers are needed to sign up for Labor Neighbor shifts! See the full Labor Neighbor calendar for a list of all of the phone bank opportunities and Super Walks in your area. Click here to RSVP to volunteers for phone banks and Super Walks.
For more information, contact Lori Province at 206-351-2956.
Short URL: https://www.thestand.org/?p=17663
Posted by
David Groves
on Oct 15 2012. Filed under
ELECTION
. You can follow any responses to this entry through the
RSS 2.0
. Both comments and pings are currently closed.