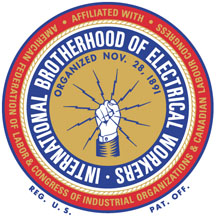 (Nov. 2) — As New Jersey, New York and other devastated parts of the East Coast begin to recover from Superstorm Sandy, two Snohomish County Public Utility District line crews — all members of IBEW Local 77 — are right in the middle of the restoration process. Six linemen, two foremen, two equipment operators and a supervisor flew to New Jersey on Thursday, Nov. 1 at the request of Jersey Central Power & Light.
"We're proud that we can lend a helping hand to our fellow Americans during this difficult time," said General Manager Steve Klein. "Just as we work as a utility to make a positive difference  in our own customers' lives, our skilled crews will bring that same dedication to serving the people impacted by this disaster."
At least 2.4 million New Jersey utility customers lost power as Sandy's powerful winds knocked down utility poles and uprooted trees. As of Friday, some 1.5 million remained without electricity in the state, and it was expected that some might have to wait 10 days or more for power to be restored.
Snohomish PUD crews will work with a group from Toledo, Ohio, said Roger Bauer, Senior Manager, Regional Design & Construction Services. Bauer selected the 11 PUD employees from a list of volunteers.
The crews include:  Marcus Bailey, supervisor; Mick Conlon, lineman; JR Cornish, foreman; Scott Davis, lineman; Dave Deering, equipment operator; Dave Fawcett, equipment operator; Jeff Jewell, lineman; Lijah Manus, lineman; Curtis Rodorigo, lineman; Brandon Sandoval, lineman; and Randy Strege, foreman.
As of Wednesday, the PUD was the only utility from Washington sending crews back east.
PUD crews will work 16 hours on, 8 hours off. They're expected to be there 10 days to two weeks, Bauer said. Their job will be to restore poles and wire, using Jersey Central's equipment.
"I'm glad we have the chance to help in this disaster, and that we have such skilled people to send," said Chris Heimgartner, AGM, Distribution & Engineering. "We are all part of a much larger community, and when customers and utilities anywhere in America are hit with a devastating event, they should know that help is available and on the way."
PUD customers also expressed pride in their utility. Among dozens of Facebook posts were these:
"What a wonderful thing to do."
"Sno PUD crews are the best! The east coast is in good hands!"
"Our crews rock! Thank you for your great work."\
"Kudos to our PUD for the wonderful work they do. Stay safe."