On Black Friday, support striking Walmart workers
UPDATE — Here are the Black Friday (Nov. 23) locations in Western Washington where union members and community supporters are urged to show support for striking Walmart workers:
Mount Vernon Supercenter, 10:30 a.m. to noon (2301 Freeway Dr., Mount Vernon 98273). To RSVP or for more information, please contact: Elena Perez  at 206.359.1885 or changewawalmart@gmail.com.
Port Angeles Supercenter, 9:30 to 11 a.m. (3471 E. Kolonels Way, Port Angeles 98362). To RSVP or for more information, please contact: Elena Perez 206.359.1885 or changewawalmart@gmail.com.
Renton Walmart, 9:30 to 11 a.m. (743 Rainier Ave S., Renton 98057) – Led by Washington YELL. To RSVP or for more information, please contact: Cheryl Coney, Washington YELL at 609.509.8352 or Cheryl@washingtonyell.org, or Elena Perez at 206.359.1885 or changewawalmart@gmail.com.
If you do not live near any of these stores, but would like to take action in your community, find a store near you at:  http://corporateactionnetwork.org/campaigns/black-friday
Enter your zip code to find an action near you, or adopt a store and begin one of your own
All instructions and materials can be found on that same page under "Take Action"
Be sure to create an event so others in your community can join you!
---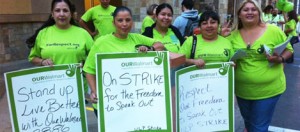 (Nov. 15) — In recent months, Walmart workers around the nation have begun to rise up, speak out and, for the first time in company history, walk off the job to protest their working conditions and lack of respect on the job. These workers report that the company has responded by retaliating against these employees for speaking out.
Now, the grassroots campaign of Walmart workers is calling for a nationwide strike of Walmart stores on Black Friday, Nov. 23, which is traditionally one of the biggest shopping days of the year to demonstrate the growing wave of support for improving working conditions at the world's largest retailer.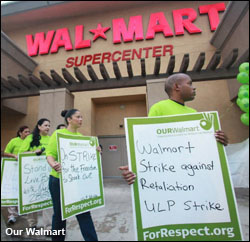 TAKE A STAND!  Workers from several local Walmart stores participated in a one-day protest strike Nov. 15, a week before Thanksgiving, to challenge Walmart to stop all retaliation of Walmart workers here and across the nation who speak out about problems in the workplace. Now, get ready to support Walmart workers on Black Friday. Times and locations will be announced soon. For more information, call Elena Perez: 206-359-1885 or email changeWAwalmart@gmail.com
Walmart associates have formed their own association, OUR Walmart, to join together and "offer strength and support in addressing the challenges that arise in our stores and our company everyday."
"My co-workers and I have been speaking out for change," said OUR Walmart member Venanzi Luna. "Instead of Walmart working with us to improve working conditions and customer service, Walmart has retaliated against us for speaking out. Without an end to the retaliation, Walmart workers across the country will be walking off the job on Black Friday. Join us in solidarity with our strike."
Visit forrespect.org for more information about OUR Walmart and the Black Friday strikes.
Short URL: https://www.thestand.org/?p=18578
Posted by
David Groves
on Nov 15 2012. Filed under
LOCAL
. You can follow any responses to this entry through the
RSS 2.0
. Both comments and pings are currently closed.