Symphony and port strikes end, recount results, unionizing low-pay workers…
Wednesday, December 5, 2012
---
LOCAL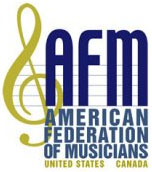 ► In today's Spokesman-Review — Symphony musicians end strike, OK two-year pact — After a weekend of intense bargaining, the musicians voted Monday night to approve a two-year contract that includes an 11 percent pay cut and three weeks of personal leave. The pay cut comes in the form of a reduction in guaranteed services, which include rehearsals, concerts and educational events.
► At HeraldNet.com — NLRB to hear testimony this week in SPEEA charge against Boeing — SPEEA filed a complaint last month accusing Boeing of withholding information the union has requested during contract negotiations. SPEEA also claims that Boeing threatened employees with disciplinary actions for engaging in union activities.
► In today's Spokesman-Review — NW coal port hearing draws 800 at fairgrounds — About 800 poured into Spokane County Fair and Expo Center on Tuesday to debate a proposed coal port facility in northwest Washington. Proponents stressed jobs; environmentalists talked about risks.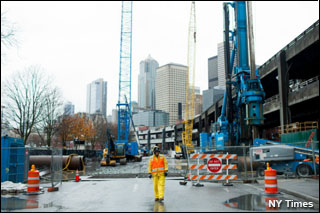 ► In today's NY Times — Engineering projects will transform Seattle, all along the waterfront — A ballet of giant, tightly coordinated engineering works — $4.5 billion worth of building up, tearing down and digging under on the water's edge — is about to change the city's storied old coast starting next year. Each of the pieces is major in its own right — a 1.8-mile big-bore tunnel 200 feet below grade at its deepest, an earthquake-conscious sea wall buttressing the piers and an altered city grid that will come with a demolition of the old viaduct. Collectively, they add up to a city on the remake, with a waterfront transformation that will be seismic and aesthetic all at once, not to mention messy and cacophonous.
► At PubliCola — King County Council rejects zoning exception for Snoqualmie Walmart (scroll down) — The council voted down a proposal that would have allowed retail beyond the Urban Growth Area boundaries outside Snoqualmie. Big winners? UFCW Local 21 who testified against the Snoqualmie big box development idea.
---
STATE GOVERNMENT
► In today's (Vancouver) Columbian — Senate recount expected to end Wednesday — The outcome of the tight 17th District Senate race between Republican Don Benton and Democrat Tim Probst should be revealed Wednesday afternoon, Clark County Elections Supervisor Tim Likness estimated earlier this week. Official election results showed Benton with a 78-vote lead over Probst, triggering a hand recount.

UPDATE — Benton wins Senate race by 74 votes
► In today's (Longview) Daily News — Picking sides in Olympia (editorial) — State Rep. Brian Hatfield (D-Raymond) won't break ranks to support conservative Democratic Sens. Rodney Tom and Tim Sheldon, but says he sympathizes with them. Says Hatfield: "I think we're nudging toward more balance and moderation, but maybe not fast enough to suit Tim and Rodney."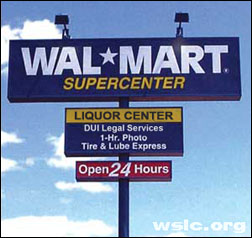 ► In today's Olympian — Since liquor sale went private, they've risen a bit— Statewide liquor sales by volume rose a modest 2.9% through September, the results helped by consumer purchases but pulled lower by a drop in wholesale sales, according to new state data. As for higher prices, the average retail price of a liter of spirits, including taxes, rose 11.6% to $24.09 in September from $21.58 in the same period last year.
EDITOR'S NOTE — Unanswered in this story is whether state revenue lost due to privatization is being recouped. Another question, what are the increased law enforcement costs related to the change?
► In today's Olympian — State personnel chief Eva Santos dies at 56 — Washington state human resources director Eva Santos died early Tuesday after her latest battle with breast cancer.
---
CONGRESS

► In today's Washington Post — Republicans balk at short-term stimulus in Obama plan — The stimulus measures in the White House's debt proposal include a continuation of emergency support for long-term unemployed workers, an extension of the payroll tax cut, billions in infrastructure investment and a mortgage refinancing proposal. But Republicans have countered that the country cannot afford to widen the deficit further.
ALSO at The Stand — 60,000 set to lose unemployment benefits in Washington
► In today's NY Times — In tax fight, GOP seeks fallback position — With Obama insisting on higher tax rates for affluent Americans and winning public support for the idea, Congressional Republicans are in an increasingly difficult political spot and are quietly beginning to look for a way out.
► In The Hill — Lack of rank-and-file House GOP backlash hints at softening on taxes — While outside conservative groups lambasted the House Republican leadership's proposal as a tax hike, many rank-and-file House Republicans signaled they were open to it.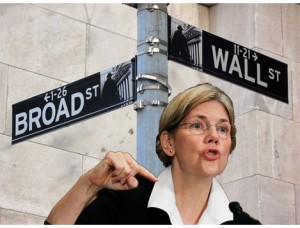 ► At Huffington Post — Elizabeth Warren wins Banking Committee seat, sources say — Nearly two years after Wall Street waged a successful campaign to keep consumer advocate Elizabeth Warren from running the Consumer Financial Protection Bureau, the incoming senator will be tapped to serve on the Banking Committee, according to sources. It's a victory for progressives who battled to win her a seat on the panel that oversees the implementation of Dodd-Frank and other banking regulations.
► At TPM — Reid: Filibuster reform is happening whether republicans like it or not — Senate Minority Leader Mitch McConnell's (R-KY) fierce resistance to reforming the filibuster isn't fazing Harry Reid, who insists that he will weaken the minority party's power to obstruct legislative business with Republican support or without it.
---
NATIONAL

► In today's Orlando Sentinel — Deal brings end to L.A., Long Beach port strike — Clerical workers at the ports of Los Angeles and Long Beach will return to work Wednesday, ending a strike that crippled America's busiest shipping hub for more than a week. Leaders of the 800-member International Longshore and Warehouse Union Local 63 Office Clerical Unit agreed to a tentative deal after marathon negotiations that ended late Tuesday.
► At AFL-CIO Now — Flight attendants win OSHA protections — The nation's flight attendants will gain workplace health and safety protection from the Occupational Safety and Health Administration under a proposed new policy announced by OSHA and the FAA.
► In today's NY Times — Collective action against wage theft (editorial) — The Supreme Court should uphold an appellate court's ruling that allows a worker to sue an employer on behalf of other workers with the same grievance.
► At Politico — Olive Garden: Obamacare press hurt us— Harsh press coverage of how the Olive Garden and Red Lobster are considering moving some employees to part-time status to reduce costs have depressed earnings, the restaurants' owner says.
EDITOR'S NOTE — Similar brand-perception harm (and presumably consumer backlash) has already happened at other big national chains run by outspoken right-wing ideologues, including Papa John's, Applebee's and Denny's. Let the same prove true at Walmart.
► In today's News Tribune — Transformed teachers unions are putting focus on quality (by Michael Stryer of Teachers for a New Unionism) — Eschewing top-down leadership, unions in small and medium-size districts are taking a collaborative approach. As a result, their actions reflect their members' priorities: improved student achievement and upgraded teacher quality.
► At TPM — Sheldon Adelson ready to spend even more on GOP
EDITOR'S NOTE — Adelson heirs: "C'MON, MAN!!!"
---
TODAY'S MUST-READ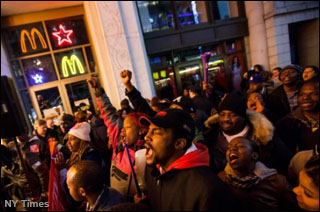 ► In today's NY Times — Unionizing the bottom of the pay scale — Last week's flash strike of some 200 workers from fast-food restaurants around New York City caps a string of unorthodox actions sponsored by organized labor, including worker protests outside Walmart stores, which, like most fast-food chains, are opposed to being unionized, and union drives at carwashes in New York and Los Angeles. Labor unions are hoping that the unusual tactics, often in collaboration with social justice activists and other community groups, will offer them a new opportunity to get back on the offensive, helping to raise the floor for wages and working conditions in the harsh, ultracompetitive economy of the 21st century.
---
The Stand posts links to Washington state and national news of interest every weekday morning by 9 a.m.
Short URL: https://www.thestand.org/?p=19155
Posted by
David Groves
on Dec 5 2012. Filed under
DAILY LINKS
. You can follow any responses to this entry through the
RSS 2.0
. Both comments and pings are currently closed.