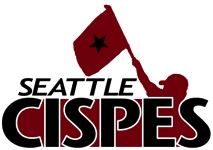 Salvadoran unions have put out a call for cross-border solidarity in their struggle against a Public Private Partnership (PPP) law that threatens to give corporations even more free reign through the privatization of El Salvador's public sectors, including higher education, sea and air ports, water, and electricity.
Seattle CISPES — the Committee In Solidarity with the People of El Salvador — is hosting Salvadoran union member Alex Rodriguez for a series of events to highlight issues Salvadoran workers face, as well as to provide support to parallel struggles in the Pacific Northwest. Rodriguez will be in the Seattle area from Feb. 2-4 and union leaders, rank-and-file members and community supporters are invited to attend a series of special events during that visit, including a special Labor Leader's Lunch on Monday, Feb. 4. (See below for the schedule, or download this flier.)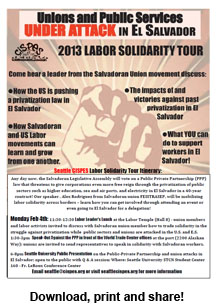 Salvadorans have a history of successes in defeating privatization. In 2002, a 9-month strike fended off privatization of health care in El Salvador. But when privatization laws have passed, it has been devastating. In 2001, privatization at the Acajutla port saw nearly 1,000 workers laid off, the union dissolved, and longshoremen's daily wages cut by more than 90%.
"Workers in the Pacific Northwest have seen the common thread of corporate greed cutting corners at the expense of the working and poor majority across the globe," said Kaeley Pruitt-Hamm of Seattle CISPES.
Union members and community supporters are invited to attend the following events. (This schedule is tentative, check here to confirm as the dates approach.)
Saturday, Feb. 2 (Time TBA) — Rodriguez arrives at SeaTac Airport and brings messages of solidarity to SeaTac airport workers from their counterparts in El Salvador who are facing similar issues. This is collaborative event with Working Washington, Puget Sound Sage, and SEIU Local 6.
Sunday, Feb. 3 @ 7 p.m. — Salvadoran Committee Party @ Tropicos Breeze
Monday, Feb. 4 @ 11 a.m.-1 p.m. — Labor Leader's Lunch at the Seattle Labor Temple, 2800 1st Ave., Hall 8. Join Seattle CISPES for this roundtable discussion for labor leaders of the Pacific Northwest. Members of unions, labor councils, and labor organizations are invited to join this meeting with our guest from El Salvador and discuss global lessons for labor solidarity, how we can fight the privatization law that threatens workers in El Salvador, and the upcoming labor delegation to El Salvador for May Day. This collaborative event hosted and sponsored by ILWU Local 19, and also hosted by SEIU Local 6.
@ 1:30-3 p.m. — A Public Speak-out will be held in front of the World Trade Center's Port offices to urge against U.S. pressure to approve the Public Private Partnership (PPP). Everyone is invited to join in a symbolic speak-out after the Labor Leader's Lunch. Participants will walk to the WTC offices and then hold a press conference to raise awareness about the PPP with representatives from different labor organizations making statements in solidarity.
@ 6-8 p.m. —  Seattle University Presentation to the Public at the STCN Student Center, 160 – Fr. LeRoux Conference Center. This presentation and Q&A session is open to the public.
To learn more about how to be involved in the speaking tour, call Kaeley at (509) 680-4212 or email seattle@cispes.org.