The following is from International Association of Machinists Local W157 in Tacoma:
---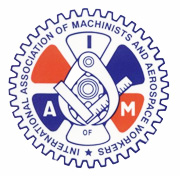 SEATTLE (Jan. 30, 2013) — The National Labor Relations Board Region 19 has worked out a settlement agreement for the Unfair Labor Practice charges filed by the International Association of Machinists against McLean, Va.-based Strategic Resources Inc. allowing the company to avoid a trial on more than a dozen charges of federal labor law violations that was set to begin Tuesday.
The charges against SRI included refusing to bargain over unilateral changes, harassment, failure to provide required information, and adjustments to benefits and pay structures. Under the settlement, which brings closure to a nearly year-long NLRB investigation, SRI is required to make up any shortages to each employee and is under an NLRB order to bargain with the IAM. It includes  language that will allow the NLRB to move the complaint to District Court in the event that SRI violates the conditions of the settlement.
The 35 SRI employees involved are in two separate units working under Service Contracts at Joint Base Lewis-McChord near Tacoma. One group of workers are victim advocates, the first line of domestic violence outreach for our soldiers and their families. The other group is a unit responsible for transporting troops and equipment for training and deployment.  Both groups voted to join the IAM, and have been subjected to the illegal tactics that brought about the charges. (Also at The Stand: IAM pickets SRI at Joint Base Lewis-McChord, April 2012.)
"This is a good day for these workers," said Kevin Cummings, IAM Grand Lodge Representative who heads  negotiations and filed the charges. "It shows that no matter how wealthy a company is, or how well connected they are, they are not above the law. These workers perform a great duty for the military, and are dedicated and proud of their service. They should not have to give up their rights as citizens in order to love their country."
After the long investigation of the charges, the NLRB ruled that SRI has indeed violated federal labor laws.  The NLRB notified SRI of their findings and sent the company a listing of the remedies required to avoid the trial. Over the past month there have been negotiations over the settlement conditions.
"The settlement allows the company to avoid a formal guilty verdict in a trial, but provides remedies to the workers for the abuses they endured," Cummings added. "I now look forward to negotiations with SRI, where a fair contract can be achieved without the illegal tactics that has been their trademark so far. These workers deserve better than they have received, and we are determined to get them the respect and justice they have earned by their service."
The IAM represents nearly 700,000 active and retired members, and is the largest labor union representing service contract workers in North America.  For more information about the IAM, visit their web site at www.goiam.org.