A united push for transportation investment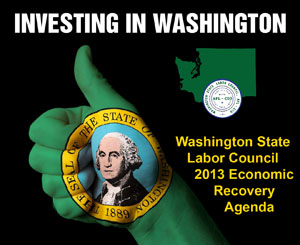 OLYMPIA (Jan. 25, 2013) — The labor, business and environmental communities are working together to encourage Washington state lawmakers to develop and approve a funding package this legislative session that will "make a significant down payment on the $50 billion need" in our state's transportation system.
So wrote leaders from each of those constituencies in a letter delivered this week to Gov. Jay Inslee and legislative leaders. The following letter was signed by Jeff Johnson, President of the Washington State Labor Council; Steve Mullin, President of the Washington Roundtable; Rob Johnson of Transportation Choices; Dave Myer of the Washington State Building and Construction Trades Council; and Brendon Cechovic of Washington Conservation Voters. (The Olympian reports today that other business groups, including the Association of Washington Business and Associated General Contractors, are also supporting the effort.)
Dear Governor Inslee:
We are writing to encourage you to work with the Washington State legislature to develop and pass during the 2013 legislative session a comprehensive statewide transportation investment and funding package that makes a significant down payment on the $50 billion need identified by the Connecting Washington Task Force.
As members of a diverse coalition of business, labor and environmental organizations, we recognize that Washington's transportation facilities and services are critical to our state's economic vitality and the quality of life enjoyed by its citizens.
The quality of the state's transportation infrastructure impacts everyone: growers, shippers, manufacturers, a workforce of commuters, and families traveling to schools, health care and recreational opportunities.
Today, valuable public assets, including roads of all kinds, bridges, ferries, and buses, are deteriorating due to insufficient investment in their maintenance, operation, and preservation. At current preservation and maintenance funding levels, estimates are that more than half of the surfaces on state roads will be in poor to very poor condition by 2023. Local governments face similar challenges in providing local streets, bike lanes, and sidewalks to serve a growing population. And public transit demand will continue growing, increasing in the Central Puget Sound region an estimated 90 percent by 2040, posing a severe challenge for agencies whose funding has been slashed during the recession.
Collectively, these funding gaps create serious risks to public safety, the state's economic health, business competitiveness, environmental quality, and the health of communities around Washington.
When the 2011 Connecting Washington Task Force estimated our state's growing transportation needs to cost $50 billion over the next decade, they also concluded that current funding falls short of what is needed to do the job. Current resources cannot cover the cost of preserving, maintaining and operating our existing transportation system; completing the critical economic corridor projects already underway; addressing storm water problems; or creating a fully integrated system to serve a growing state population in the 21st Century. Revenues from the two most recent gas tax packages are now primarily obligated to debt service on prior projects, and changing consumer patterns will make future gas taxes less effective as our state's primary funding source for transportation-related expenditures.
Our broad coalition of business, labor and environmental organizations has come together to urge you and legislature to begin addressing these identified needs by developing and enacting a comprehensive statewide plan for funding critical transportation investments in the 2013 legislative session. We encourage our elected officials to continue the tradition of bipartisan cooperation in finding transportation solutions for our state and make a significant down payment on the $50 billion need.
Doing so will protect public safety, enhance the state business climate, create tens of thousands of jobs, preserve our natural environment, increase transportation choices, and improve the quality of life for the people of Washington State.
Thank you.
Developing a robust transportation funding package is a priority in the Washington State Labor Council's 2013 Economic Recovery Agenda for this legislative session.
Short URL: https://www.thestand.org/?p=20142
Posted by
David Groves
on Jan 25 2013. Filed under
STATE GOVERNMENT
. You can follow any responses to this entry through the
RSS 2.0
. Both comments and pings are currently closed.