Machinists at Hytek in Kent reject contract, authorize strike
The following is from the International Association of Machinists District 751:
---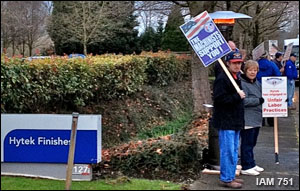 KENT (Feb. 26, 2013) — A key Boeing Co. supplier now faces the prospect of a strike.
Members of Machinists Union District Lodge 751 working for Hytek Finishes voted Saturday to reject a four-year contract offer and to authorize a strike. More than two-thirds of voters cast ballots both rejecting the contract and supporting action.
The union has not yet set a date for when the strike will start, said Kevin Cummings, the union's lead negotiator.
A strike, if it comes, would be the result of Hytek management's consistent pattern of unfair labor practices, Cummings said.
"It's impossible for two sides to negotiate a fair contract when only one side is playing by the rules," he said. "Hytek managers have consistently broken the law, and because of that, we're on the brink of a strike."
A strike would involve more than 180 hourly workers at Hytek in Kent who do metal coating and finishing on aircraft parts for all of Boeing's widebody jets — the 787, 747-8, 777 and 767.
A labor action at Hytek could disrupt much of the aerospace industry, Cummings said. "There are very few companies in the world certified to do this kind of work, and fewer still in the United States."
Besides Boeing, customers include BAE, Bell Helicopters, Gulfstream, Triumph Aerostructures and United Technologies. Hytek workers also supply parts for the Pentagon's F-35 Joint Strike Fighter.
The Hytek workers voted to join District 751 in August 2011, and talks on a first contract – which are now into their 17th month – started that October.
The key sticking point has been management's unwillingness to negotiate fairly. The National Labor Relations Board in November ruled that Hytek had committed eight separate violations of the National Labor Relations Act.
The NLRB determined that Hytek managers improperly withheld information from the union necessary for fair bargaining, improperly withheld important information about chemical releases at the plant that impacted the health and safety of both workers and the public, and failed to bargain with the union prior to changing working conditions.
Cummings said he has offered to hold one more bargaining session with Hytek management before the union sets a date for the strike. The company has yet to respond, he said.
"We want to give management one last chance," he said. "But management must come to the table ready to deal fairly. If they don't, these Machinists are ready to go."
Meanwhile, the union is moving ahead with its strike plans. It conducted picket training for a packed room of workers at District 751's Auburn Union Hall on Saturday. Union leadership also is calling on District 751's 33,000 other members to be ready to support the Hytek workers during the walkout.
Hytek is a subsidiary of Bellevue-based Esterline Corp., which is the largest aerospace company with headquarters in Washington state. Esterline reported an annual profit of $112 million for all of 2012, with a profit margin of 38.5 percent in the fourth quarter. CEO Brad Lawrence told investors he expects sales to grow steadily over the next decade.
"Hytek told us they could afford to do better, they just refuse to," Cummings said. "Our members operate in toxic and hazardous conditions every day. They are underpaid and their medical coverage creates more hardships than it fixes.
"I am extremely proud of them for standing up and sending Hytek management a message," he concluded.
About District 751: Originally formed in 1935 to represent hourly workers at the Boeing Co., District Lodge 751 of the International Association of Machinists & Aerospace Workers now represents more than 33,000 working men and woman at 48 employers across Washington, Oregon and California. Foir more information, visit the IAM District 751 website.
Short URL: https://www.thestand.org/?p=21131
Posted by
David Groves
on Feb 26 2013. Filed under
LOCAL
. You can follow any responses to this entry through the
RSS 2.0
. Both comments and pings are currently closed.